Millikin student-run radio station receives record number of IBS nominations
Millikin University student-run radio station 89.5 WJMU The Quad received a Golden Microphone Trophy at the 80th Annual Intercollegiate Broadcasting System (IBS) International Media Conference held March 6-8, 2020, in New York City.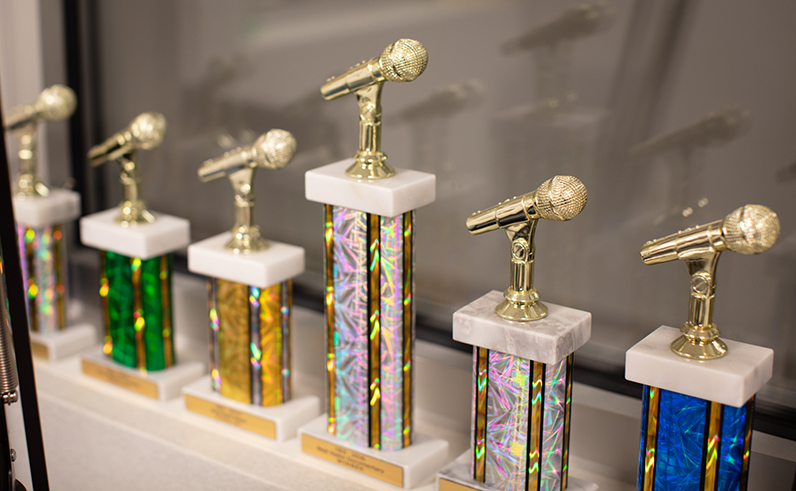 WJMU received the IBS Award for Best Station Promotional Poster, a "Stranger Things" Poster created by Kiara Fultz, a senior arts technology major from St. Louis, Mo. WJMU was nominated for a station record eight national awards by the Intercollegiate Broadcasting System, including:
Best Specialty Show: "Transportation the Marmoset" by Frank Macaluso, a senior theatre major from Chicago
Best On-Air Personalities: Jason Messina, a senior communication major from Crystal Lake, Ill., and Lane Caspar, a senior communication major from Sherman, Ill.
Best Radio Drama: "Shivers and Chills" by Athena Pajer, a junior English literature major from Lovington, Ill.
Best Station Promotional Poster: Stranger Things Poster created by Kiara Fultz, a senior arts technology major from St. Louis, Mo.
Best Use of Sound Effects: "Devil's Advocate Show Promotion" created by Jason Messina and Lane Caspar
Best Underwriting Spot: "Hardee's Underwriting" by Sam Meister, instructor of communication and WJMU station manager
Best Comedy Show: "Owl Stretching Time" by Frank Macaluso
Best Use of Video: "WJMU The Quad – True Blue Challenge" video, directed by Sam Meister and edited by Matt Sands
Every year, WJMU submits content created within the last year for the IBS Awards. This year's nominations spanned across numerous categories including specialty show, sound effects and best use of video.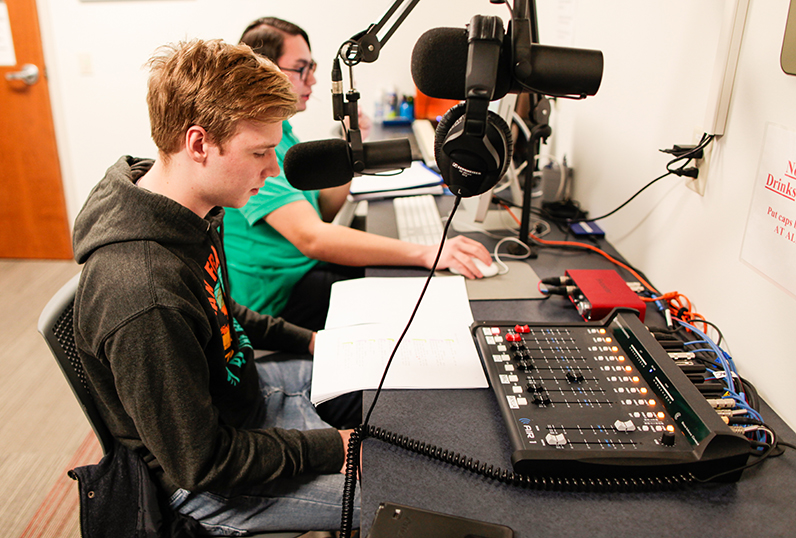 "I think that these nominations and this award reflect both the tremendous work that our students are doing at WJMU and the value of student-run media," said Sam Meister. "We have a truly amazing team of student leaders whose work is on-air and online every day. Their creativity, dedication and passion for the programming they create, and the work that they do to promote that programming, are what make WJMU a fantastic representative of Millikin and a staple of the Decatur (Ill.) community."
Year-by-year, the annual IBS Conference continues to grow in size, scope and influence, with representatives from college radio stations around the world.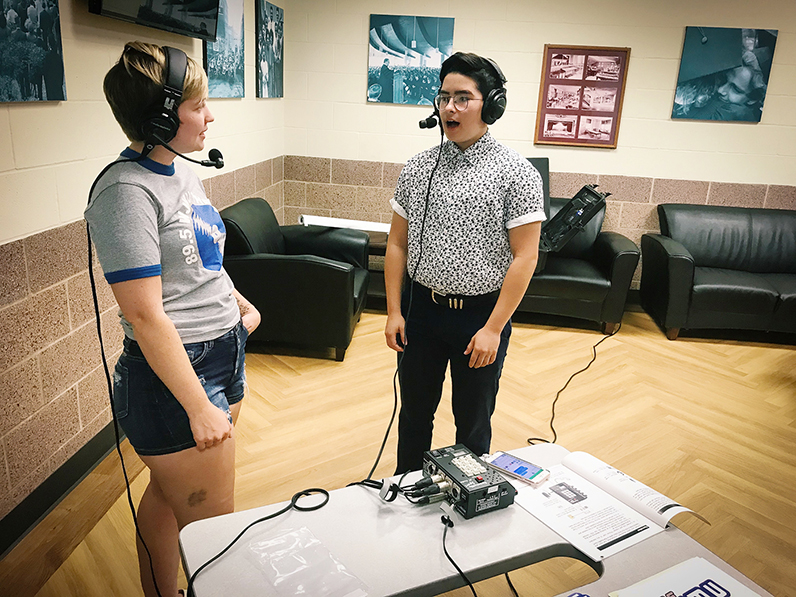 "It's exciting to be nominated and to receive an award. I think a few of the categories were unexpected," said Lane Caspar who serves as program director for WJMU. Caspar is a member of the six-person WJMU executive team along with Sam Meister, Frank Macaluso (production director), Meghan Whitlock (promotions director), Jason Messina (music director) and Sydney Stoewer, a junior communication major from Normal, Ill., who serves as projects coordinator.
IBS Awards finalists represent the top three to five percent of work submitted in their category to the National IBS from the previous year.
Intercollegiate Broadcasting System Inc. is a nonprofit education association and foundation that serves nonprofit education affiliated high school radio, college radio and community stations and streaming/webcasters. The organization has over 1,000 radio, television and webcasting station members. The 80th IBS Conference featured over 150 speakers and 1,000 attendees from around the world.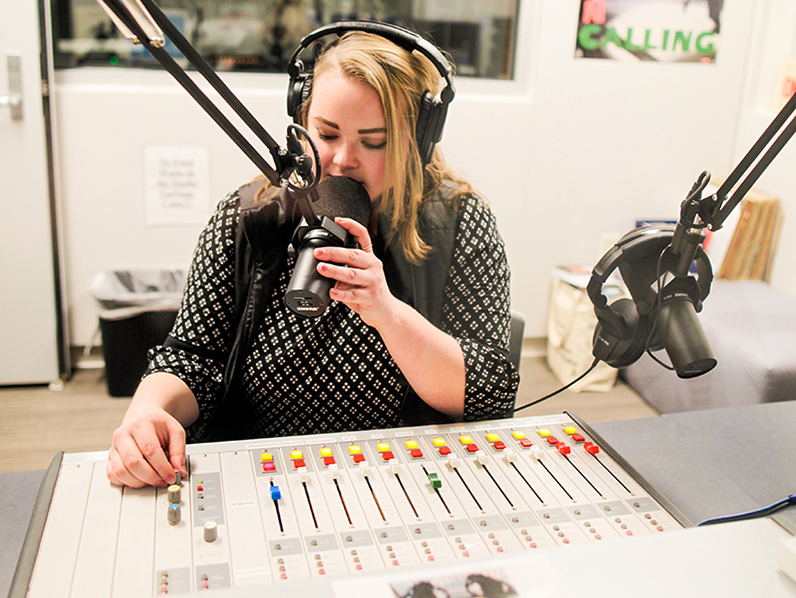 Caspar says the nomination for Best Sound Effects reflected the hard work the WJMU production team does each year. "We work very hard on sound mixing and editing, and I believe our production is very good," she said. "We're able to create prerecorded tracks that sound great, but to see the station get nominated for video production, sound mixing and sketch comedy is incredible."
Over the past few years, the station has been able to branch out with projects involving video campaigns, Facebook Live videos and on-air drives.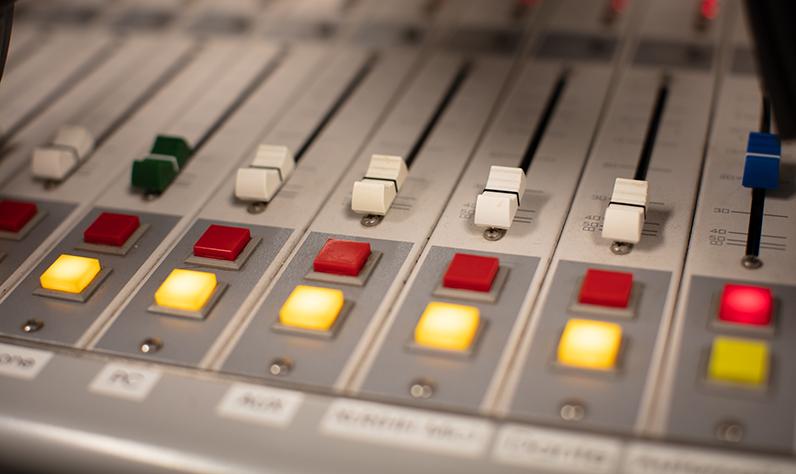 "I think there's been a rapid expansion over the last three to four years with new awards and categories, and it's nice to see our station earn nominations for work we did with departments such as alumni & development, arts technology and theatre – it's a combination of both the old and the new," said Sam Meister. "Our quality, our quantity and our diversity, and the ways in which we can put ourselves out there and market WJMU, the communication program and Millikin continues to increase."
WJMU's programming features shows that focus on sports, music and news as well as international programming that highlights Spanish, Hindi cinema and anime culture. Another element the station offers is the ability to play vinyl records on the air and feature music from bands that made radio relevant in society today. The station operates on the 3rd floor of the University Commons on Millikin's campus.