Millikin student-run radio station awarded IBS Golden Microphone Award for Best Podcast
Millikin University's student-run radio station 89.5 WJMU The Quad won the Intercollegiate Broadcasting System (IBS) Golden Microphone Award for Best Podcast at the National Intercollegiate Broadcasting System Annual Conference and Awards in New York City, March 2-4. WJMU also received IBS Golden Microphone finalist trophies for Best Radio Drama and Most Creative Show.
This is the station's second IBS win in three years, and WJMU's submissions and finalist nominations in 2018 were the largest and most diverse group in the station's history.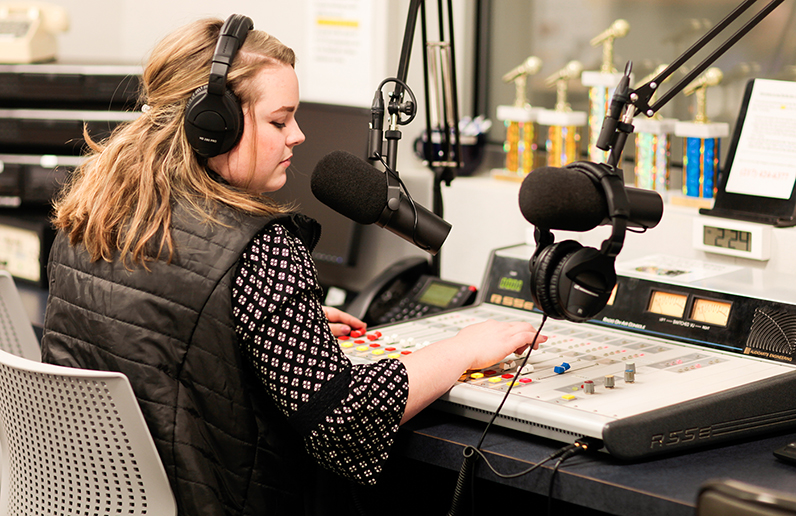 "It is especially rewarding to see that Millikin is receiving finalist nominations and winning awards in categories in which WJMU is competing with stations from large state universities," said Sam Meister, faculty advisor and general manager of WJMU. "At Millikin, our students get studio time opportunities from the semester they join the WJMU staff. These awards are especially exciting coming during this year of transition to our new facility in the University Commons."
WJMU received the award for Best Podcast for a program called "Tunneling" developed in Millikin's Advance Radio Production and Performance course during the spring 2017 semester. The primary producers of "Tunneling" were Dana Caspar, a senior communication major from Sherman, Ill.; Kayleigh Faulkner, a senior communication major from Davis, Ill.; and Cody Coffman, a sophomore communication major from Mt. Zion, Ill.
The finalist trophy for Most Creative Show was for a production called "Owl Stretching Time," produced by Frank Macaluso, a sophomore theatre major from Chicago. WJMU's recognition for Best Radio Drama was for a project called "Penny Clark: Private I," produced by sophomore communication majors Lane Caspar, of Sherman, and Jason Messina, of Crystal Lake, Ill.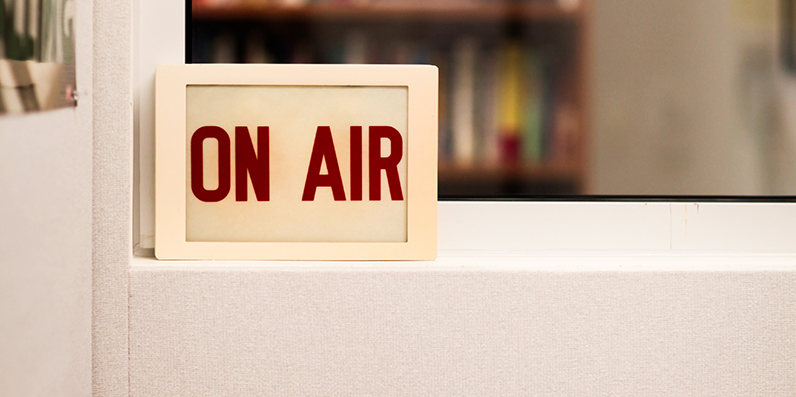 "WJMU has given me many Performance Learning opportunities in the past year," said Lane Caspar. "In both the Introduction to Radio and Advanced Radio courses, I have written and produced original radio content, which has given me a new skillset. Although we did not win the category, it is still humbling and exciting to be considered for the award. Overall, the trip was educational, exciting and fun. We learned a lot as an executive board about ways to improve the station, and produce even better projects in the future."
IBS Awards finalists represent the top three to five percent of work submitted in their category to the National IBS from the previous year.
WJMU Program Director Tiffany Wilson, a senior communication major from Decatur, Ill., said, "Taking home an award and having finalists in the national conference is just so inspiring for me personally, but also for the station. I've had the pleasure of being a part of WJMU now for four years, this last year getting to serve as the program director - so I've had the first hand opportunity to see and be a part of WJMU's growth."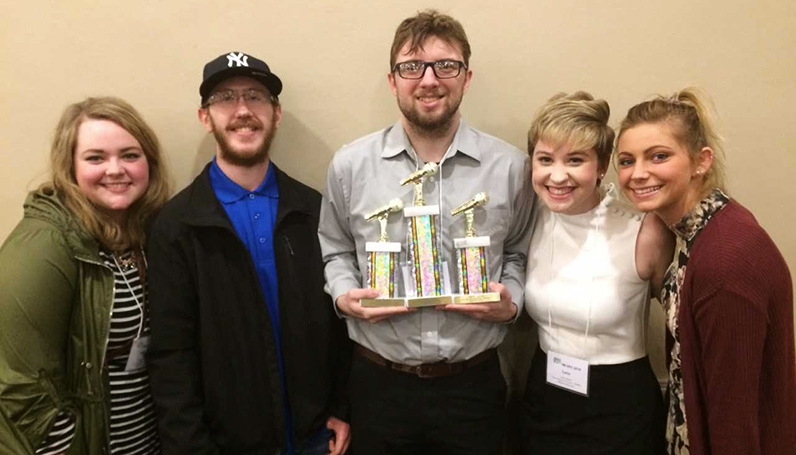 WJMU's programming features shows that focus on sports, music and news as well as international programming that highlights Spanish, Hindi cinema and anime culture. Another element the station offers is the ability to play vinyl records on the air and feature music from bands that made radio relevant in society today. The station currently operates in its new location on the 3rd floor of the University Commons.
"I think we have a lot of great students that are coming into leadership positions now, or are starting to become a really important staple of our staff at the station," said Wilson. "There is so much room for inspiration, creativity, knowledge and experience, and WJMU is such a great outlet for that, regardless of whether you're interested in a radio career. I hope we're able to help more people in their journey along the way and give them opportunities to be a part of something as great as WJMU."
Intercollegiate Broadcasting System Inc. is a nonprofit education association and foundation that serves nonprofit education affiliated high school radio, college radio and community stations and streaming/webcasters. The organization has over 1,000 radio, television and webcasting station members. The National Intercollegiate Broadcasting System Annual Conference and Awards featured over 150 speakers and 1,000 attendees from around the world.