Millikin University recognizes over 120 graduates at 2018 Winter Commencement
Tanya Andricks, CEO of Crossing Healthcare and a 1995 graduate of Millikin University, stood among a packed Kirkland Fine Arts Center on Dec. 9 to address the latest class of Millikin graduates and take part in the celebration of commencement. "This very moment marks the end of one chapter in your life story and begins a new one filled with excitement, some uncertainty, and much promise," she said.
Millikin's 2018 Winter Commencement ceremony honored over 120 graduates, including traditional undergraduates and those receiving their Master of Science in Nursing and Doctor of Nursing Practice degrees.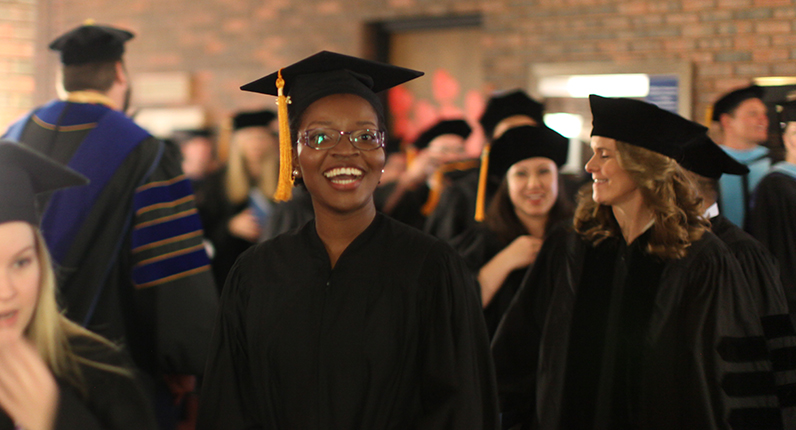 Standing center stage behind a podium, Andricks shared her thoughts on what she wanted to talk about after learning she was going to deliver the commencement address. "I want to share good stories – stories hold my attention, they engage my imagination and that's how things stick in my mind," she noted.
The theme of Andricks' speech was risk, and not just risk, but radical risk.
"I firmly believe we are all on this planet for the purpose of making it a better place each in our own unique way. All of you are going to change the world for the better, how much or how little is solely up to you," she said.
What Andricks meant by risk is when one intentionally interacts with uncertainly – not knowing the answer and taking on the assignment anyway. She went on to share a story about how she took a chance to work with the Howard G. Buffett Foundation to design a comprehensive treatment campus in Decatur, Ill., to battle America's opioid epidemic. She embraced the challenge and now the facility is due to be ready by 2020.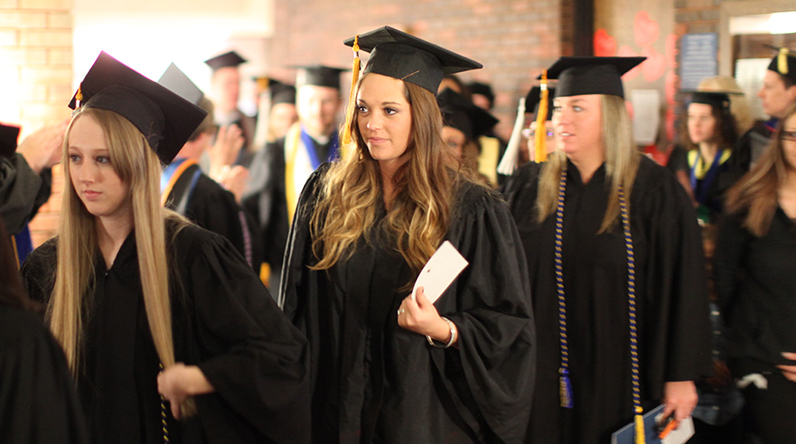 "When you step outside your comfort zone, you are laying the groundwork for a time in your professional career when opportunity knocks," said Andricks. "At that moment, you will have established a personal track record for handling outside the norm challenges and radical risk won't feel so radical to you. So when that big opportunity presents itself for you to make this world a better place in your own unique way, you will take a deep breath and you will very casually say, 'Sure, I can.'"
Millikin graduates also heard from fellow students Lauren Moses, of Newman, Ill., who graduated with a Bachelor of Science in Early Childhood Education, and Mallory Pierson, of Girard, Ill., who earned a Master of Science in Nursing Practice.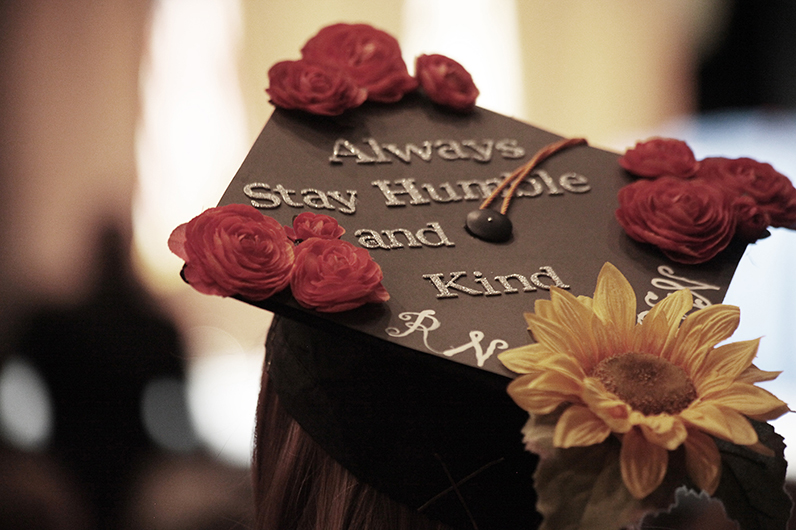 Moses, a soon-to-be teacher, expressed her gratitude for teachers who helped shape her life. "I would not be here today if it wasn't for a teacher or a professor who believed in me. We can take all we've learned and go out and make a difference," she said.
Mallory Pierson is currently employed as a registered nurse on the Acute Adult Psychiatric unit at Memorial Medical Center in Springfield, Ill. While reflecting on her academic journey, Pierson noted that Millikin creates leaders. "This institution taught us that serving is not below us and that leadership is not beyond us. This place created leaders through exploring the worth of water when the well is near dry. Although today we are closing many doors here at Millikin, there are so many more to be opened."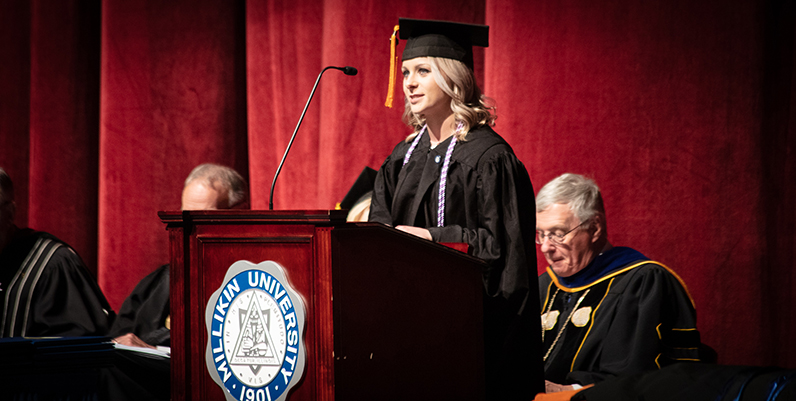 Many Millikin academic journeys came to an end on Dec. 9 and several goals were reached, especially for organization leadership graduates from Millikin's Flex Learning program – a program for individuals who are looking for a variety of paths to fit education into their schedule and earn their degree.
Flex Learning graduate Melissa Kitchens donned a cap with a sentence that summed up her journey, "She believed she could, so she did." A mother of two, Kitchens went back to Millikin to finish her degree that she started years ago. "I feel like I can hold my head a little bit higher just because I finished what I started," she said in an interview with the Herald & Review. "Even with all the things life has thrown at me – I can say 'I did it, and you can, too.'"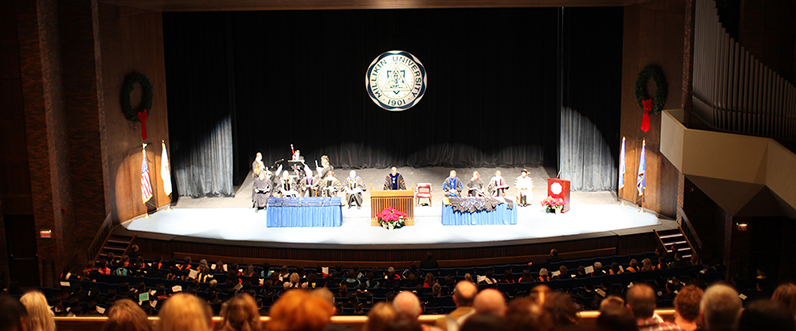 Fellow Flex Learning graduate Amy Mazzotti runs a successful business called A-Team Bootcamp 360-Athlete in Decatur. Mazzotti knew that going back to school and obtaining her degree in organizational leadership was a personal goal that she was determined to achieve.
"The best effort you can make, the wisest dollars you can spend, is in educating yourself to be better," said Mazzotti. "I know I now have the confidence to run my own business and take it further than I ever thought I could."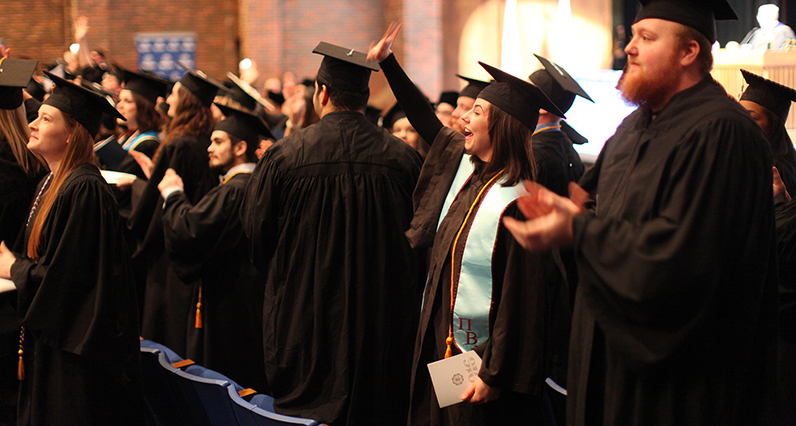 Millikin President Dr. Patrick E. White opened the ceremony expressing the happiness the Millikin community shared with its newest graduates.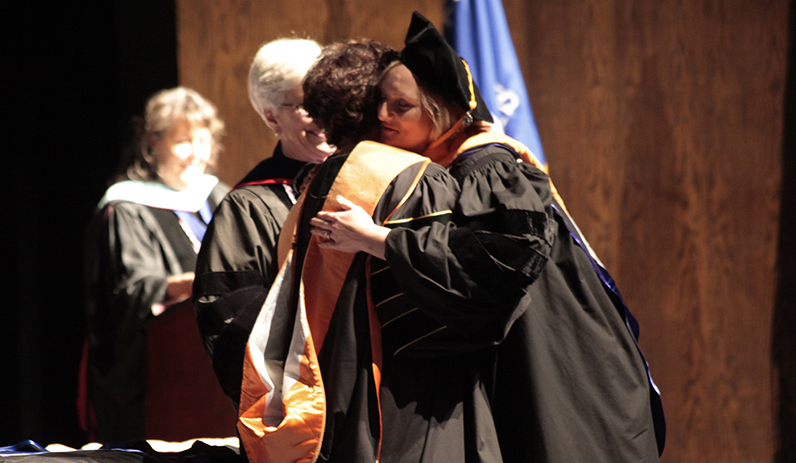 "You have successfully achieved one of the most rewarding goals of a lifetime," said White. "Today, you have earned a degree in higher education, and not just any degree, a Millikin University degree – a degree known far and wide for excellence. We applaud you for raising our unique approach of Performance Learning."