Millikin professor and student team up to test communication theory with Greek community
Transitioning from high school to college can be difficult for students as they leave behind their families and begin a new chapter of personal development. As first-year students become adjusted to campus life and academics, it's important for them to develop friendships to gain the social support they need in a new environment.
Research has shown that there is a negative relationship between poor physical and mental health and academic success. For students, when they consider their changing health needs on top of their academic and social stressors, their need for social support is amplified. In these cases, students may search for connections that they need to succeed, such as joining organizations on campus like Greek Life.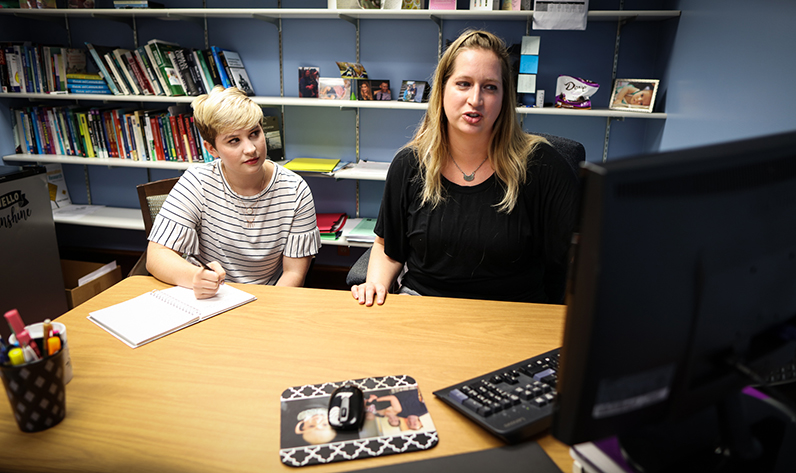 This summer, Millikin University student Lane Caspar, a senior communication major from Sherman, Ill., and Dr. Amy Delaney, assistant professor of communication, have teamed up to conduct a research project that looks into the benefits of the social network that Greek organizations provide, more specifically sororities.
"We are testing a communication theory in the context of sororities on campus," said Caspar.
Caspar and Delaney are researching to see how being a member of a sorority affects feelings of support within a larger community as well as individuals' health. They will collect data using the theory of resilience and relational load (TRRL), a new theory that was created to better understand families and relationships as communicative, dynamic systems of stress and resilience. The theory focuses on relationship maintenance as the primary means through which couples and families manage stress.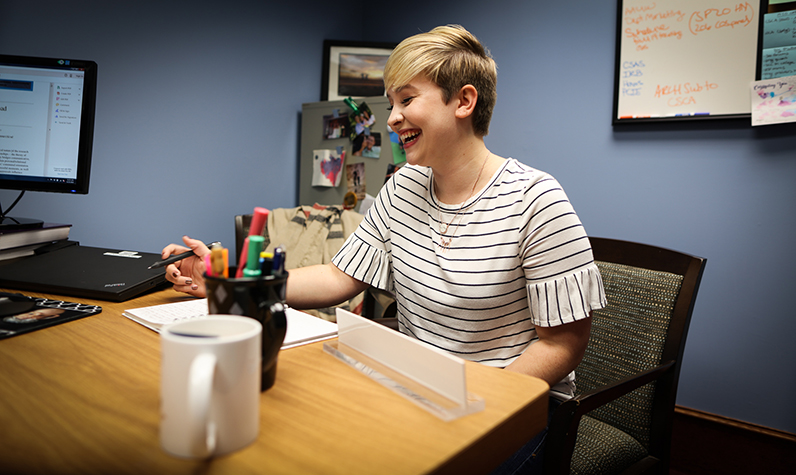 "I'm really interested in the ways that our health and relationships are tied," said Delaney. "It's been pretty well established that people who have good, supportive, functional relationships have better health outcomes – but there's not much evidence as to why. The TRRL theory tries to answer that question…showing that when couples invest in their relationships they have better outcomes."
Previous TRRL studies have been conducted focusing more on romantic relationships. During a "lightbulb moment," Casper and Delaney thought it would be unique to research relationships that are not on the romantic side. They choose to look into sororities since Caspar, a sorority member herself, will have insight into the dynamics of those relationships.
"It's been really exciting to see how we can take this theory, that's grounded in romantic relationships, and determine if this process exists in other important relationships in our lives," said Delaney.
Caspar added, "With Greek organizations, you're a communal organization – we're all in this together. It's a team unit and the TRRL theory says if you're in a team element, and you're going at a stressor together, then you can cope with it more positively versus thinking that you're on your own and facing a stressor without any support."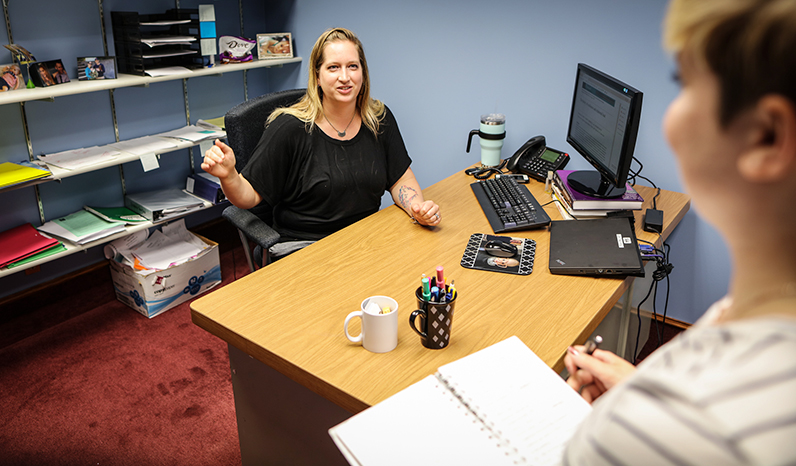 This summer, Caspar and Delaney are reviewing literature and pilot testing surveys that they will provide to sorority members across Millikin's campus. They will collect data during the first 10 weeks of the fall semester. After analyzing the data, they plan to prepare a manuscript of their research results for publication by the end of the spring 2020 semester.
"We're spending the summer honing our ideas and building the infrastructure of the study to figure out how we will track participants and figuring out what we want to measure so we can start data collection when the students return in the fall," said Delaney.
Delaney and Caspar believe the most unique aspect of the theory is something called "emotional reserves" which is helping drive most of their ideas. "The theory says that when you have good relationships and you're doing relationship maintenance, you're creating an emotional reserve," said Caspar. "Let's say you're doing positive things with your partners, friends or family, then you will get a reserve of positive emotions that you can dip into when you're having a stressful situation – you can cope with the situation more effectively." Delaney and Caspar call it a "bank account for good feelings."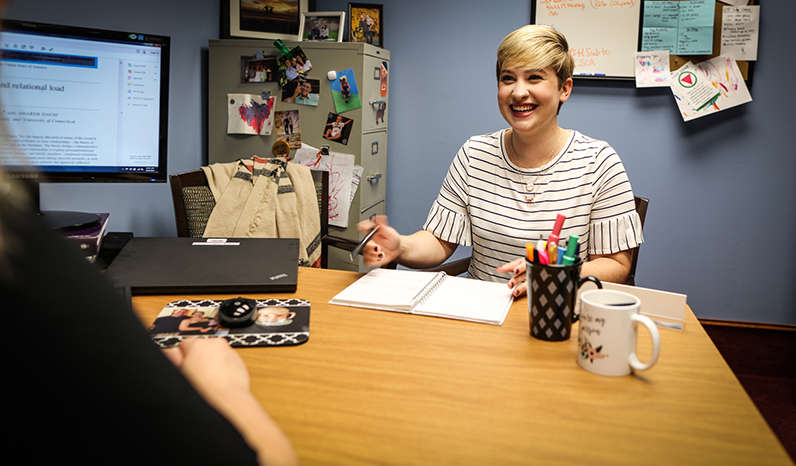 The Millikin sororities of Delta Delta Delta, Alpha Chi Omega and Pi Beta Phi will be part of the study. Delaney and Caspar are planning to administer three different surveys online during different points of the semester.
"We hope to get as many participants as we can through different incentives that we are trying to develop for the Greek community," said Caspar. "We're excited about collecting data at different points of the semester because this is a theory about coping with stress, and we know stress fluctuates over the course of the semester. If we only collect data in September, people's stress levels are lower as oppose to November when people are gearing up for finals week."
Delaney added, "We're hoping to get the same women to fill out the surveys multiple times. That will give us an opportunity to track how their stress changes over the semester, even the communication and relational maintenance they were doing at mid-semester – does that have a statistically significant relationship to their level of stress at the end of the semester?"
Delaney and Caspar are among several student-professor partnerships this summer conducting research as part of Millikin's Summer Undergraduate Research Fellowship (SURF) program.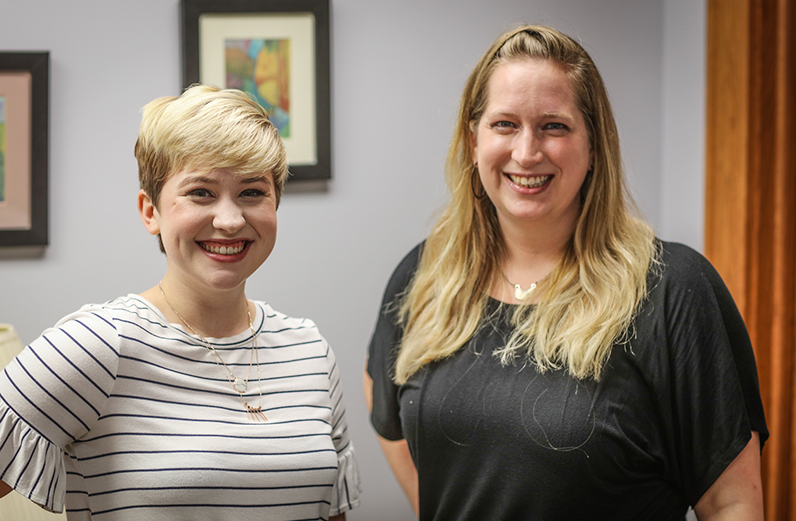 Caspar says she's very interested to see the data behind the major stressors students cope with during the semester. "I think it could be as simple as a small illness or something bigger like a financial crisis. I think it will be very interesting to see who they go to when they are having stressors," she said.
From an experience standpoint, Delaney hopes Caspar will gain confidence in her abilities as a researcher as the project develops. "Often, we learn best by doing and research is no exception," she said. "Because Lane has great firsthand knowledge of the Greek community, I hope she gains insight into her leadership role in her sorority."
"I hope to get valuable insight into this theory because it's newer and interesting, and has so many different aspects that we're going to be testing," said Caspar. "I'm very passionate about Greek Life and I hope we get relevant data that we can add to the literature that already exists about what a sorority provides in terms of support. It's a great opportunity to capitalize on this as an undergraduate."
Summer Undergraduate Research Fellowship Program
Millikin University's Summer Undergraduate Research Fellowship program pairs a student with a faculty member to perform in-depth research throughout the summer months. An example of Performance Learning, the research is one of the "graduate level" opportunities undergraduates experience at Millikin.