"When we collectively come together, there is nothing that we can't accomplish"
For the group Walk It Like We Talk It, actions speak louder than words. The group's message isn't just about making the world a better place, it involves action, with activities like delivering blankets to individuals who need them in the Decatur (Ill.) community.
Dominique Bates-Smith, a 2019 Millikin University graduate, is among the co-founders of Walk It Like We Talk It. She has worked with several teams and organizations, and with her connections, she knew she needed to help the local community.
"I've seen so many people step up and decide they want to do things in the community," Bates-Smith said in an interview with the Herald & Review. "I've just wanted to give back."
To help get the group going in the right direction, Bates-Smith and co-founder Kamryn Harris, a junior entrepreneurship major from Decatur, turned to Millikin students as a focus.
Millikin junior De'Juan Sparkman, of Chicago, Ill., says Walk It Like We Talk It is designed to bring change to the local community. "We feel we can help a certain group out with something, like a church that's in need of volunteers," he said.
Sparkman and others have volunteered at places like the Good Samaritan Inn to help those in need, especially those affected by the COVID-19 pandemic.
"Usually the people that serve the food are in their 60s. That is some of the people that were most at risk when COVID first hit," Sparkman said. "So we just stepped up to the plate and helped them out, getting the food out to the community, helping them prepare the food, washing dishes, anything we could do to help them."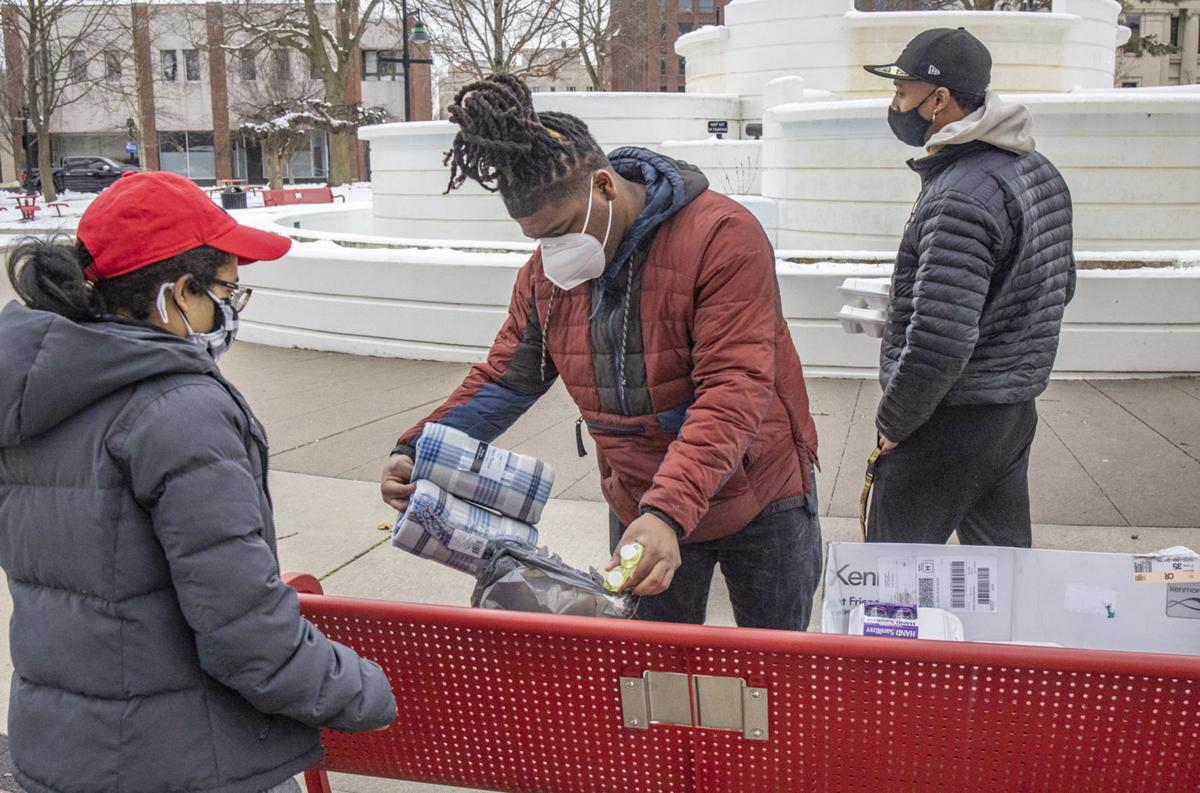 Photo courtesy of the Herald & Review (Clay Jackson)
Recently, Sparkman and Bates-Smith, along with volunteers, distributed blankets, food, face masks, hand sanitizers and gloves around the community to those living on the streets. "We just want to make sure they know we have not forgotten about them," Bates-Smith said about the recipients.
The idea for the group began during the summer of 2020 while Bates-Smith was watching young adults take initiative during the Black Lives Matter movement along with other community service events. She was encouraged to organize a group to help others.
Bates-Smith worked with Sparkman and Harris to bring people together who wanted to make a difference through change and action. To make the change a reality they needed assistance from elected officials, which led to their first goal.
"We decided to get young people out to vote," Bates-Smith said. "We didn't care what their political affiliation was."
The group attended the "Walk to the Polls" event during the November election. In just a few months, Walk It Like We Talk It gained approximately 100 members as volunteers continued to join them at events.
"Community improvement was the general focus after the election. We have a lot that we want to see change here in our hometown," Harris said.
COVID-19 restrictions have affected the way the group operates, but the pandemic has not stopped the group from carrying forward. Volunteers communicate through Facebook and other social media channels. Events and activities are planned each month while the group encourages others to speak their voice on important issues.
"When we collectively come together, there is nothing that we can't accomplish," Taylor said. "That's what this group is all about."