Visual Media students design library window artwork
The Dennis Lab School Library will have new window artwork thanks to the efforts of Millikin University visual media students. The Dennis Millikin Partnership unveiled the new artwork designs for the library windows during a presentation on Nov. 22 at Dennis Lab School.
Millikin visual media students within the new Arts Technology major collaborated with the Dennis Student Council to design artwork for the large library windows seen east of the facilities monarch wing at Dennis Lab School.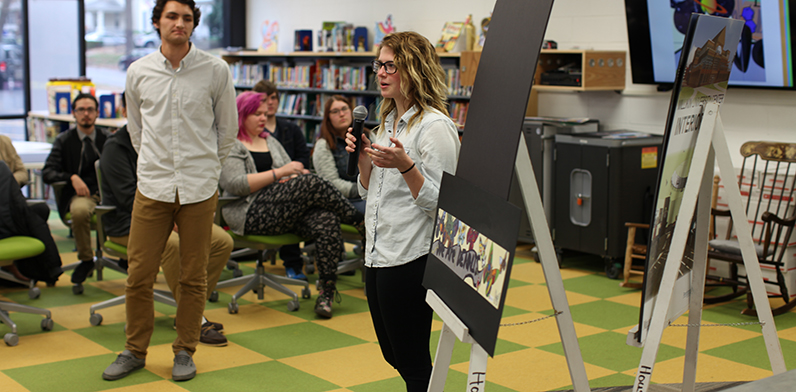 The Dennis Student Council as well as Dennis-Millikin faculty and community members have been actively involved in the design presentations. The student council played a vital role in the project working with Millikin visual media students on how they wanted their school to be reflected in the design.
The artwork was created by teams of students in Millikin's Computer Art and Design course led by Jessa Wilcoxen, educator of digital media at Millikin. The student designers included: Amber Maiberger, a senior studio art major from Oak Lawn, Ill.; Sara Schilling, a sophomore digital media marketing major from Lerna, Ill.; Rogelio Diaz, a sophomore graphic design major from Decatur, Ill.; Jake Lakin, a sophomore graphic design major from Rochester, Ill.; Briana Watters, a sophomore graphic design major from Vermilion, Ill.; Aubrie Sabin, a senior music business major from Rockford, Ill.; Oliver Czopek, a senior communication major from Oswego, Ill.; Aryana Johnson, a junior studio art major from Maywood, Ill.; and Francisco Gama, a junior graphic design major from Aurora, Ill.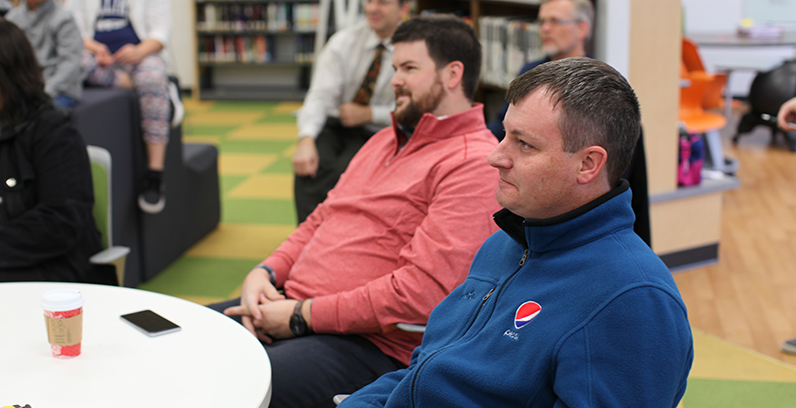 "We had a graphic design class work with Dennis Lab School to design art for the library windows," said Trevor May, Dennis Millikin Partnership liaison. "We thought this would be a great opportunity to involve both student groups to get it designed and built. The Millikin students met with Dennis students and talked about what they do inside the classroom, outside the classroom, and how they partner with the community and Millikin in different ways."
Millikin University alumni Robert Burtnett '99, Brady Rhoades '09 and Francine Moyer '01 were in attendance for the presentation providing feedback for the Millikin class presentations.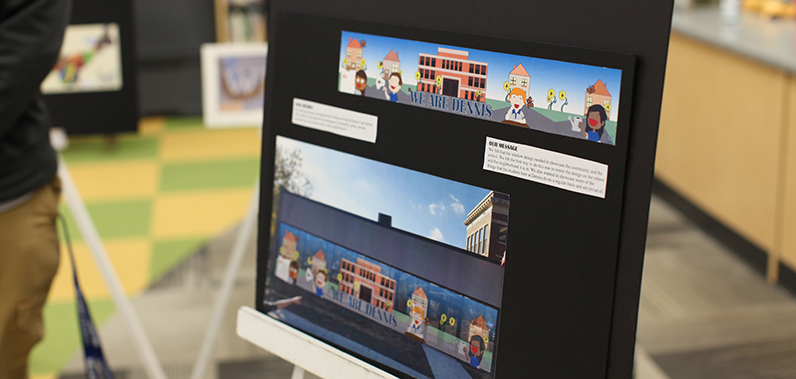 "We wanted to show how amazing Dennis School is in our design," Rogelio Diaz said. "The students take a lot of pride in their work in trying to make the community a better place. The students have the skills to be leaders someday."
The designs included highlights of the Decatur west end community, butterfly themes and a space theme.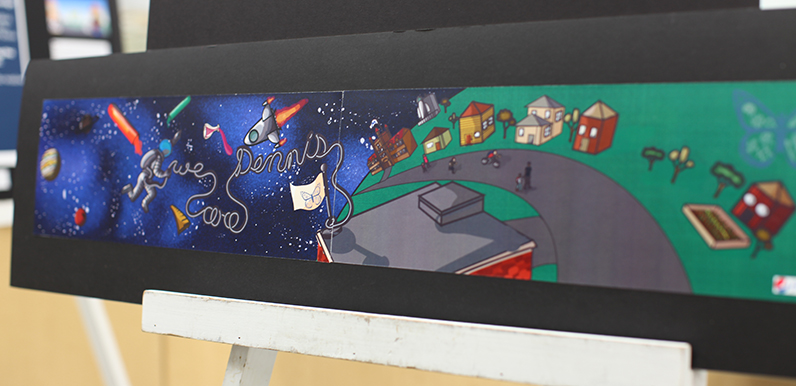 Trevor May noted, "I liked all of the designs because they were unique. Each design showed Dennis in a very interesting light. It's always interesting to see how other people perceive Dennis and how they perceive the partnership."
Moving forward, Dennis-Millikin faculty and administrators will weigh in on which design will be selected and if any further changes need to be made. The Dennis Millikin Partnership is working with Pepsi Refreshment Services to co-op the cost of printing and applying the vinyl shades to the Dennis Library windows.
Arts Technology at Millikin
The Arts Technology major within Millikin University's College of Fine Arts fosters creative skills and provides hands-on learning experiences in live entertainment technology, audio, video, graphic design, digital photography, animation and web-based digital design and communications.
Through the Visual Media concentration, students use their visual communication problem-solving skills to create digital media through design, animation, photography, as well as web design and development. Students are also given the opportunity to work with real clients and provide solutions for business problems.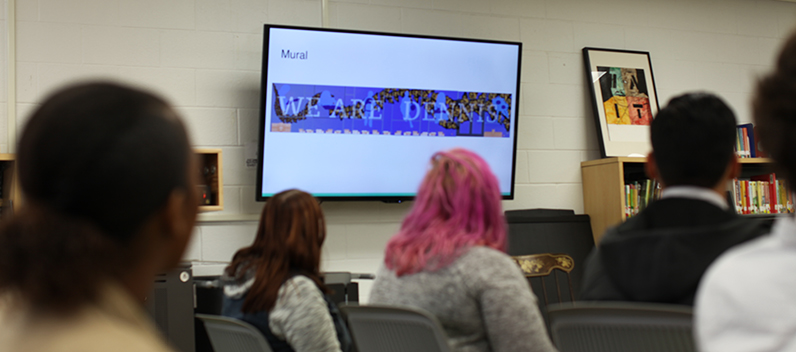 Dennis Millikin Partnership
The Dennis Millikin Partnership is established on the synergy between Performance Learning (Millikin) and Project-Based Learning (Dennis). This approach allows collaborative proposals, such as the library window artwork, to flourish. This unique parallel is possible though the flexibility of time and resources through which the partnership humbly attributes its many successes. The partnership positively impacts students from both campuses in real world application that continues to progress their social, post-secondary education and career-ready development.
For more information on the Dennis Millikin Partnership, visit dennislablink.com.
View Coverage