Millikin time-honored tradition recognizes academic excellence
Millikin University's Honors Convocation and Distinguished Faculty Lecture is a time-honored tradition where the University community comes together each April to celebrate academic excellence and Millikin life, inside and outside the classroom.
Normally, Honors Convocation is hosted inside Kirkland Fine Arts Center, but as a result of the COVID-19 pandemic and the University switching to distance learning, Millikin is recognizing the outstanding work of students and faculty from the 2019-20 academic year with a virtual celebration.
"We want to signal Millikin's great pride and all the extraordinary people we honor this year," said Millikin President Dr. Patrick E. White. "We stand together to recognize, which means literally to know again, who we are as Millikin University. As we reveal some of the names of those honored, think about who we are and what we can become. Take a moment to congratulate those whose honors we reveal in this manner and all who are mentioned in the larger program."
Over 80 awards are presented to Millikin students and faculty who are being honored for their commitment to the pursuit of academic excellence. Many of the awards have been created to honor men and women of Millikin's past.
Among the awards is the Scovill Prize, the most coveted recognition of Honors Convocation. Scovill Prize winners are selected on the basis of high academic achievement, demonstrated leadership, service and scholarship. This year, eight students were named Scovill Prize recipients.
"Although we were not able to hold our traditional Honors Convocation this year, we are still hard at work as a university engaging in all of the teaching, learning, scholarship, artistic achievement and service that make this such a remarkable place," said Millikin Provost Dr. Jeffery P. Aper. "Just as actively as we are still pursuing all of those important purposes, we also want to be sure that we again this year publicly recognize winners of some very important awards and honors at Millikin. The Honors Convocation gives us the chance this year, just as it does every year, to honor and applaud some of those who have contributed in particularly remarkable ways over the past year. No matter where you are, we value and recognize your essential part of the Millikin world. We hope that this attention to outstanding performance by other members of that world will remind you of the importance and meaning of the work we do together."
Congratulations to all the honorees.
College of Arts & Sciences
Behavioral Science Award: Dipti Patel
Henry F. Gromoll Service Award: Chynna Shields
Biology Honors Award: Logan Bader
Dr. Neil Baird Biology Lab Assistant Award: Jillian Jones
Clyde Dennis Award: Rubi Rodriguez-Bobadilla
George & Rick Glasscock Memorial Biology Award: Stephen DeMartini
John & Ula Leighty Research Award: Samuel Billig, Mackenzie Martin and Isabella Newingham
Alpha Epsilon Delta Award: Stephen DeMartini, Rebecca Gorman, Jillian Jones, Olivia Marquardt, Victoria Mineo, Max Phillips and Emily Reeves
American Chemical Society Award in Analytical Chemistry: Greta Jacobson
American Institute of Chemists Award: Matthew Frank
Dr. Ed & Lucy Acheson Award for Excellence in First Year Chemistry: Sydney Griggs, Madeeha Salik and Jerome Wheeler
Dr. & Mrs. William F. Henderson Prize: Blaine Baer, Chloe Herbert, Morgan Powers and Joslynn Smith
Carl & Lucile Weatherbee Chemistry Award: Matthew Frank, Dalton Glasco and Juliana Guaglianone
Carl & Lucile Weatherbee Graduate Studies Award: Blaine Baer, Matthew Frank, Dalton Glasco, Juliana Guaglianone, Morgan Powers and Blaine Traylor
Dr. Clarence and Carol Josefson Award for Excellence in Chemistry: Darius Brent and Precious Dixon
Dr. Everett J. Brown Prize: JaCarla Anderson, Lane Caspar and Jason Messina
Dr. & Mrs. W. J. Darby Prize: Lane Caspar
Dr. Grace Patten Conant Writing Award for Creation : Sydney Sinks
Dr. Grace Patten Conant Writing Award for Interpretation: Johannah Comish
Dr. Grace Patten Conant English Department Award : Erica Mooney
Dr. Grace Patten Conant Society Achievement Award: Rebekah Icenesse, Erica Mooney, Athena Pajer and Sydney Sinks
Marybeth Drechsler Sharp Outstanding Journalism Award: Athena Pajer and Sydney Sinks
Dr. J. Graham Provan History Award: Amber Johnson
Albert T. Mills Prize: Shelby Jones
John E. Vrooman History Prize: Joshua Boliard
Sigrid A. Stottrup History Award: Wyatt Henschen
Mathematics & Computer Science Award: Julia Krull
LaVern J. Meyer, Ph.D. Math Education Award: Morgan Bettner
Linda Weatherbee Mathematics Award: Haley Vemmer
Modern Languages Linguistic Excellence Award: Katelyn Nika
Modern Languages Literary Criticism Award: Marlen Zarate-Zapien
Margaret Burkhardt Johnson Modern Language Excellence Award: Michaela Wolfman
Thomas W. & Mary R. Adney Memorial Award: Lucas Chatterton
T. W. Samuels Award: Emily Cotner and Nicole Scott
Outstanding Political Science Major Award: Jasmin Coronel
Alice Ambrose Lazerowitz Philosophy Award: Korbin Farmer
Rev. Robert S. & Doris Stewart Prize in Religion: Christina Hoving and Johnathen Sumler
Outstanding Physics Award: Justin Craig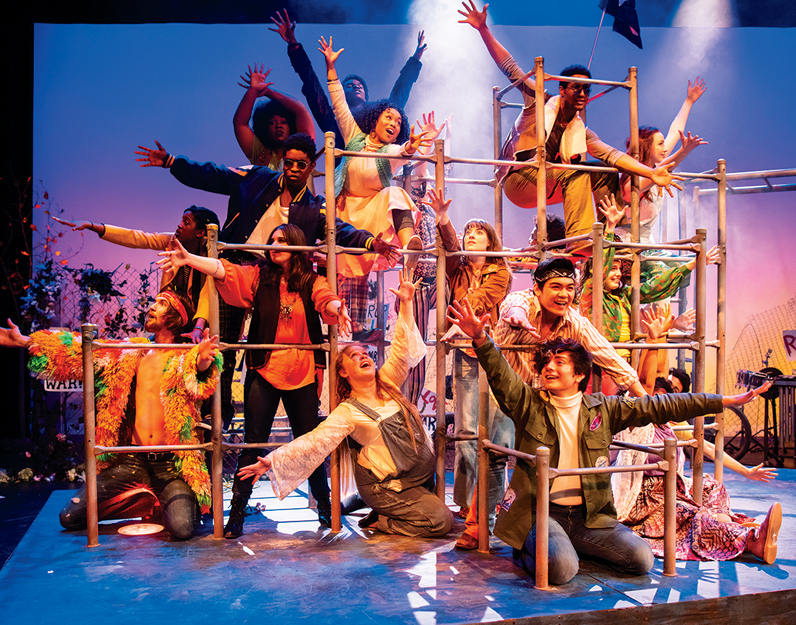 College of Fine Arts
Pi Kappa Lambda Outstanding Senior Award: Leon Lewis-Nicol
Presser Award: Nicholas Orth
Alice Herren Ayars Award: Austin Shaw
Wilna Moffett Award: Leon Lewis-Nicol
Mary B. Merris Award: Heidi Buch and Elizabeth Heisz
Winifred St. Clair Minturn Award: Francis Paredes
Thomas. A. Johnson Memorial Award: Bradley Perry
Dr. Russell Tiede Honors Award: Mikaela Wattleworth
Percussion Achievement Award: Francis Paredes
Dr. Maria Klott Memorial Award: Michael Duling
Handler Award for Excellence, Bachelor of Arts in Music: Emily Cotner
Joan & Melvin Grabowski Memorial Award: Zachary Cary, Annelise Salazar and Katelynn Watkins
Dr. L.C. McNabb Memorial Award: Stacy Coleman, Maya Dougherty, Diana Juarez and Taylor Porter
Michelle Chartier Memorial Award: Mackenzie Barnett, Emily Brandt and Ariya Hawkins
Kathryn Paige Torp Memorial Award: Melanie Wilson and Kayley Woolums
Ron Smith Award in Musical Theatre: Trey DeLuna and Hope Klessig
J. Ben Wand Prize: Abigail Gawart and Tanner Hake
Andrew Strand Memorial Theatre Award: Kathryn Czajkowski and Emily Long
Marvin Klaven Art Award: Brittiny Brubeck and Deanna Russell
David S. Monroe Art Award: Kathryn Bouxsein, Margaret Luckenbill, Erica Reyes and Courtney Schudel
Dorothy Sellers Art Award: Kayla Alpers, Nicole Casler, Shannon Cook, Caitlyn Galloway, Kaitlynn Haskell, Tessa Laslo, Taylor Linville, Molly McCool, Stephanie Oliver, Carrie Thompson and Sydney Wilson
College of Professional Studies
Barbara and Robert Byrkit Award: Baylee Baxter and Destiny Musick
Dr. Jerald Hunt & Dr. Darlene Hoffman Award for Excellence in Teaching & Learning: Megan Garrison
Jola Kuntz Education Award: Aimee Coverstone
Ray Boehmer Memorial Award for Excellence in Science Education: Jenna Leeper
Smith/Orlandini Award: Nicholas Laramee and Jennifer Miller
Walter Witt Award: Zachary Kingston, Casie Pierce, Callaghan Pohrte and Chloe White
Alpha Tau Delta Honorarium Award: Peyton Kennedy
Decatur Memorial Hospital R.H. Cleland R.N. Award: Olivia Thomson
James Millikin Theory & Practice of Nursing Award: Abbey Riley and Blair Trimble
Dorotha F. Dean Nursing Award: Kami Kingery
Dr. Mary D. Shanks & Dr. Linda K. Niedringhaus Excellence in Nursing Leadership Award: Parita Patel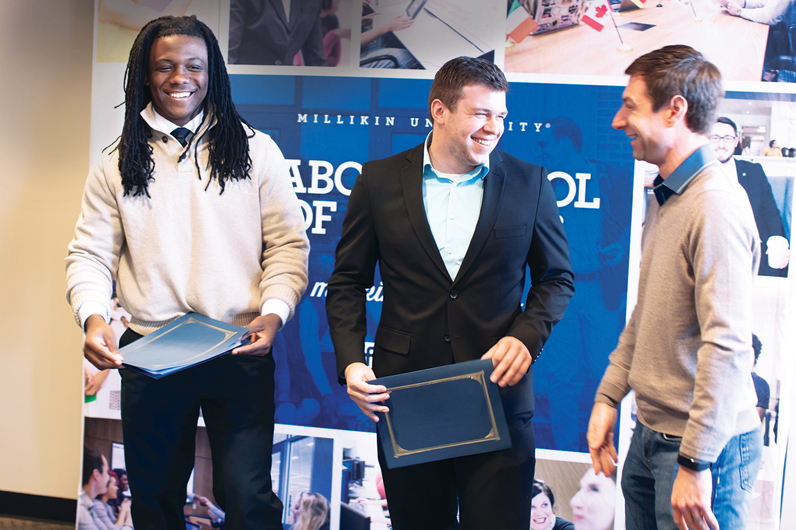 Tabor School of Business
Glen R. Smith Award: Mikayla Krieger
Margaret Sparks Award: Kelsey Miller
Linda Weatherbee Human Resouce Management Award: Alyson Armstrong
Paul R. Winn Memorial Achievement Award: Taylor Isaia, Mikayla Krieger, Morgan Timmons and Daniel Tomlinson
Excellence in Management Information Systems Award: Alexander Pratt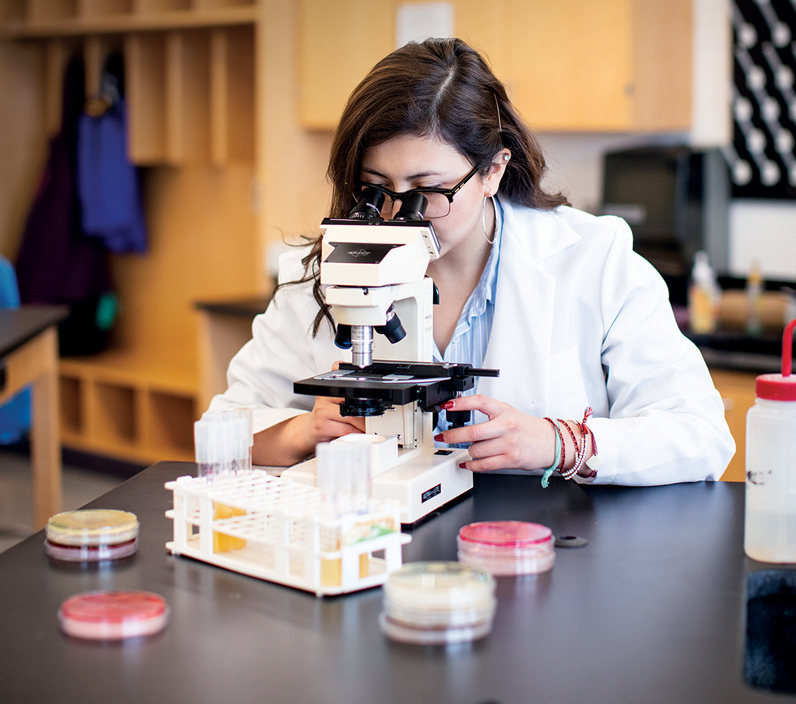 University Awards
Maria Leonard Senior Book Award: Kalli Farmer
JoAnne Trow Award: Greta Jacobson, Madison Roberson and Alexander Shafer
Sigma Alpha Epsilon, Illinois Delta Chapter Award of Excellence: Michael Lewellyn and Andrew Tufano
MU Greek Five Star Chapter Award: Delta Delta Delta and Delta Sigma Theta
C.W. Barnes Memorial Award: Kalli Farmer
Major Thomas G. Storey Citizenship Award: Diana Juarez
Dr. Jere C. Mickel Human Relations Award: Leon Lewis-Nicol
Daniel J. & Elinor Gage Student Activities Award: JaCarla Anderson
Helen Moffett Russell Community Service Award: MaKenzie Vinson
Eshelman Family Award: Logan Bader and Mallory Christensen
Dr. Jan Devore Award for Excellence in Contributions to Campus Life: Allen Brown
Dr. J. Roger Miller Leadership Award: Rubi Rodriguez-Bobadilla
Alpha Lambda Delta Outstanding Teaching Award: Denise Myers, professor of theatre
Teaching Excellence Award: Dr. Anne Matthews, associate professor of English
Research & Artistic Achievement Award: Dr. Laura Zimmerman, assistant professor of biology
Dr. Ralph A. Czerwinski and Dr. Deborah L. Slayton Teaching Excellence & Campus Leadership Award: Mary Black, director of the Millikin School of Theatre & Dance and associate professor of theatre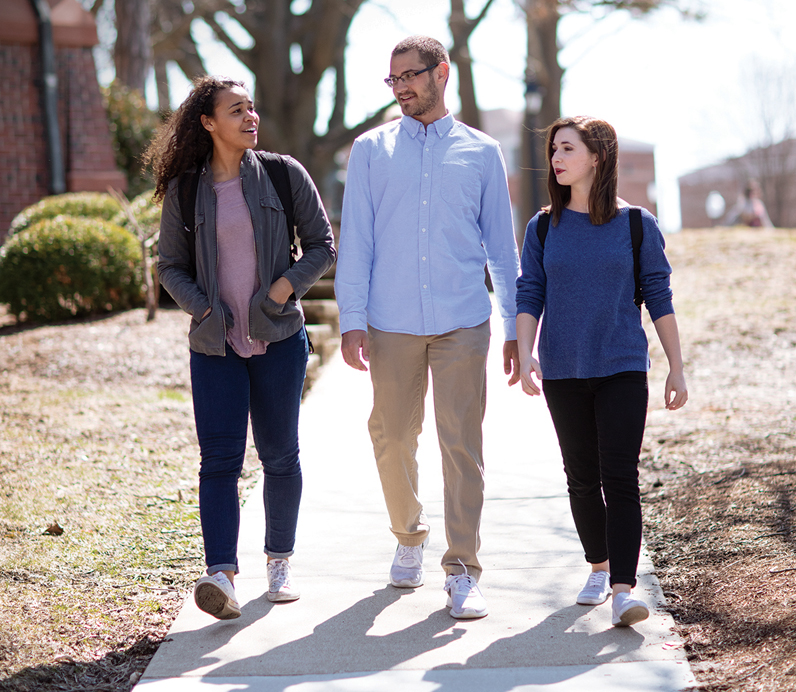 Scovill Prize
Angela Arnold
Maggie Baltz
Zachary Cary
Valeria Chavez-Roncal
Shae Giovanni
Athena Pajer
MacKenzie Parsons
Abbey Riley