Millikin theatre students team up with WJMU to develop voiceover skills
A career in voiceover work could lead to many exciting and creative opportunities for performers, including different kinds of projects, from audiobooks to animations.
This spring, Millikin University Assistant Professor of Theatre Elisa Gonzales used her Voiceover course to help theatre students not only develop voiceover reels, but apply their voiceover techniques to real world experiences.
"As part of the course, the students apply various voice and acting techniques to several areas of voiceover - including commercial work, gaming and animation, industrials, narration and promotional voiceover," said Gonzales. "It's a skill-building class, however, I wanted the students to engage in Performance Learning by applying classroom work to practical experiences."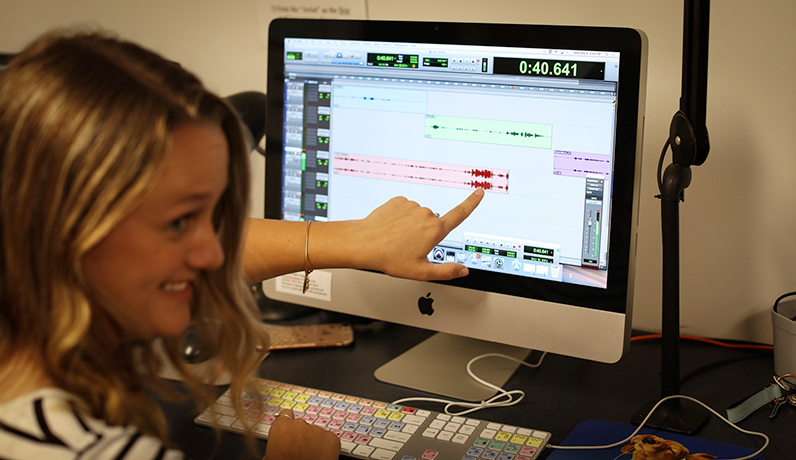 Each week during the semester, the students were given a different voiceover theme to produce, such as commercials, animation or video games. "We would learn all the skills on Tuesday, go home, and record ourselves, edit, turn the project in and get feedback," said Mackenzie Barnett, a senior musical theatre major with a dance and communication minor from Spring Hill, Tenn.
Barnett says many audition tapes for voiceover work are recorded at home, and the students recorded as many as 15 voiceovers throughout the semester. Every student did the same theme, but each student could pick their own script using online resources like Edge Studio.
"It's very important to know how to record yourself," said Barnett. "I learned how to venture out into different things, like making noises for a video game or making your voice sound like a particular character for a commercial – I've learned how to stretch my voice."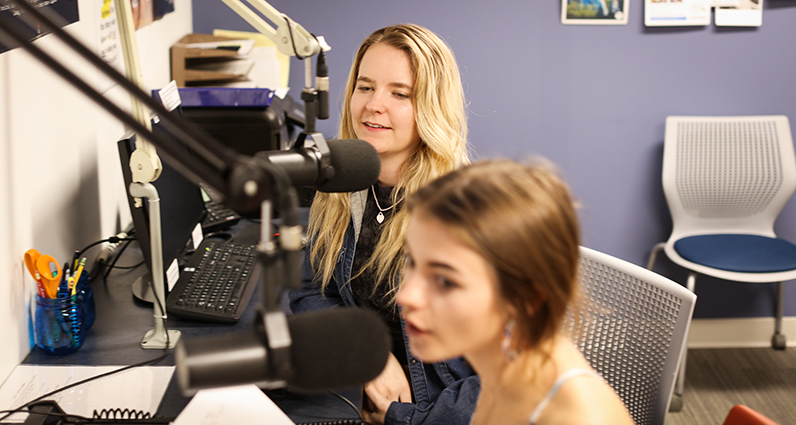 One of the core learning goals for students in Millikin's School of Theatre & Dance is collaboration, and this was evident in Gonzales' course as the voiceover students had the opportunity to team up with students from WJMU, Millikin's student-run radio station, to further develop their voiceover projects. The students also worked with Professor Kevin Guarnieri, director of Millitrax Studio, and his students from Millikin Arts Recording Studio (MARS).
"The scope of the projects was decided by the voiceover students and the students working at WJMU – some of them worked on promotional public service announcements (PSA), others worked on a weekly radio drama program with WJMU called Owl Stretching Time," said Gonzales.
Meghan Whitlock, a senior communication and music double major from Moseley, Va., was one of the WJMU students who helped record, edit and even write some of the voiceover content. "One of the themes we did was event promotion. I would have the theatre students write the script to get that experience and then I would record it."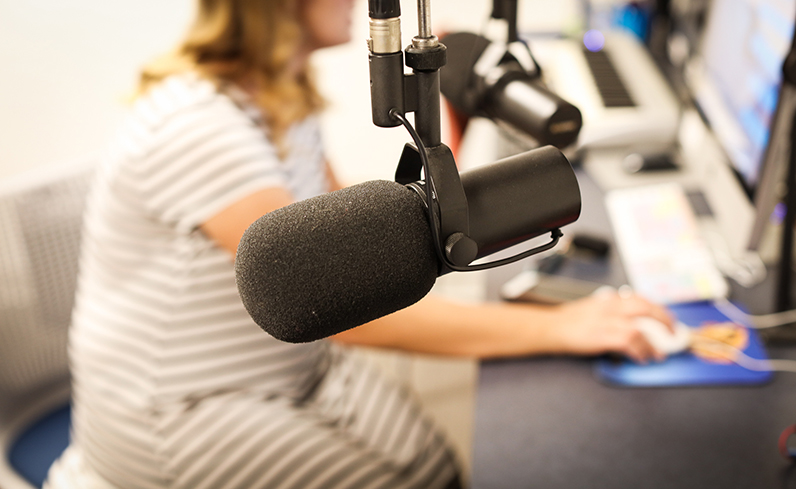 Senior Frank Macaluso, a theatre major from Chicago and production director for WJMU, produces Owl Stretching Time – a program that employs voice actors. "In terms of a voice actor, I look for versatility. My show is a sketch comedy and people have to play many different characters. I also look for amiability – someone who has enthusiasm and can take direction easily."
Hannah Haedike, a senior theatre major from Weldon Spring, Mo., has recorded voiceovers for Macaluso's sketch comedy in the past. "Working with WJMU has been the cherry on top. Realizing that there are these scales of pitches and different ways you can manipulate your voice in a technical way opened a whole new world for me. I'm working on a character reel and a commercial reel that I will submit to open calls. I see more opportunities with this because there are so many new avenues that you can go on."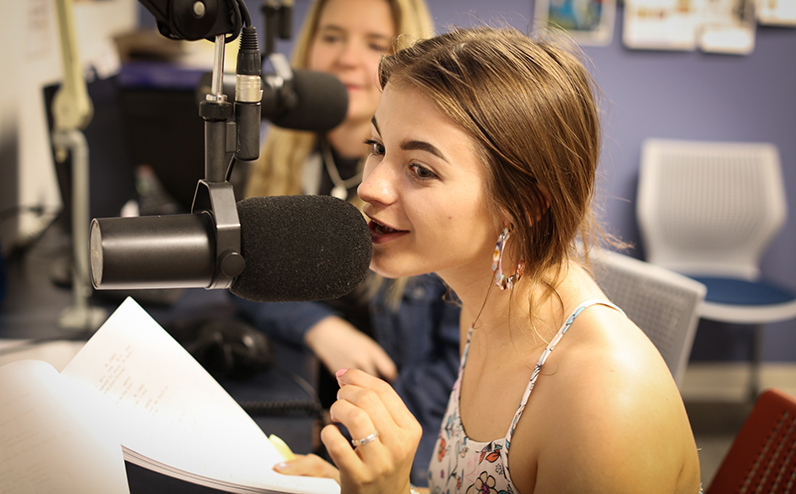 While working with Professor Guarnieri, the voiceover students had the opportunity to record commercial copy at Millitrax Studio. Professor Guarnieri's students ran the sessions and helped edit the projects. Each voiceover student had a professional quality 30-second audio file of a commercial spot made following their sessions at Millitrax.
"The class has made me realize that voiceover work is something that I want to do," said Barnett. "With voiceover work, you realize how important acting training is – it's a great way to get your name out there and practice."
Gonzales says the objective of the collaboration is for the voiceover students to engage in Performance Learning outside of the classroom.
"The students have the opportunity to apply techniques, learned in voiceover class, to various projects," said Gonzales. "This course teaches them an increase in flexibility, understanding risk-taking in acting choices, and developing collaboration skills in working with creatives of various backgrounds."