Millikin Master of Science in Nursing and Doctor of Nursing Practice programs recognized by U.S. News
Millikin University has been ranked among the 2023 Best Graduate Schools by U.S. News & World Report, released on March 29, for its Master of Science in Nursing (MSN) and Doctor of Nursing Practice (DNP) degree programs. The annual report highlights the nation's top graduate programs and specialties in each area.
Millikin University's MSN program was listed among the 199 top Master's Nursing programs nationally and was ranked 5th among all schools in Illinois.
Millikin University's DNP program was listed among the 158 top DNP Nursing programs nationally and was ranked 3rd among all schools in Illinois.
To help prospective students find the programs that best fit them, U.S. News' Best Nursing Schools rankings assessed both master's programs and Doctor of Nursing Practice programs on their research activity, faculty resources, student excellence and qualitative ratings from experts.
From this data collection, U.S. News calculated weighted averages of 15 indicators for the master's ranking and 14 for the DNP ranking. Many of these indicators overlapped – namely, all the research activity indicators and some faculty resources factors including the percentage of faculty members with important achievements, faculty credentials and faculty participation in nursing practice.
"The Millikin University School of Nursing has a long history of excellence in nursing education and its reputation is reflected in the recognition received in these rankings," said Dr. Elizabeth Gephart, interim director of the Millikin School of Nursing. "The faculty and staff are to be commended for their commitment to providing quality programs that deliver on the promise of education to our students. Through our Performance Learning opportunities and partnerships with local healthcare providers, our graduates are prepared and highly sought after for either entry or advanced practice roles."
The Graduate School of Nursing at Millikin is renowned for excellence in education, clinical practice and research while creating a uniquely integrated academic experience in which faculty and students engage in a culture of discovery.
The Millikin School of Nursing offers graduate courses leading to the Master of Science in Nursing degree for those nurses who want to advance their careers beyond the baccalaureate level. Millikin's MSN program offers two options: Nurse Educator (NE) and Master's Entry into Nursing Practice (MENP). The Nurse Educator option requires applicants to be a BSN-prepared registered nurse, while the MENP program is designed for students who already hold a non-nursing bachelor's degree and are interested in entering the nursing field.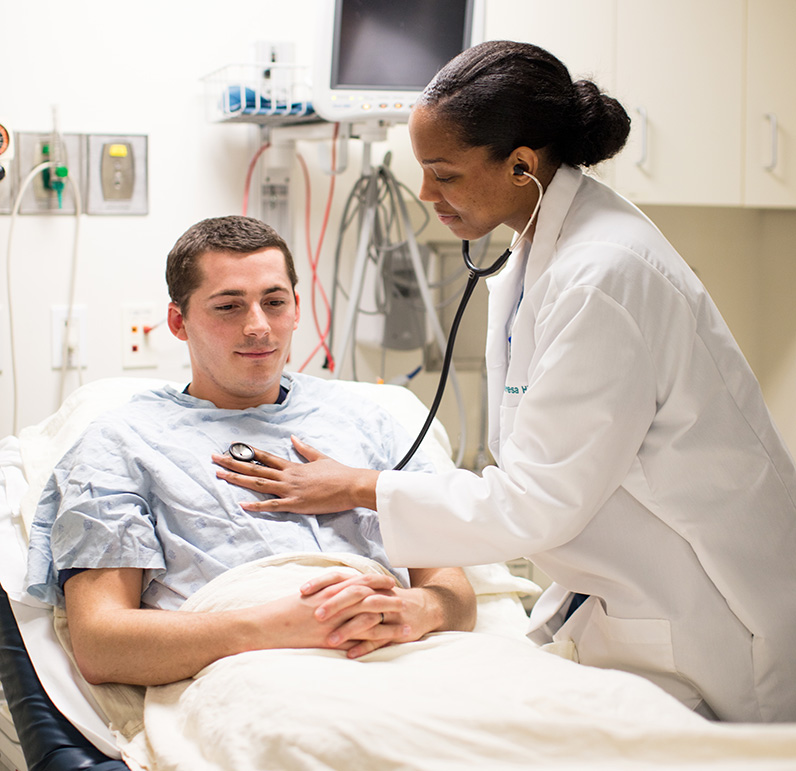 Millikin's Doctor of Nursing Practice is a practice-focused doctorate designed to prepare advanced practice nurses to lead practice changes based on evidence to improve patient outcomes in complex healthcare systems. The DNP program is available to professional registered nurses who hold a Bachelor of Science in Nursing or a Master of Science in Nursing degree.
Millikin DNP options include:
BSN to DNP Nurse Anesthesia
BSN to DNP Family Nurse Practitioner
MSN to DNP Family Nurse Practitioner
DNP Completion
Nursing is a profession recognized for its intentional blend of the rigorous application of scientific knowledge with the art of caring. The framework for the nursing curricula at Millikin University incorporates the School of Nursing's mission, goals and outcomes under the core concepts of person, nursing, environment and health. The nursing programs at Millikin University encourage personal and professional success by producing nurses who grow in personal and professional knowledge throughout their lifetimes; provide excellent healthcare that respects diverse, global communities; lead by demonstrating lives of meaning, value and contribution; and are inspired to imagine and achieve a desired future for healthcare delivery.