Visible changes expanding across Millikin's campus
Millikin University is currently in the process of creating a new Center for Theatre and Dance and a new Workman Family Baseball Field. These visible changes will expand Performance Learning experiences on the University's 75-acre campus in Decatur.
Center for Theatre and Dance
Construction on the Center for Theatre and Dance is fully underway. BLDD Architects Inc. and CORE Construction are setting the stage for a revolutionary, transformational building rising from the site of the former Richards Treat University Center.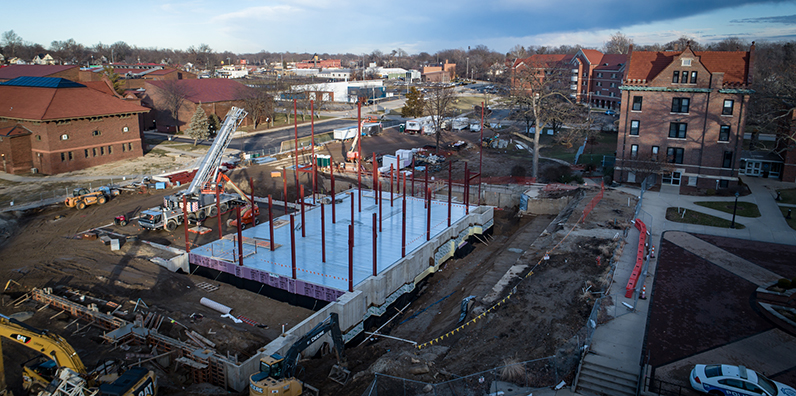 Currently, the project is on schedule. Despite the poor weather, construction crews have been able to make up time in other areas to offset the areas where work was slowed. A significant amount of steel was delivered and installed in December and this allowed the basement to be enclosed and heated for the pouring of concrete slab.
Pre-cast panels have been erected around the Center's theatre, and the remaining structural steel and trusses for that space are currently being installed. A crane will be shifted in the coming weeks to continue the steel frame installation.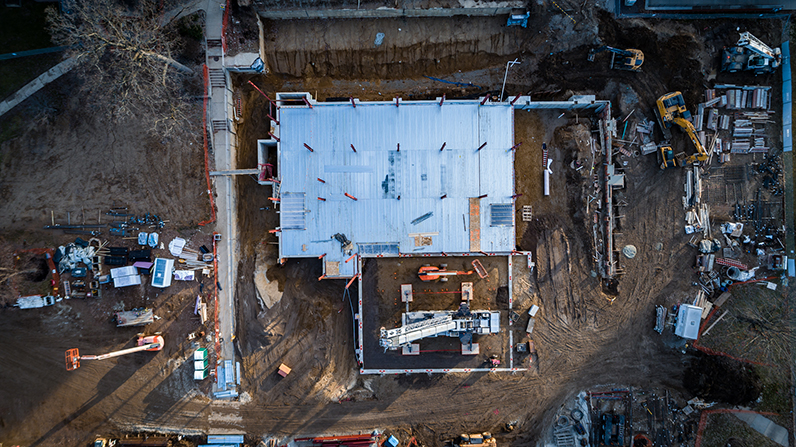 Millikin University officially broke ground on the new Center for Theatre and Dance during a ceremony held on May 18, 2018. The new building will feature a 260-seat flexible theatre which includes an orchestra pit, balcony and tech gallery with a tension wire grid. The Center will also feature lighting and sound labs, a costume studio, a costume classroom, collaboration spaces, and offices and support facilities for current staff and room for growth.
Millikin's new Center for Theatre and Dance will also incorporate four acting studios, two dance studios, two design classrooms and practice rooms as well as all new modern theatre equipment and LED lights.
With a goal of completion by fall 2020, the Center will offer a centralized, focused location for creativity to be taught, fostered and displayed, and will also provide a new venue for Millikin performing arts to delight, inform and inspire audiences from throughout the region.
Workman Family Baseball Field
Construction is in full force on the Workman Family Baseball Field. This winter's weather, however, has caused construction delays. With more winter weather expected in the coming weeks, the completion date for the project has been moved to August. For the 2019 season, Millikin will return to its former home at Sunnyside Park. A dedication ceremony for the baseball team's new Workman Family Baseball Field will be scheduled in fall 2019.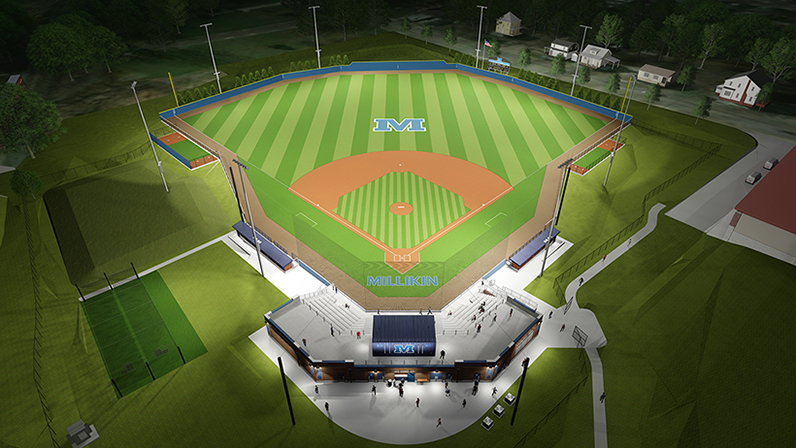 The new $5 million baseball facility is located south of the Decatur Indoor Sports Center (DISC) and includes an all-artificial turf field, stadium seating (including some seat back chairs), clubhouse, lights, press box, concessions and batting cages. Millikin University will be the only school in the College Conference of Illinois and Wisconsin (CCIW) with an on-campus baseball-only facility with a full turf field and a clubhouse.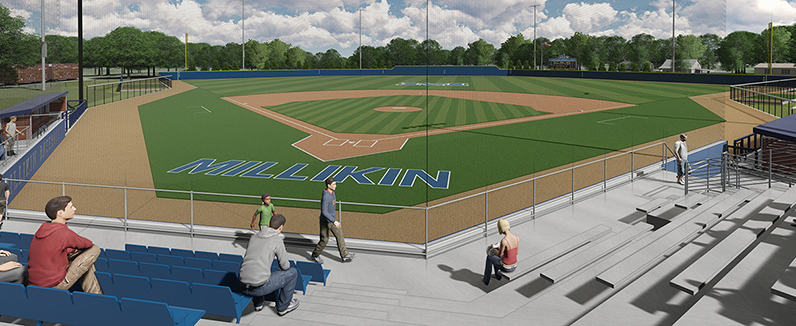 The new facility is being made possible by a generous $4 million contribution from Millikin University Emeritus Trustee Gary Workman '65 and his family, as well as $500,000 gifts from Millikin Emeriti Trustees Mark and Bob Staley, and Millikin Trustee Tom Harrington '70 and his wife, Cordia.