Millikin looks back on year one of its 'New Front Door'
It was on Aug. 21, 2017, that the new front door to Millikin University, the University Commons, was officially open to the campus and surrounding community.
Located in the heart of Millikin's campus, the University Commons was designed for campus and community-wide events as well as enhancing student experiences. One year later, the Commons has lived up to every one of those purposes and more.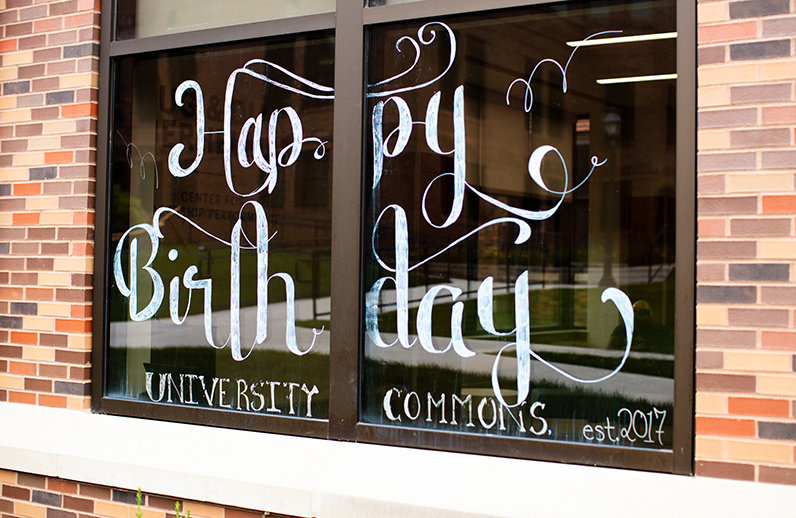 Millikin commemorated the one-year anniversary of its University Commons with a 1st birthday celebration on the first day of class on Aug. 20, hosted in the Dr. Jan Devore Student Lobby on the first floor of the Commons.
Students, faculty and staff were treated to cake, ice cream and free coffee from the University Commons coffee shop, Common Grounds, and experienced a standout music performance from Millikin's mixed A cappella group Dissonance, who performed in the Doug and Diane Oberhelman Center for Leadership Performance.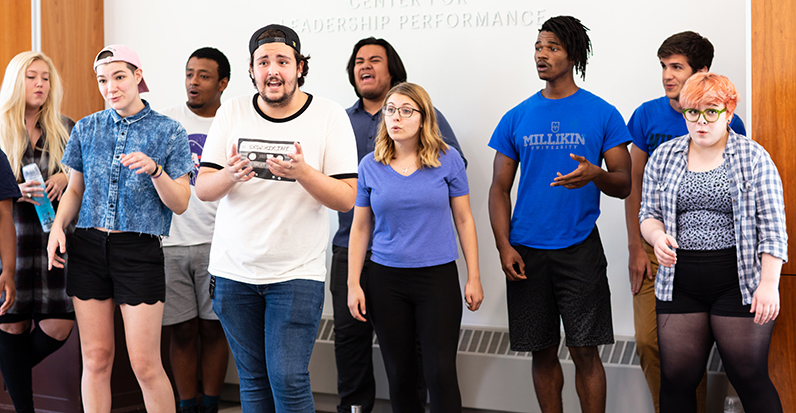 The celebration also featured a Pepsi product tasting, giveaways, face painting and a scavenger hunt.
Millikin President Dr. Patrick E. White addressed the welcomed guests by sharing the excitement of how the building has changed and grown.
"The Commons has gotten bigger in our purposes, in our possibilities, in our sense of the future and our sense of the joy and excitement," said President White. "This building has changed and grown, and it is a very big one year old."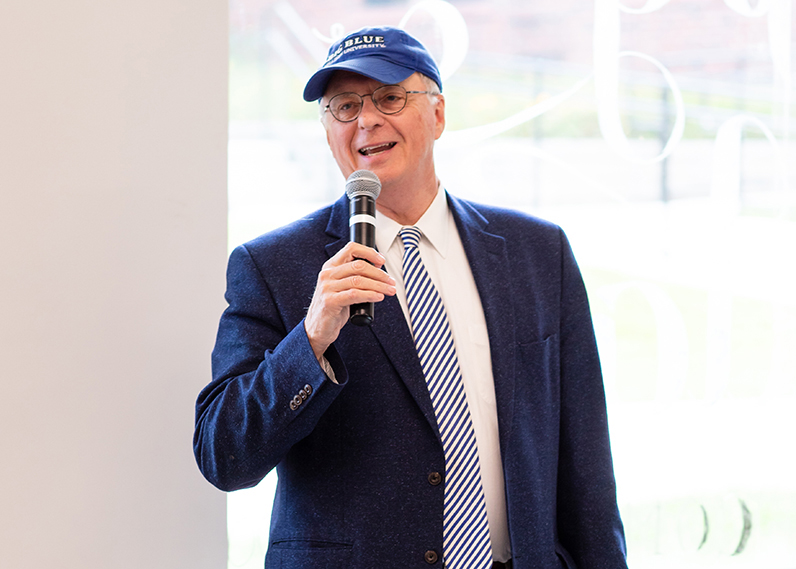 President White noted, "We share the University Commons with our larger community in Decatur, with prospective students and our alumni all over the world. This is the place where we live our best imagination of who we are. This is a place that I hope will always be for you, a home."
Z. Paul Reynolds, director of student development and the University Commons talked about the vision for the Commons and how it benefits the campus community.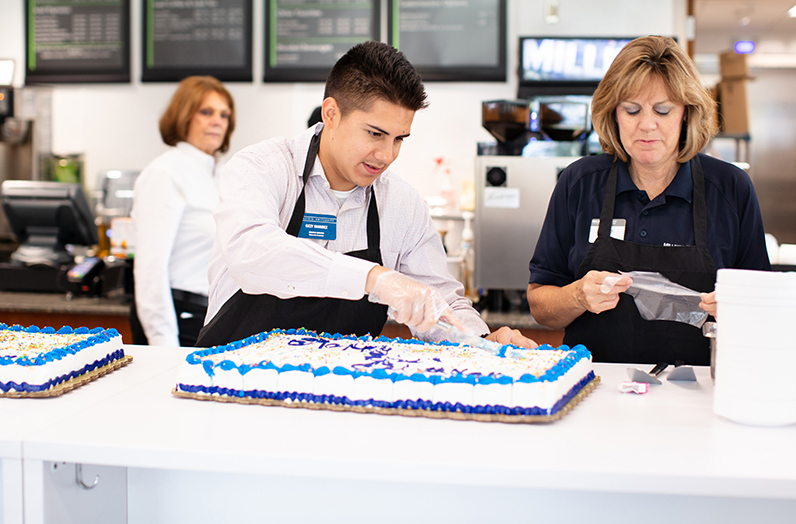 "Whether you're eating in the building, or studying in the building, you find a home here," he said. "When I first talked to President White about his vision for creating a center here, a commons, it was very affirming to me as someone who does this, but so exciting for the students who would be the beneficiaries of it."
First-year international student Marina Andriotaki, from Greece, says the Commons is a place where you find somebody you know each time when you're passing through.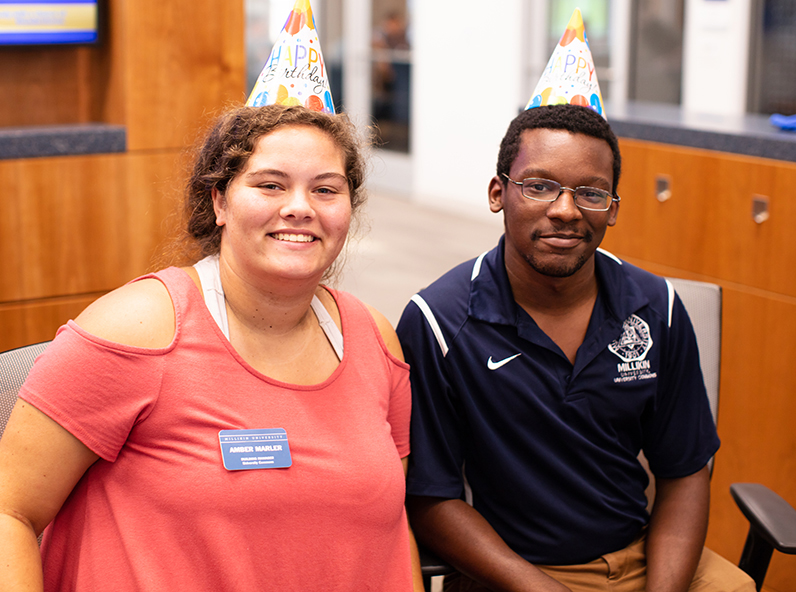 "It's a great place," said Andriotaki. "From the first day, we've been here many hours and it's a good meeting area. Every time you come here, you find somebody you know, and you come through this place for every class, every meeting. It's very important."
Sydney Stoewer, a junior communication major from Normal, Ill., added, "I live here. I'm in this building way too much. I love this building. Just the way it's set up, I love it. It really is a common area. You always know somebody around and you always see your friends."
University Commons
A space for research, innovation, and application, the University Commons encourages collaborative learning and achievement. Opened in August of 2017, the University Commons blends together the Staley Library and student center functions into one central location, reconfiguring the existing library and infusing access to it throughout the 87,000 square-foot building. With input from the entire campus community, the University Commons was designed for campus and community-wide events.
The University Commons became a reality with support from Doug Oberhelman '75 and his wife, Diane. The retired Caterpillar Foundation and Caterpillar Inc. Chairman and CEO and wife's contributions helped to fund the Oberhelman Center for Leadership Performance; a new Center for International Education; and the Long-Vanderburg Scholars program.
In addition to an $8 million bond secured by the University and other generous donor gifts, three families made seven-figure contributions to the construction of the University Commons: Millikin Trustee Debi Breeding Johnston '89 and her husband, Bob; the late Robert Moorehead '46 along with his wife, Charlotte Beesley Moorehead '47; and David J. Rathje '58 and his wife, Debbie.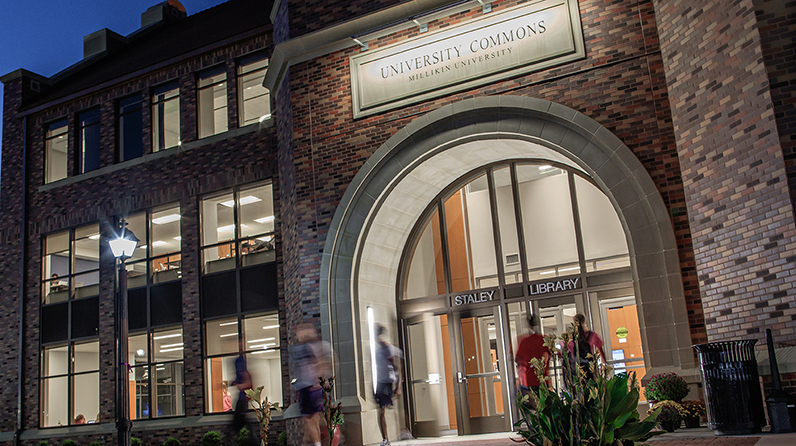 The University Commons is one of three building projects under Millikin University's $85 million "Transform MU" capital campaign. Millikin officially broke ground on the University Commons during a ceremony held on Nov. 6, 2015. With the exception of Shilling Hall, an original Millikin structure erected in 1902, the University Commons is the largest building project in university history in terms of square footage.