Center for Theatre and Dance donors honored with signed beams
Millikin University's new Center for Theatre and Dance is quickly coming into focus, making its way to a projected completion date by fall 2020.
Local donors, students, faculty and staff recently took to the construction site of the Center on Wednesday, April 10 to celebrate its progress by signing their names on the final two beams of the building before they were lifted into place.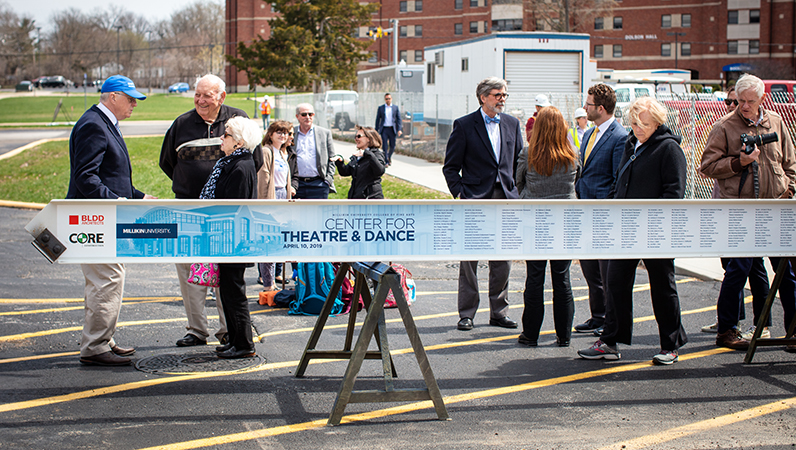 More than 550 donors are represented on the two beams that were placed at the top of the building, one with a list of names of donors and the other with signatures from those who attended the ceremony.
In an interview with the Herald & Review, Nathan Bonsall, a first-year musical theatre major from Kearney, Neb., said, "We're so excited. We talk about it almost every day, and we get so excited when we see the progress of the construction."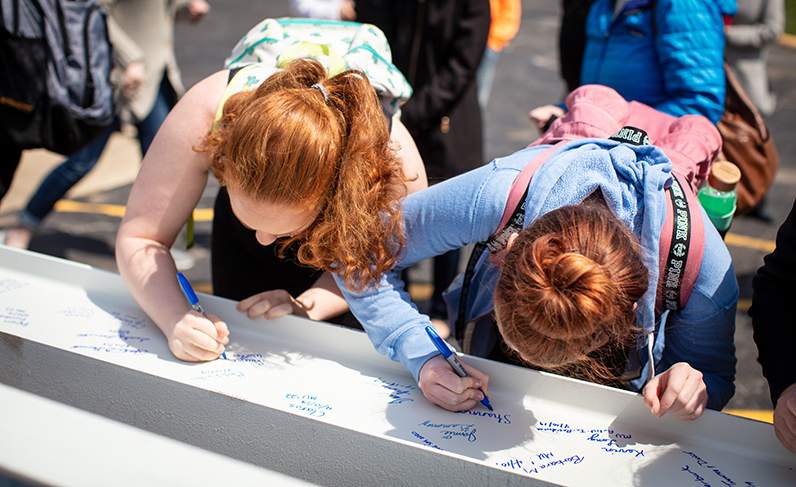 Millikin University officially broke ground on the Center for Theatre and Dance during a ceremony held on May 18, 2018. The new Center will offer a centralized, focused location for creativity to be taught, fostered and displayed, and will also provide a new venue for Millikin performing arts to delight, inform and inspire audiences who will come from throughout the region to see Millikin's nationally recognized excellence.
"One of my favorite parts of walking to class every morning is seeing the progress on it," said Holly Bender, a first-year musical theatre major Algonquin, Ill. "This is the building that we're going to take all of our classes in and watching the progress from the day we got here has been so awesome."
The $29 million project will feature a 260-seat flexible theatre which includes an orchestra pit, balcony and tech gallery with a tension wire grid. The building will also feature lighting and sound labs, a costume studio, a costume classroom, collaboration spaces, and offices and support facilities for current staff and room for growth. It will also incorporate four acting studios, two dance studios, two design classrooms and practice rooms as well as all new modern theatre equipment and LED lights.
The architectural partner for the project is Decatur (Ill.) firm BLDD.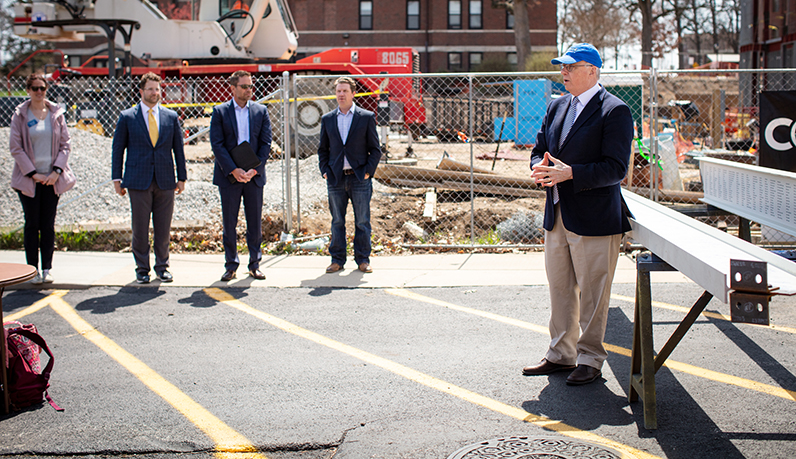 "BLDD was very humbled to be selected to do a very important project on Millikin's campus," said John Whitlock of BLDD Architects. "More importantly, we're excited to be part of a facility that we know is going to bolster an already world-renowned musical theatre program."
Shannon Byrnes, a sophomore theatre major from Lusby, Md., noted "This building is something that everyone will think about when they think about Millikin. It's really cool to see that transition and be a part of it."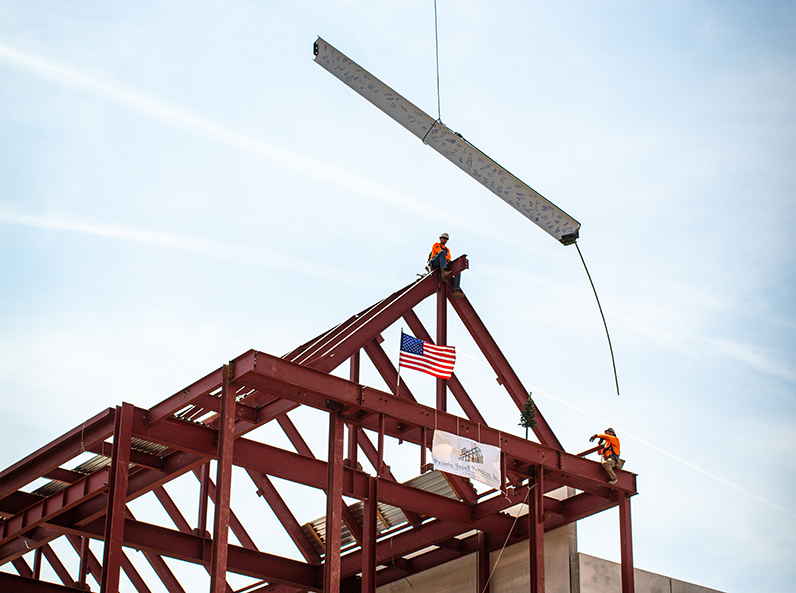 Millikin University's Bachelor of Fine Arts (BFA) in Acting degree program was named among the Top 25 BFA acting/performance programs in the country for 2018-2019 according to a survey published by the online theatre news and review blog OnStage.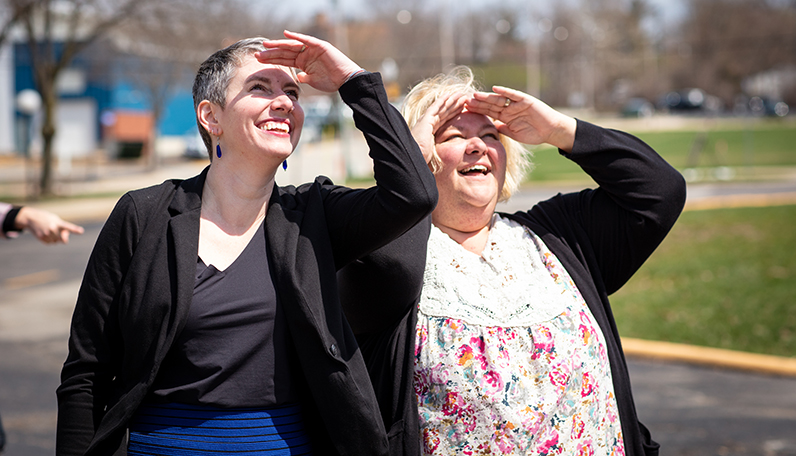 OnStage previously honored Millikin University's BFA Acting degree program for 2017-18 as well as naming Millikin as one of the best institutions in the country to earn a Bachelor of Fine Arts in Musical Theatre in August 2016. In August 2015, OnStage named Millikin's School of Theatre and Dance as one of the 10 Most Underrated Theatre Colleges in the Midwest.
Millikin Theatre and Dance produces numerous performances in venues on and off-campus, including musicals, plays, operas, children's theatre and dance concerts, as well as productions through its student-run theatre company, Pipe Dreams Studio Theatre.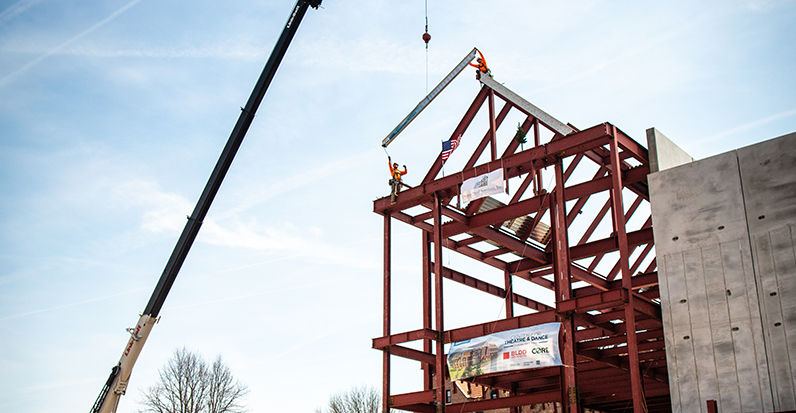 Millikin's School of Theatre and Dance is a nationally recognized program, offering conservatory-style training rooted in a liberal arts education. The School of Theatre and Dance's approach to education offers students valuable insight and hands-on experiences that will prepare them for professional success. Millikin's respected theatre alumni are routinely hired for productions in television, film and live theatre, including top Broadway shows and major regional theatres throughout the country.