Millikin professor's lecture pinpoints how theatre has transformed through difficult times
The emergence of the COVID-19 global pandemic has left an impact on the performing arts. Because of social distancing requirements, public performances have been canceled and many companies have used digital services to showcase theatre performances online leaving many to wonder, will theatre go back to the way it was?
Millikin University Associate Professor of Theatre Tom Robson took notice of the growing concerns about this on social media and from professionals in the theatre industry.
A theatre historian, Robson's areas of expertise include African American theatre and drama, historical stage technology and American theatre of the 1930s. Robson's research on similar situations to the current pandemic led to an online lecture he created this summer called "Theatre Endures."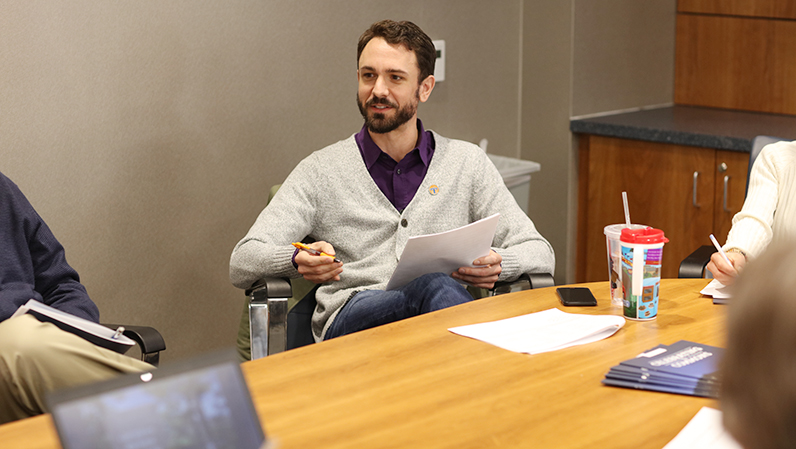 Robson's presentation discusses the times in the history of theatre when people have believed the art form might end, and how theatre has endured and transformed through those times.
"There's been a lot of stuff floating around social media since the start of COVID-19 about how this is the end of live theatre and how nobody is going to want to go to a theatre again, and that's not historically accurate," Robson said. "There's been so many instances in the history of western theatre, not to mention African theatre, South American theatre and Asian theatre, of times that theatre faced some sort of giant existential threat. Every time, it's come back and it's come back generally stronger and more popular."
A 25 to 30-minute presentation, Robson takes listeners on a tour of theatre history looking at previous instances where people said, "this could be the end of theatre," and showing the immediate aftermath and how it came back. He begins with the ancient Greeks and how Athens loses the Peloponnesian War – more plays were written after the war and better theatres were built.
"One of the more commons things people have talked about in recent months is Shakespeare's time. Theatres were closed in 1593 because of the plague and two years later Shakespeare wrote 'Romeo and Juliet' and 'A Midsummer Night's Dream,'" Robson said. "After the second plague, he wrote 'King Lear,' 'Othello' and 'Macbeth.'"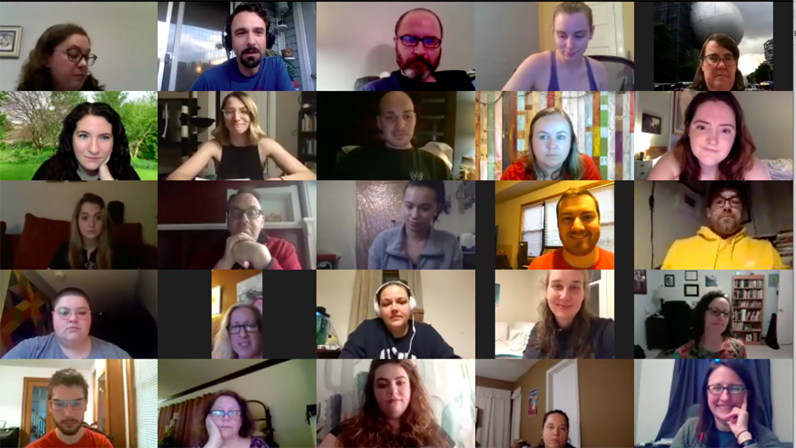 A class meeting for Tom Robson's "Theatre Endures"
Robson added, "You flash forward to the Great Depression, what happens when the entire economy shuts down? What you saw was federal investment in the arts and people creating art that was designed to be accessible and putting people back to work."
His presentation also looks at radio, cinema, television and the impact of the Sep. 11, 2001, attacks. "Everyone went back to Broadway," Robson said. "I close it off with the current pandemic and how we need to remember that a virus ripped through the arts community in the 1980s and 1990s and took some of the most powerful and influential theatre artists. The point is that people kept going to the theatre and the theatre found a way to respond every time."
Robson did his first lecture for Millikin theatre students on May 19. Since then, he's presented the lecture to colleagues and groups of Millikin alumni. He was recently a guest on Rob Lott's "The Leading Creative Podcast" to discuss the presentation and its content. Lott had heard many of the same concerns regarding theatre's potential demise. "History repeats itself," Lott said. "Things will be okay, but different. And we need to be ready to create new things. Experimental theatre is exciting, but things don't always go according to plan."
An equity theatre in San Antonio, Texas, has expressed interest in Robson doing his presentation. His lecture will also be featured in an upcoming NPR story on theatre.
"There is this need on the part of human beings to share experiences with each other in person and I think we are all feeling that right now," Robson said. "We want to experience a story together; we want to experience emotions together."
Robson's hope is to keep offering the lecture to people throughout the summer if interest continues to build. He understands theatres will have to adjust and grow again post-coronavirus, "but the audience will be waiting."
"The message that I've been giving to everyone who has been watching is 'this is really hard, and this is really scary,' and I'm not going to tell you that theatre is coming back next week … because it's not," Robson said. "But the long-term health of our industry will be strong. People will come back; they will need it. We have to be ready for that."
Even with current struggles in the theatre industry, Millikin faculty and students are looking forward to the future with the new Center for Theatre & Dance set to open on Millikin's campus in fall 2020.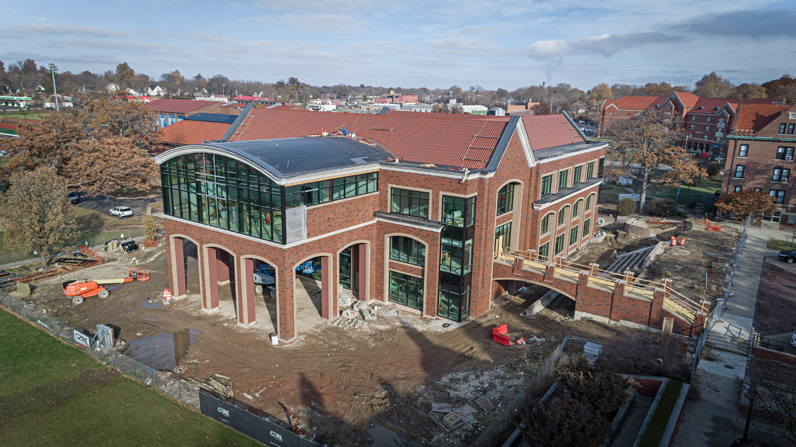 In an interview with the Herald & Review, Mary Black, director of the School of Theatre & Dance said, "The finishing touches are going on the building now. Equipment is being loaded in and a lot of the finishes, such as paint and trim, are still being applied. The faculty and students will have state-of-the-art facilities and equipment to work with for the first time. And we'll be able to push our students and our productions to new levels," Black said.
Black added, "Opportunities to work in a variety of performance venues, in a variety of styles, and with a variety of equipment will help to prepare students for whatever challenges they face in the future."