From transfer student, to business student, to teacher; Malcolm Branch's journey is not your average success story, but a lesson on taking chances and finding your niche.
After graduating from Millikin University in 2014, Branch took an opportunity to teach English as a second language (ESL) for one year in China. With no prior teaching experience, Branch saw this as a risky career decision. Flash forward three years later; the Chicago native is currently a writing instructor for Rutgers University-Newark Institute at Northeast Normal University in Changchun, China.
Branch's Big Blue career began in 2011 when he followed his father's footsteps (Ronald Branch '81) and decided to transfer to Millikin after spending two years at Ohio University.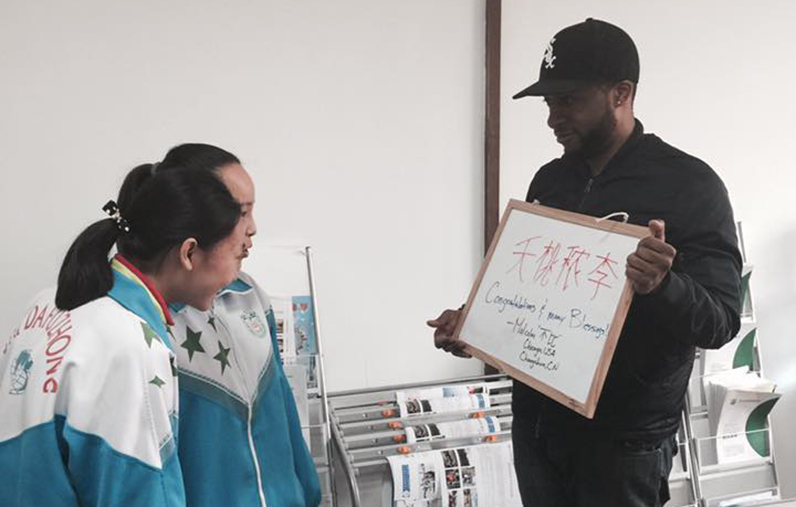 "I met admission counselor Linda Slagell and the basketball coach, and they sold Millikin as a family environment," said Branch. "From that point on I enjoyed the familiar setting, the diversity, the chance to play athletics, and having the opportunity to do what I wanted in terms of academics."
As an undergrad, Branch started as an athletic training major but later switched to business management. The easy access to faculty and administration made it a good transition for Branch. He played basketball his first year at Millikin, but after injuries sidelined him, Branch became involved with student organizations, including Collegiate DECA, Black Student Union and Brothers Moving Forward. "The environment at Millikin was exactly what I needed to grow," said Branch.
As a senior, Branch was asked to deliver the student address at Millikin's opening convocation. Not one for public speaking, he found the confidence to present a speech on taking chances and taking ownership of your life.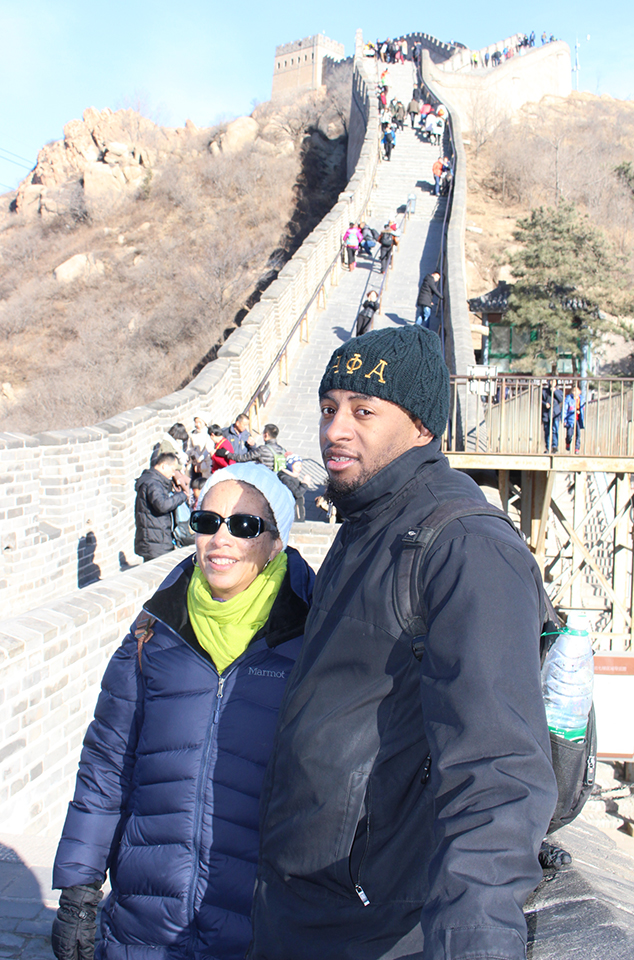 "It was about taking advantage of all the opportunities that you're given," said Branch. "The aim of the message was about getting out in the community and making a difference. That's what I wanted to direct my senior year towards."
As graduation neared, Branch was approached with the opportunity to teach in China for one year. He showed interest in traveling abroad, but as a business major, Branch was skeptical about teaching.
"I was told how few opportunities there are for Americans to travel and find themselves," said Branch. "My initial plans were to work for a corporation after graduation, but after several conversations, I felt it would be a great experience to go to China."
Branch traveled to China in August 2014 and began teaching ESL at the High School attached to Northeast Normal University along with fellow graduates Chase Plasencia '14, Dana Elia '13 and Anna Blake '14.
Plasencia and Elia were education majors at Millikin and helped guide Branch and Blake during their first year of teaching.
"My first year was tough because I didn't have the background in teaching," said Branch. "I taught grades 4th, 5th and 6th. In each grade level there are between eight and ten different classes, and each class averages 52 students."
I've gotten this far by taking chances and never closing a door to an opportunity.
In his first year, Branch taught 26 classes per week with each class being 50 minutes. Branch referred to it as a trial by fire experience but he was very grateful for the support he had from his Millikin colleagues.
"If there was anything we all had in common it was that we were from Millikin," said Branch. "We have our differences, but we became a family."
After spending a second year teaching at the high school, Branch learned that Rutgers University established a business school on the Northeast Normal University campus and were offering a teaching assistant position.
"I provided a writing sample for the Dean and he asked if I was interested in becoming a writing instructor instead," said Branch. "Because it was an experimental program, they needed instructors who could centric teach. The two years teaching at the high school prepared me for teaching at the college level."
This past year, Branch has been a writing instructor for Rutgers University at Northeast Normal University. Branch says the Northeast Normal students engage in a Two-Plus-Two Program where they spend their first two years in China taking core curriculum business courses. After their first two years, the students transfer to the Rutgers University Newark campus.
"The hardest thing for me was that I didn't know how to create a lesson plan," said Branch. "I understand there's an art to teaching and that art isn't something you learn on the business side."
Branch is also using his business experience from Millikin to run an espresso café at Northeast Normal University.
"I've gotten this far by taking chances and never closing a door to an opportunity," said Branch. "These opportunities might look good on a résumé, but to me these are learning experiences."
In terms of the future, Branch sees himself teaching in China for the next few years, but plans to travel to Europe and earn a master's degree in international relations with a focus in economics.
"My goal in life is to touch every single country," said Branch. "So far, I've visited 15 countries in the last three years – I want to see it all. Eventually, I want to get into diplomacy, but in the long run, I want to re-enter the academic field as a dean of students or a professor. I enjoy sharing my experiences and opinions, and I very much see myself becoming a mentor to younger students."