Millikin students awarded Rick Bibb and Nims Associates, Inc. Scholarships
Millikin University students Kalli Farmer, Jack Morgan and Greg Schwoeppe were recently honored by the Tabor School of Business for their work in the classroom and demonstrated leadership on campus.
Farmer, a junior sports management emphasis major from Columbia, Ill., was named the recipient of the 2018 Rick Bibb Scholarship. Information systems majors Jack Morgan, a senior from Manteno, Ill., and Greg Schwoeppe, a junior from Fishers, Ind., were named the 2018 recipients of the Nims Associates, Inc. Scholarship. The students were presented with their scholarships during a ceremonial presentation on March 6 at ADM-Scovill Hall.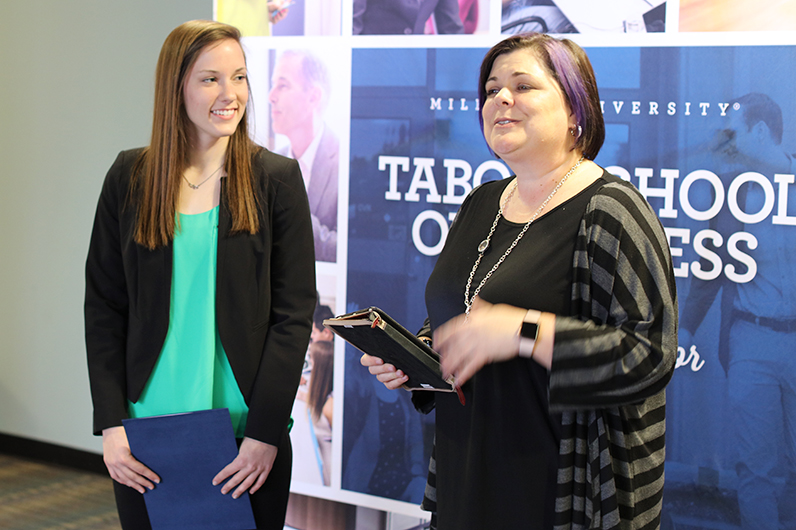 An Associate Professor of Marketing Emeritus, Rick Bibb imparted wisdom and enriched experiences of many in the Tabor School of Business from the fall semester of 1982 to August 2012.
In honor of his retirement in 2012, an endowed scholarship was established in Professor Rick Bibb's name. The Rick Bibb Scholarship is awarded annually to a junior or senior student with a 3.0 GPA who demonstrates leadership, a passion for marketing and an interest in international study. Each year the scholarship has awarded between $1,500 and $2,000, and it can be given to multiple people.
Kalli Farmer is a Presidential Scholar, a member of the Millikin softball team and was instrumental in starting a new organization on campus called Fellowship of Christian Athletes. Farmer will spend the summer working as an intern in the St. Louis Blues Marketing Department.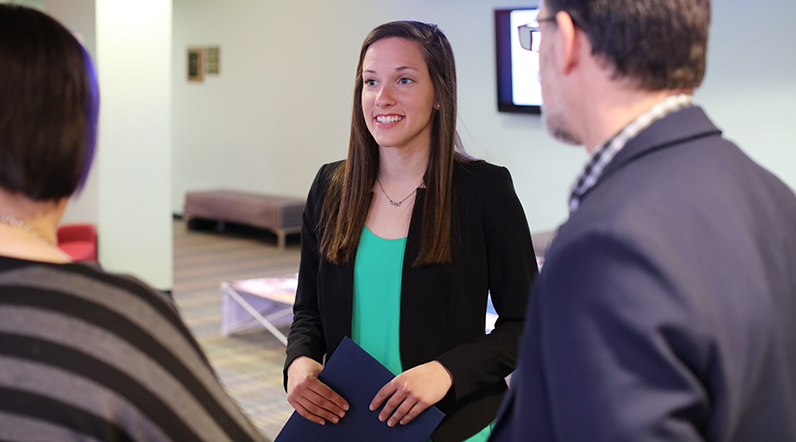 "I very honored to receive the scholarship. There were many applicants that were definitely deserving of the award," said Farmer. "The scholarship will certainly help with my summer internship as well as future international studies."
Morgan and Schwoeppe were selected for the Nims Associates, Inc. Scholarship by Dr. Najiba Benabess, dean of the Tabor School of Business, and members of the Millikin information systems faculty. The candidate for the scholarship must be a junior or senior information systems major who has at least a 3.0 GPA and demonstrates excellence in the major. The scholarship awards $1,400.
Morgan has been instrumental in helping on a collaborative project with Dove, Inc. as well as tutoring other information systems majors. Greg Schwoeppe is an intern in the Marketing and Media Relations Department at Millikin where he works on the University website, and is a member of MU Performance Consulting where he works on various web projects.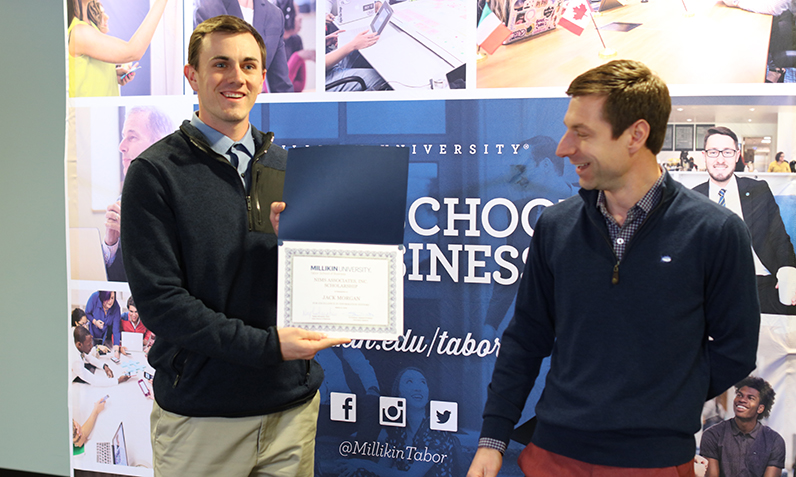 "It's great that Mr. Nims can help and give back to students who are working hard in the field," said Morgan. "Scholarships like this make me want to go above and beyond with my work, and hopefully that aspect in itself will make me more successful in the future skill-wise and prepare me for my career."
Bruce Nims '72 serves as entrepreneur in residence for Millikin's Tabor School of Business and its Center for Entrepreneurship. In addition, Nims offers consulting services and seminars for local businesses and nonprofit organizations.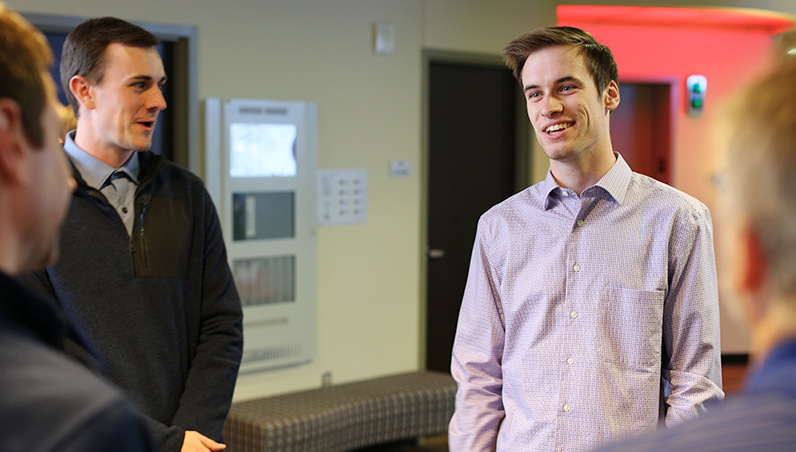 Nims is the secretary/treasurer of InDecatur Ventures, LLC, a local venture capital firm, and he serves on the Board of Directors of Soy Capital Bank. Nims is also active in community organizations. He is currently on the Board of the Community Foundation of Decatur and Macon County and a member of the Grow Decatur initiative.
Nims is a 1972 graduate of Millikin University and is retired from a career in information technology. He founded and led Nims Associates, Inc., offering information technology consulting services for 26 years.