Millikin basketball players step up in leadership roles
The Millikin University women's basketball team is continuing its successful start to the 2021-22 season following a recent 87-43 win over Eureka College on Jan. 3. Millikin is 10-3 on the season as the Big Blue set to return to College Conference of Illinois & Wisconsin (CCIW) play.
Following last year's CCIW Tournament championship, Millikin head coach Olivia Lett knew it was important to have the program reach the next level. To do so, she needed to adjust playing time for all players including the starting rotation. Thanks to the hard work of players like Aubrey Staton, a senior entrepreneurship major from El Paso, Ill., and Jazmin Brown, a senior biology major from Indianapolis, Ind., the Big Blue are on a seven-game winning streak since Thanksgiving.
"We are getting nine to 10 people in with substantial minutes," Staton said in an interview with the Herald & Review. "That makes us hard to guard and it makes it easier to win games when somebody is having a bad night."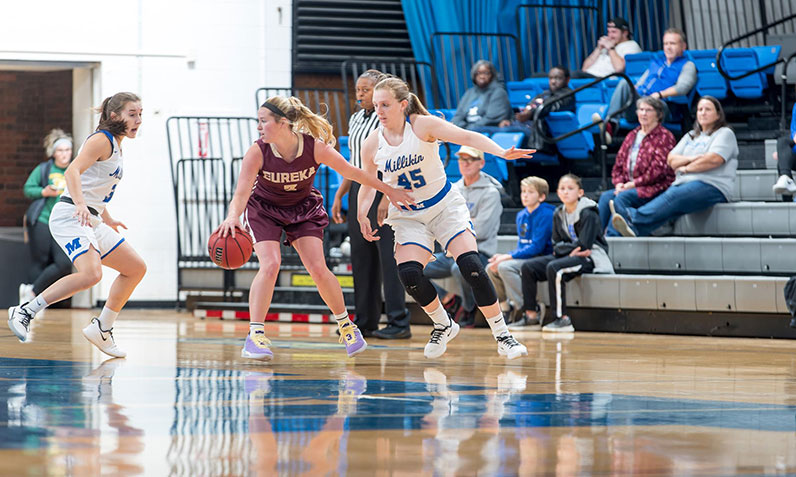 Aubrey Staton
Brown, who has been the Big Blue's Defensive Player of the Year the past three seasons, has gone all-in on pushing her teammates through defense.
"Jazmin knows she is one of the top defenders in the league and now we have one of our top defenders going against our top point guard every day in practice," Lett said. "That has really helped us get better in those situations. She has stepped up as a leader in those roles and she wants the challenge."
Brown and center Jordan Hildebrand, a nursing graduate from Mendon, Ill., are the only two players remaining on the team that were not originally recruited by Lett. Brown says the biggest change she's seen in her time at Millikin is the team's mental improvement.
"During my freshman year, our focus was on skills and conditioning and being the hardest working team in the CCIW. We didn't really go into games expecting to win," Brown said. "Now it has changed that we still have our core values but now we expect to win."
For Staton, her role has changed from her freshman year, where she was averaging 17 points per game. Recently, she has scored double-figures in her last four games including 10 in the win over Eureka.
"Aubrey has had huge games for us and she has been putting in big baskets at big times for us. She has been playing like a senior out there," Lett said. "Both Jazmin and Aubrey give us that composure out there when we play some tough competition in big games."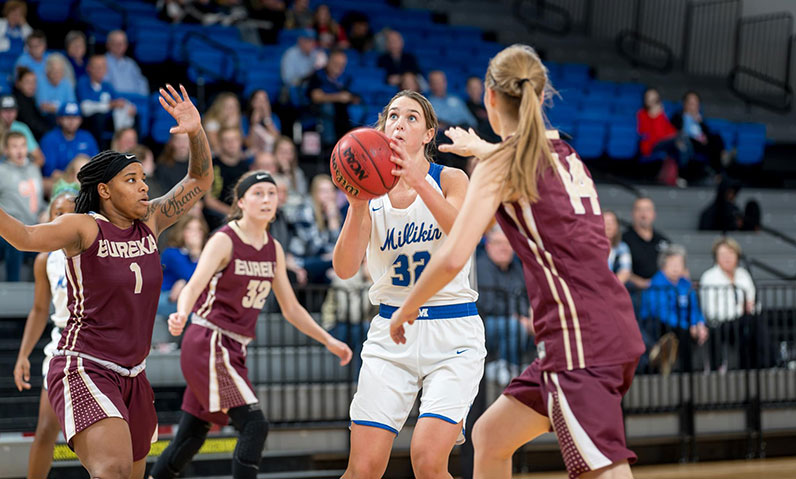 Bailey Coffman
Staton added, "Our goals are as high as we can get. We want to play as long as we can and that's the mentality every day when we come to practice. We are not just playing for the next game we are playing for the end of March. We are looking forward to repeating in the CCIW Tournament and going as far as we can."
Junior forward Bailey Coffman, a business major from Heyworth, Ill., has also made an impact on the court. She was recently named CCIW Women's Basketball Player of the Week on Dec. 20, 2021, after averaging 17.5 points and six rebounds per game in the Big Blue's wins over North Central and Washington University-St. Louis.
"I think there is some chemistry there, but I don't think we lose anything off the bench because everyone is understanding what their roles are," Lett said. "We don't need everyone to score 20 points a game. We need them to take the right shots or get big rebounds or steals and do what their role is."