Millikin summer immersion course covers systems of the body
Millikin University's Summer Immersion courses provide unique opportunities for students to focus on one topic for a short term. Many of the classes offer creative learning activities to maximize student engagement.
During the month of July, it's expected that the Leighty-Tabor Science Center on Millikin's campus can be a quiet place. But on Monday, July 8, the building's first floor was active as students in Dr. Travis Wilcoxen's summer immersion hybrid course were checking heart rates, blood pressure and even doing jumping jacks. The idea behind it was simple – to understand the cardiovascular system – one of ten organ systems taught in the course called Essentials of Anatomy and Physiology.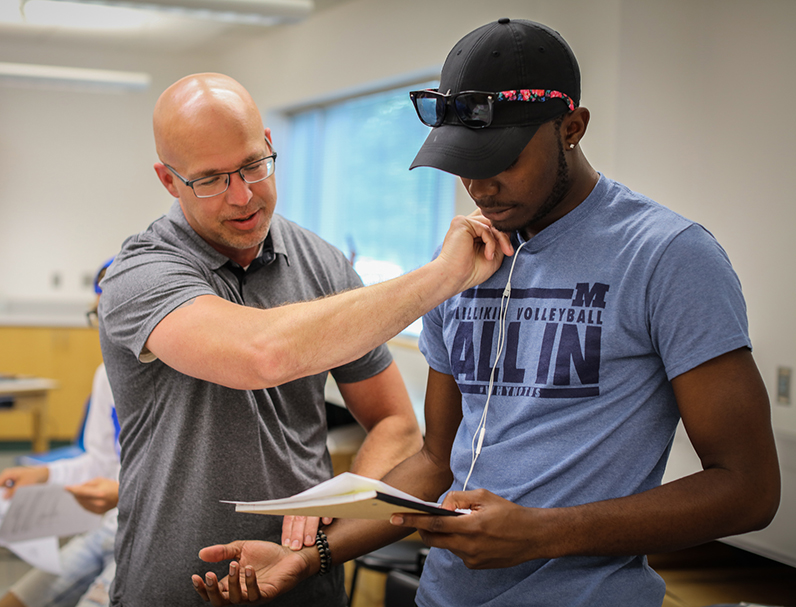 What makes the course unique is that it's a hybrid course – two opposite methods of learning in which students have the flexibility of an online class and common face-to-face interactions in the classroom. In this case, lectures are provided online and the students meet once a week for lab sessions that normally run four hours.
The course is designed for students who study exercise science and sport as they learn about the different systems through experiments, charts and teaching models.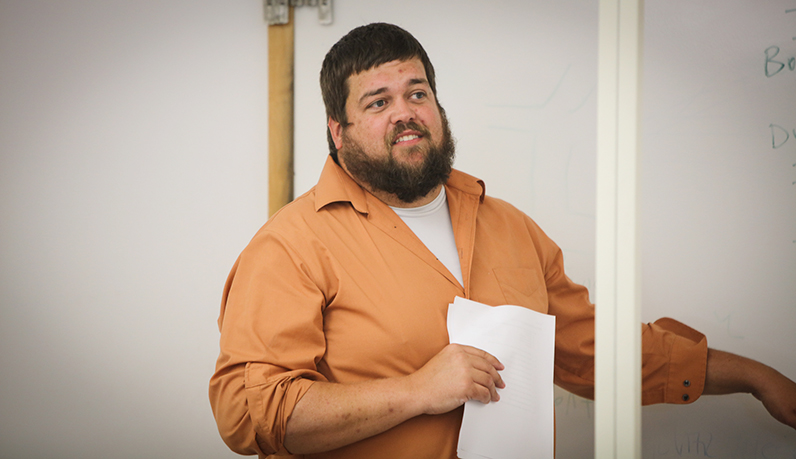 "It's a class required for physical education; health, fitness and recreation; and sports management majors," said Wilcoxen. "The question was – could we offer a class that meets science lab requirements over the summer where students don't have to be on campus very much?"
Throughout the term, the students study aspects such as skin, muscles, bones and the nervous system. The online lectures are created by Dr. Wilcoxen combining PowerPoint presentations and recorded audio files. "It's almost as if I would be giving a lecture in class except they can't ask me questions in real time," he said. "In terms of the hybrid nature, it's sometimes hard because you feel like you don't have any connection with the instructor. However, we meet on Mondays for labs, so the 'learn by doing' part is still there."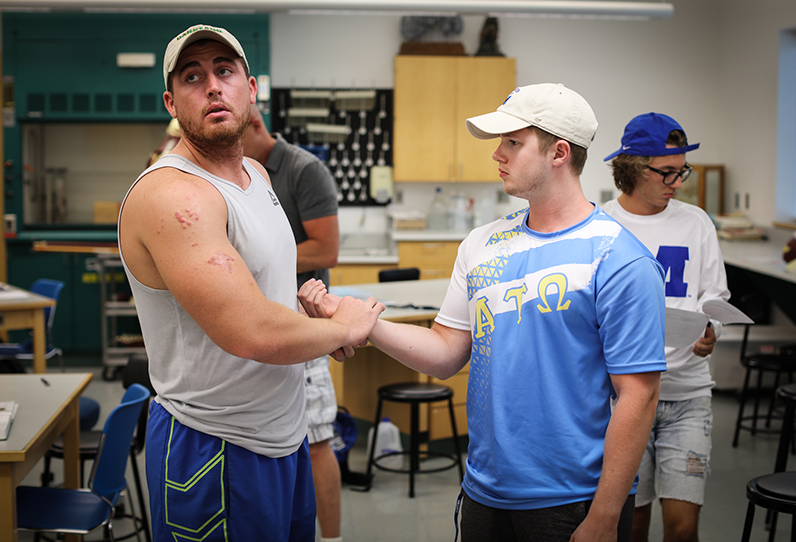 Among the students in the course is Pierce Warren, a sophomore health, fitness and recreation major from Decatur, Ill. Warren enrolled in the course because his chosen career path will involve anatomy and physiology.
"With being a health, fitness and recreation major, it's important to know what goes into a person's body and why a person moves," said Warren. "The course has been a perfect medium for me. The online portion is great because it's at your own pace and the lab sessions with Dr. Wilcoxen have made it the best of both worlds."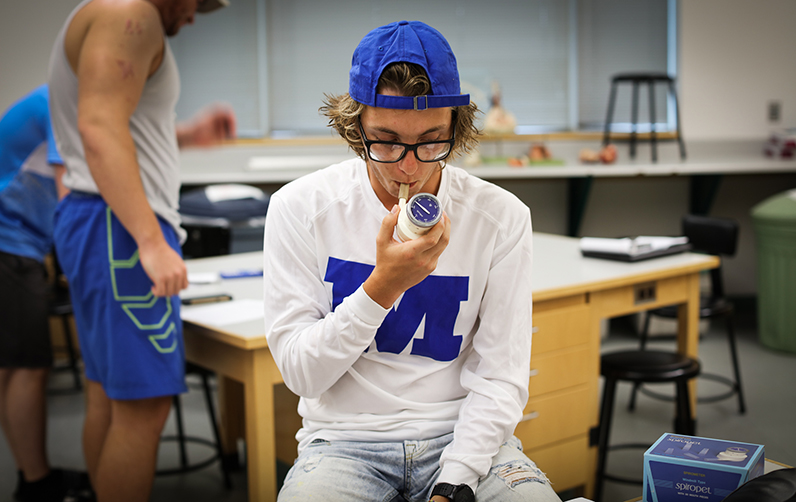 Wilcoxen added, "I think the delivery of the lecture material this way is really successful. It gives the students an opportunity to go at their own speed. When we meet for labs, we're able to do two labs during the four-hour block which makes the lab experience very successful. I think it's a good model for this type of class. These are the types of classes where we need more flexibility."
Wilcoxen will be teaching the course again for the spring 2020 semester, and he's considering using this method once more. "I'm considering how to blend my methods for that class, either online lectures and spread the labs out, or turn it into a condensed class," he said.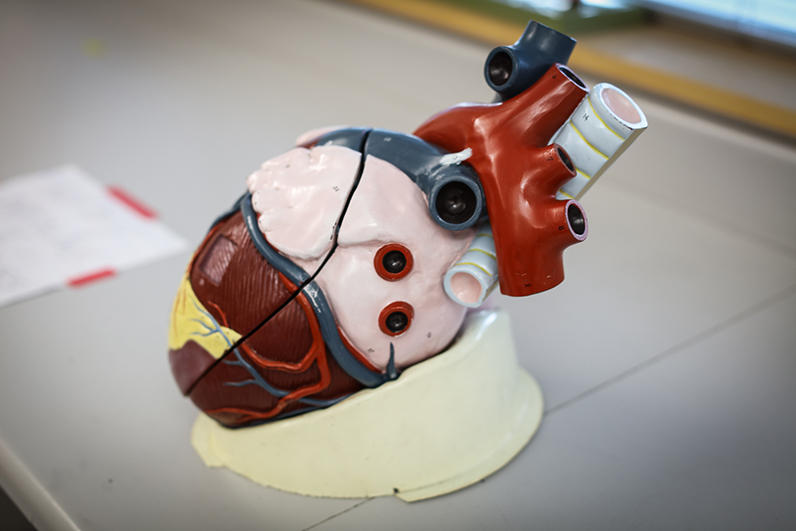 When asked about Millikin's Summer Immersion term, Wilcoxen says students have many opportunities to study a topic that is both unique and fun, and it provides ways for faculty to get creative when teaching the classes.
"I think I've learned as much about ways to creatively deliver the course during the semester as I have about the benefits of the summer course," said Wilcoxen. "It's great because a lot of faculty use the Summer and Winter Immersion terms to teach something way different."
Millikin Immersion Studies
Millikin University Immersion courses are a very convenient way for current students, high school students, or community members to take courses that can result in new skills, knowledge, or a way to build up college credit in a short amount of time. Millikin offers a wide range of course offerings, including online and travel courses.