From ProBots to Virtual Reality, Millikin IS Summit covers technology trends
Millikin University hosted its annual Information Systems and Emerging Technology Summit Feb. 22-23 on Millikin's campus. High school students from the surrounding area attended two days of various activities gaining insight into the field of information systems from Millikin faculty, current students and alumni.
Ed Weber, clinical instructor of information systems, and RJ Podeschi, associate professor of information systems at Millikin, led students on lessons of how to use technology to create business solutions.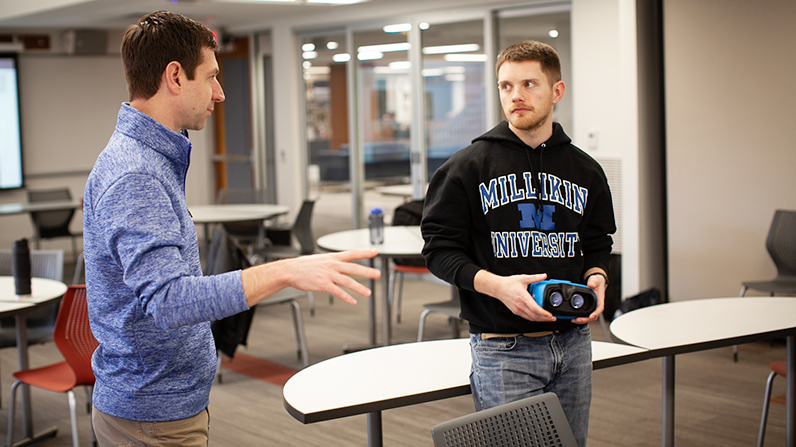 "Many students who are studying information systems here at Millikin did not start that way," Weber said. "Students do not initially realize that their interests relate greatly to the field of information systems, which is why it is essential we grow the awareness of information systems to encourage students to pursue this field of study."
Throughout the summit, the students took a tour of Millikin's campus, participated in an e-gaming tournament, and competed in a ProBot challenge. The ProBot is a turtle robot disguised as a race car. ProBot commands are entered by a set of arrow and number keys mounted on the back. Students plan a route for the ProBot and press the corresponding keypad controls. The ProBot will then follow the sequence of commands that were entered step-by-step.
Additionally, the attending students were given an opportunity to experience a virtual reality workshop. Millikin University's New Technologies Lab in the University Commons offers virtual reality tools for Google Expeditions, which are goggles with smart phones inside that allow the user to explore a variety of environments. Students had the chance to explore a museum with dinosaurs and artifacts protruding from the screen, as well as taking flight with a group of birds off a cliff.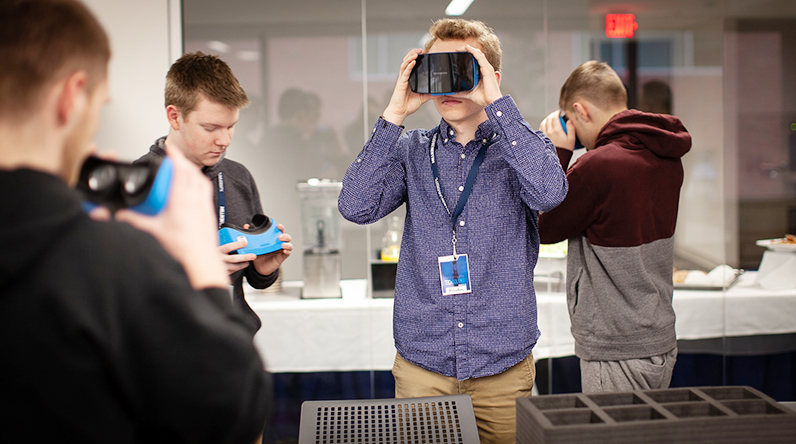 Not only did the students have the opportunity to explore the fun aspect of virtual reality through various worlds, but they also learned the different functional uses of virtual reality within the fields of healthcare, education, business and the military.
"Virtual reality is a trend that society is now relying on," Weber said. "Virtual reality and augmented reality are becoming the new standard and we want to be at the forefront of teaching our students these technologies."
Manteno, Ill., native Jack Morgan, a senior information systems major with a concentration in application development, as well as Alex Pratt, a junior information systems and accounting major from Chatham, Ill., spoke to the students on how Millikin is keeping up with the changes in technology through its Application Integration course.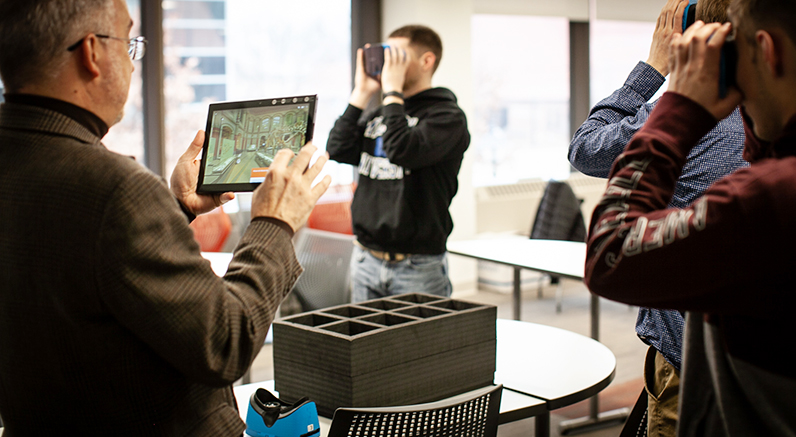 The course was revamped last year as Weber worked to change it to fit the ever-changing technology of information systems. Recently, students in last year's course created a virtual reality version of an art gallery inspired by Millikin's Perkinson Gallery as part of a class project. The virtual version of the art gallery contained a room along with interactivity. The project also included 3-D aspects where the students had to scan pieces of artwork to have placed within the program. This year's class is currently working on a virtual reality tour of ADM-Scovill Hall, home to Millikin's Tabor School of Business.
"Many students are unaware of information systems in general, but also, what we are doing here at Millikin specifically to continuingly learn about the changing technology," Weber said. "Providing this information is exactly what we seek to do for these students attending the summit."