Rubi Rodriguez and Matt Brown on the Millikin experience, scholarships and "completing the circle"
One is studying biology, the other is studying business management. One is president of the Latin American Student Organization, the other is a linebacker on the football team. One is a Long-Vanderburg Scholar, and the other is a Presidential Scholar.
Millikin University students Rubi Rodriguez and Matt Brown come from different backgrounds, but one thing they have in common is their love for Millikin.
Rodriguez, of Wauconda, Ill., is a senior biology major who plans to pursue medical school after graduation to become an international physician through programs like Doctors Without Borders.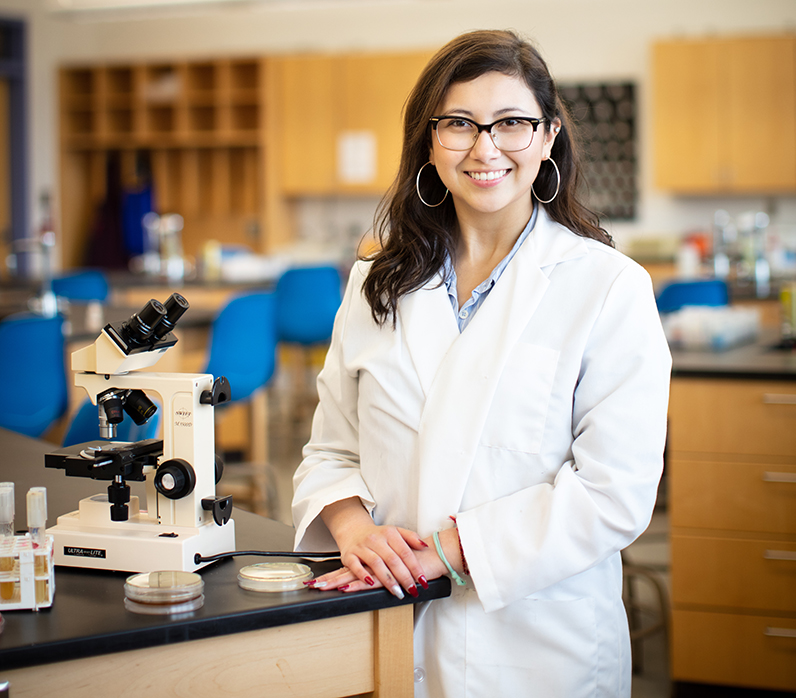 She is a Long-Vanderburg Scholar, but it doesn't stop there – she is also a Long-Vanderburg Mentor, Leighty Science Scholar, a member of the Beta Beta Beta (TriBeta) National Biological Honor Society and Alpha Lambda Honor Society, the secretary of TriBeta, and the president of the Latin American Student Organization.
Brown, a senior business management major from Champaign, Ill., and a member of the Millikin football program, has been recognized for his work in the classroom as well as on the football field. In December 2018, he was named to the 2018 Google Cloud Academic All-America® Division III Football Second Team.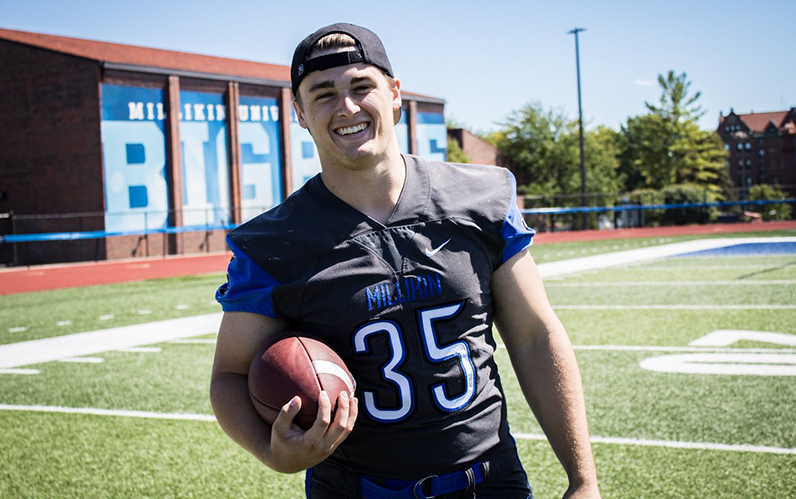 Brown, a Presidential Scholar, excels in the classroom with a 3.94 grade point average. He is also active in the community, previously volunteering with the Champaign Central High School football team. Brown has also served as a Huddle Leader for FCA Guys Weekend of Champions, collected donations for the WSOY Food Drive, helped construct a home for Decatur's Habitat for Humanity and volunteered for Millikin's Special Olympics.
Rodriguez and Brown sat down for a chat for Millikin's newest series "Student to Student," where they shared their Big Blue experience and how their scholarships opened a path for success.​
Rubi Rodriguez: Being a Long-Vanderburg Scholar has not only impacted my college experience, but it has shaped me as a person. The scholarship program is based around social justice, and it has not only taught me how to express myself and be bold, but it has empowered me. It has made me more of a global citizen. I don't think I would be the same person without the Long-Vanderburg Scholarship program.
Matt Brown: When I came to Millikin and had the chance to be a Presidential Scholar, I took that as an opportunity to push the envelope a bit and challenge myself in the classroom. For me, it wasn't just about growing in the classroom but getting involved in extracurricular activities. I think I found my niche and I've been able to figure out where my impact is most felt.
Brown: Without the Presidential Scholarship, I don't think I would've been at Millikin because of the financial support. I wouldn't have been able to grow so close with a football family, an academic family, and I don't think I would've been the same person. It means a lot, and I wouldn't be a lot without it.
Rodriguez: I don't think I would be completing the circle if I didn't give back to Millikin. I have changed entirely as an individual. Freshmen High School Rubi – I was quiet, uninvolved and academically I was always doing great, but I was a low-key person. But from the scholarships I received at Millikin … I'm not the same person – I'm outspoken, I'm a leader, I am heavily involved, and I want to be an advocate for social justice. For me to be able to tell someone through a scholarship that I believe in them, that they have potential and can do all these things and more is completing the circle.
Brown: It takes one person to believe and to give.
Rodriguez: One person can change everything, and here we are.