Millikin i2i start-ups bring big business ideas to forefront
The third floor lobby of the University Commons at Millikin University was buzzed with excitement on the evening of July 26 as community members came together on Idea-to-Incubator's (i2i) Demo Day to hear pitches from student innovators about their business start-ups.
This summer, Millikin's Center for Entrepreneurship teamed up with BLDD Architects Inc. to revamp Idea-to-Incubator, a program built to foster student-owned start-ups. Four student-run business ventures spent 10 weeks working on the second floor "innovation hub" of BLDD Architects, located in Downtown Decatur, Ill., where they developed their businesses both independently and through collaboration.
As the culminating event to the program, i2i's Demo Day was an opportunity for the four Millikin student-founded start-ups to present their businesses to industry leaders, community stakeholders and supporters.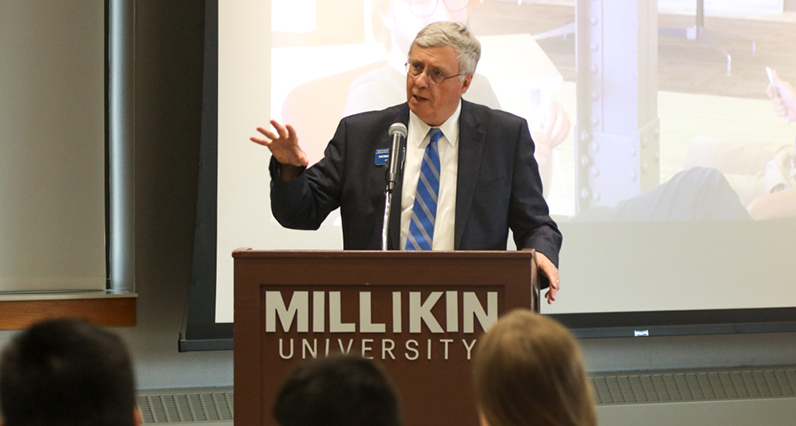 Millikin President Dr. Patrick White; Julie Shields, director of the Center for Entrepreneurship at Millikin; and Jessica Whitlock '01, BLDD director of marketing and associate, provided opening remarks.
"All of us play a role in the growth of Decatur and all of us are important leaders in not only creating jobs but creating businesses," said President White. "Each of our presenters is creating an exciting business that will shape our city, our community and our country in the years ahead. Millikin is an active partner in the economic life of this city and county."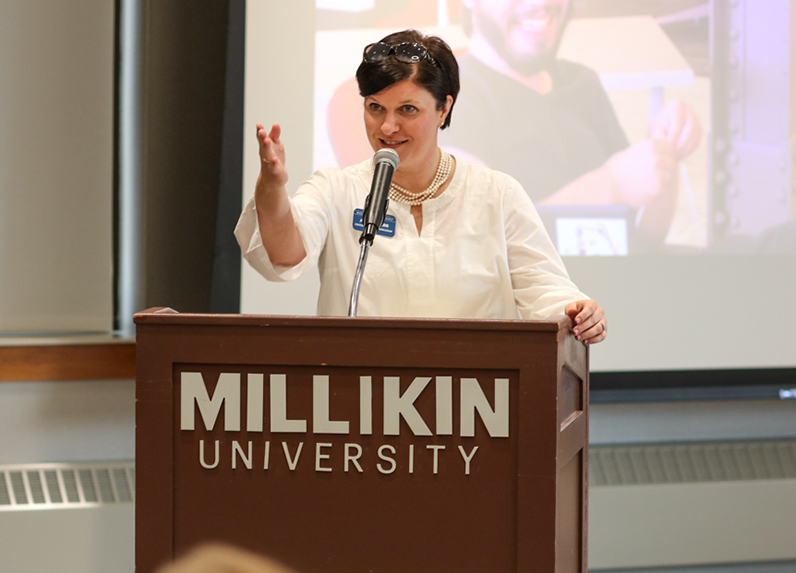 Julie Shields praised the work and efforts of the Millikin students. "It's really about the students. This is the second year of Idea-to-Incubator. The first year was a competition and we had to send the winning students back to their home cities and pay for them to be in incubators there. We learned a few things from it, like what those incubators did, but we really wanted to keep students here. Fortunately, BLDD had the space, so a few months ago we started talking."
Jessica Whitlock shared thoughts on how architects and entrepreneurs have much in common. "It's our jobs everyday to bring big ideas to life. When we had the opportunity to team with Millikin University to bring these young entrepreneurs into our building, it was the perfect fit. Big ideas don't just happen, not only do you have to love the idea, you have to love working on it day after day. We've loved seeing these students do this."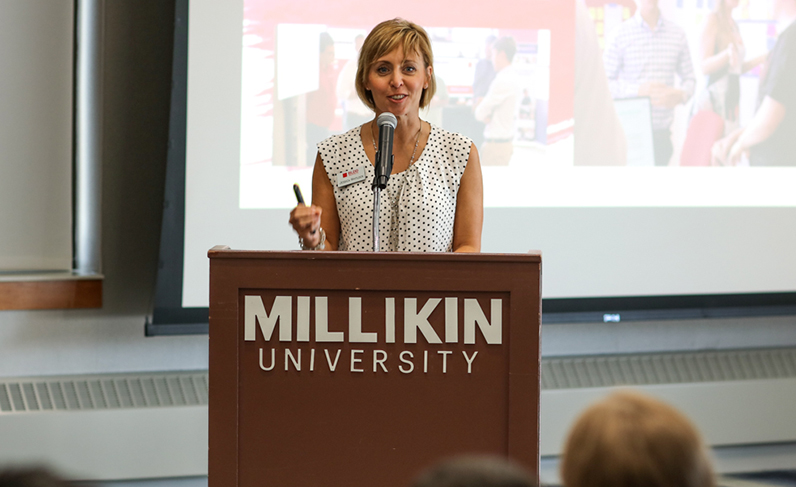 Prior to the team pitches, the audience received some words of wisdom from keynote speaker Dr. Mark Schenkel, professor at Belmont University and president of the United States Association of Small Business and Entrepreneurship (USASBE).
"What excites me about this event is that this is where learning meets inspiration," said Schenkel. "Students aren't just learning about facts; they're learning how to conduct a method and how to use it meaningfully. Starting a business is a process, it goes through stages, and the way you make choices at each stage is important, and that's the idea that drives performance-based learning."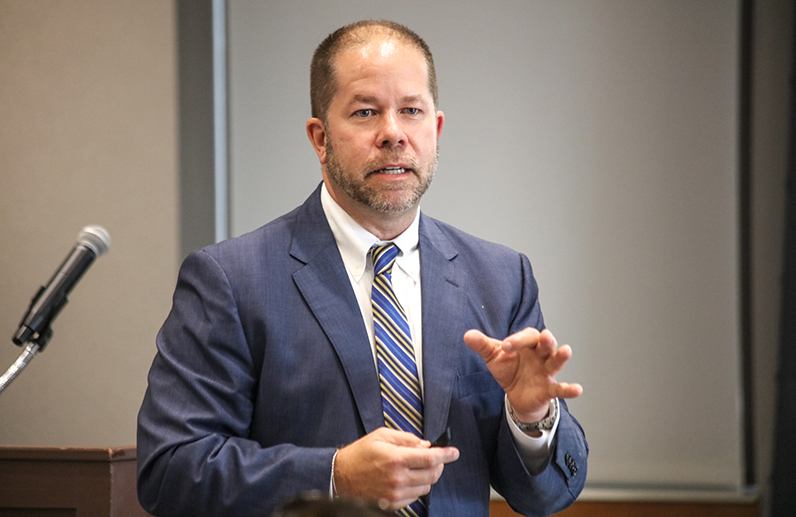 The four student-run business ventures that presented on Demo Day were Alpha Moving Assistance LLC, BluePoint Connections, Inc., C2E Fuels and Locked Up Escape Rooms LLC.
Locked Up is an Escape Room that provides a unique experience for people to make memories with others while delivering affordable and changing experiences for the local community. The business is co-owned by sophomore entrepreneurship majors Zach McReynolds, of Peoria, Ill., and Mary Callaghan, of Chicago. The company opened an Alice in Wonderland-themed Escape Room for people to experience during Demo Day.
"Our mission with Locked Up is to give people something new to do in the area," said McReynolds. "In addition to the local market, we want to target corporate teams and educators so that they can use the Escape Room as a team-building opportunity – it's bringing business and entertainment into a single entity."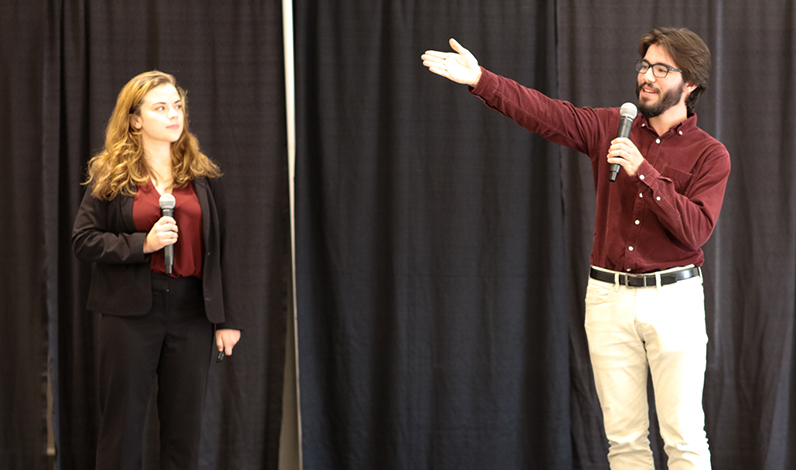 The co-founders of BluePoint Connections – Laura Nearing, a senior biology major from Wood Dale, Ill., and Bryce Kapitzky, a junior business management major from Hawthorn Woods, Ill., followed Locked Up and presented their company which helps small businesses install a digital marketing strategy to better retain customers and reach new audiences. The company already has 18 clients and 25 projects.
"We set out on a venture to connect students with small businesses and to work on knowledge-based projects," said Kapitzky. "Working with all these small businesses, we've found that they're really interested in getting into digital marketing and a lot of them don't know how to leverage that technology. That's what we've shifted toward."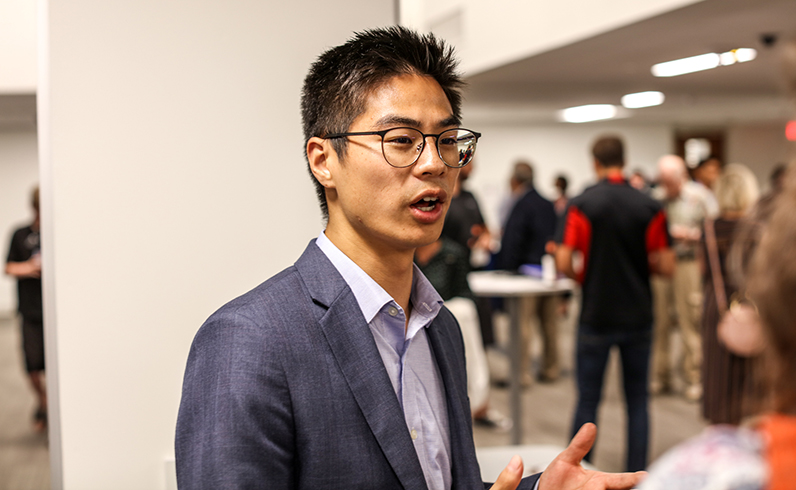 Alpha Moving Assistance was next on the bill as senior business management major Alex Perales, of Decatur, shared details about the labor-only moving company based in the Decatur, Peoria and Effingham (Ill.) areas. The company is striving to make stressful moves easier by providing fast and affordable services.
Alpha Moving Assistance is averaging three jobs per week and has generated $4000 in revenue. The company co-founders include Josh Belcher, a senior sport management major from Goreville, Ill., and Tyler Coppernoll, a sophomore entrepreneurship major from Decatur.
"Our mission is to not only provide easier moves for the community, but to give college students the opportunities to do these moves and make an income," said Perales. "We offer part-time work and flexible scheduling to help fellow students make money as well as offer a service to Decatur and the surrounding communities."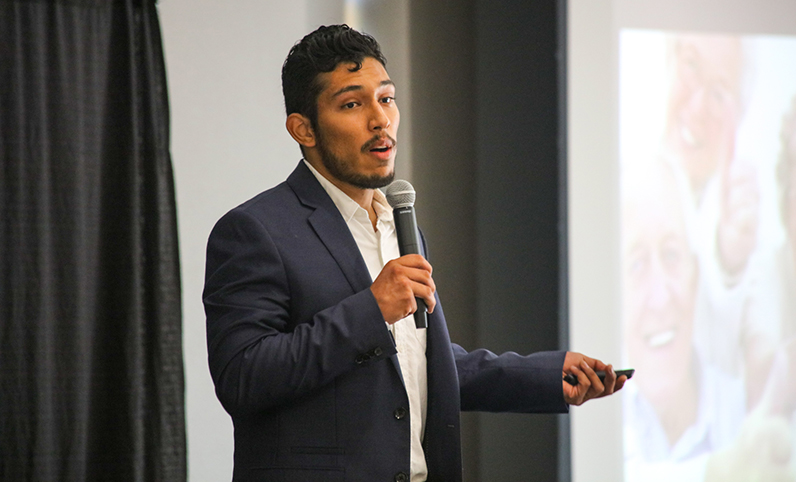 The final pitch of the evening came from C2E Fuels, led by Connor Sphar, a junior physics major from Decatur, and Olivia Brewer, a junior entrepreneurship and finance major from Moweaqua, Ill. C2E is working on a prototype to convert industrial carbon dioxide into ethanol resulting in reduced greenhouse gas emissions from both industrial plants and vehicles.
"The C2E Fuels process makes it easy to produce more ethanol while stabilizing profit margins and reducing the need for taxpayer dollars," said Brewer. "Our customers will be able to maintain ethanol production while generating additional revenue from their very own waste product."
Students involved with Idea-to-Incubator received a total of $1000 in financial support through a $500 fellowship that students received for being a part of the program, and earned the rest by working at Blue Brew, a coffee shop created and run by Millikin students.