Millikin political science students help lead successful simulation
The 2022 Model Illinois Government (MIG) Simulation returned to in-person activity for its 44th year March 3-6 at the Wyndham Springfield City Centre in downtown Springfield, Ill.
Eight political science students from Millikin University attended the annual four-day simulation that aims to give college students insight into the workings of state government and experience in running for elected office and debate. Students representing Millikin's legislative delegation worked to adapt their debate techniques, lobbying procedures and strategies for running for office, all leading to a successful simulation.
"As ever, I am amazed at our students' ability to adapt and evolve while participating in performance learning activities. What our Model Illinois Government conference would look like this year kept evolving because of the changing nature of the COVID-19 pandemic. The students were prepared for debate in any form," said Amber Lusvardi, instructor of political science at Millikin.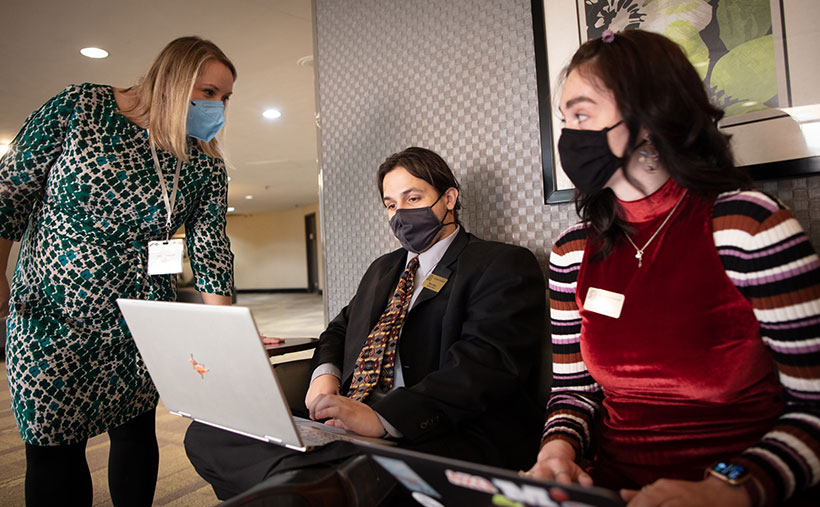 From left to right: Amber Lusvardi, Rhys Deiter and Gabby Watson
The students spent six weeks of the spring semester preparing by practicing debate, learning how to research legislation and learning how to write legislation.
"I was impressed by their excellence in debate, especially for all my students who were participating in Model Illinois Government for the first time," Lusvardi noted.
Sophomore political science major Rhys Deiter of Fortville, Ind., served as the Attorney General on the organization's executive board for the simulation. As Attorney General, Deiter was responsible for handling amendments to the MIG Constitution, overseeing journalists and publishing every edition of the MIG Journal, and soliciting and editing original legislation. Gabby Watson, a junior political science major from Murphysboro, Ill., served as a member of Deiter's staff and assisted with both the MIG journal and original legislation.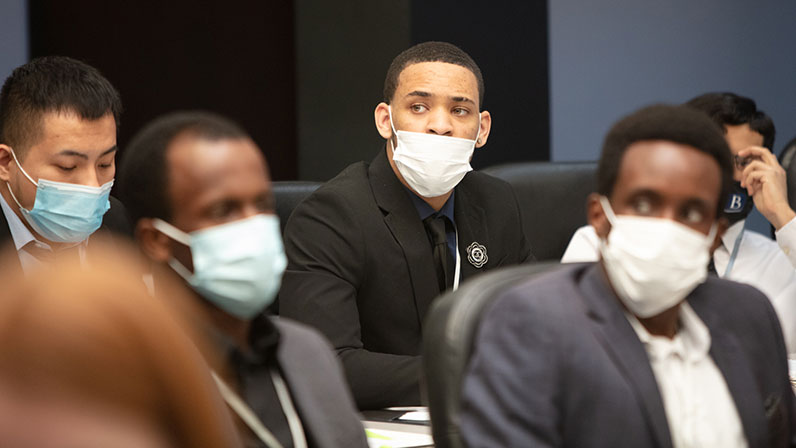 Christian Strother
"My experience on the MIG executive board was unlike anything I've experienced before. There were several moving pieces and I had constantly found myself with something to do," Deiter said. "When I got to Millikin and learned about MIG I was quick to jump on board because it was like seeing everything I had studied moving in motion. What made it neat though was instead of watching a standard congressional hearing was that it was congressional hearings being led by students like me."
Students Austin Bicknell, a senior from Bloomington, Ill., and Ana Vidric, were both elected to serve as committee spokespeople during the simulation. In this role, both Bicknell and Vidric had to lead their party within their committee on debate and decide the speaking time. Additionally, Bicknell and Vidric both wrote original legislation that was debated and voted on during the simulation. Bicknell's legislation changed the age for applying for a FOID card. Vidric's legislation increased state funding for the purpose of testing sexual assault kits in a timely manner, especially those that were collected from minors. It was both Bicknell and Vidric's first experience with Model Illinois Government.
Ana Vidric
"The experience was very insightful as I must admit I did not know much about the way the American government, specifically Illinois government, worked before I took the class," said Vidric, an international student attending Millikin on a Global Undergraduate Exchange Program (UGRAD) scholarship. "I've developed some great skills such as writing original legislation and researching bills, and I also believe that I became better at debating and leadership. It was also very fun to be able to work with many talented students from all around Illinois."
Vidric was recognized for her excellence in debate by receiving the Donna Lennon Award for the Most Outstanding Senate Committee Person.
"I was quite surprised as well as overjoyed. I felt I prepared well, so I was very pleased and very proud that my efforts were recognized and that I was able to win such a competitive award for myself and for Millikin. I hope it will serve to inspire other international students to participate next year and give it their best," Vidric said.

Austin Bicknell
Other Millikin students who participated in Model Illinois Government include:
Aimable Ngabo, a senior political science major from Kigali, Rwanda
Jesse Ngoga, a management information systems major from Kigali, Rwanda
Christian Strother, a junior from Cordova, Tenn.
Clayton Bartlett, a junior exploratory studies major from Mahomet, Ill.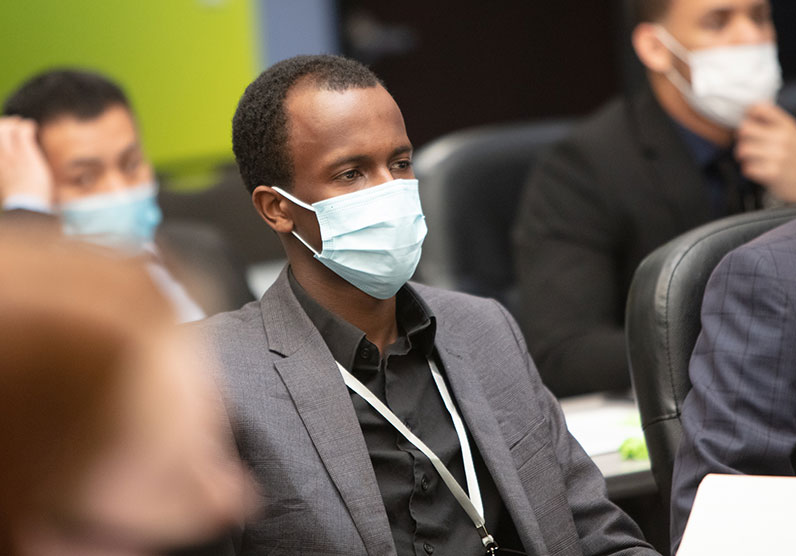 Aimable Ngabo
Vidric noted, "I'm very lucky to be able to attend a university with such a diverse community, as it enables me to hear many different opinions and allows me to look at things from many different perspectives, which I believe is a very important thing. I also learned a lot about American culture, law and politics. The skills that I've worked on and developed during the conference, particularly when it comes to debate, leadership and cooperation, are sure to serve me well as I continue to pursue a career in communication and politics."