"I am humbled and honored to become the next head coach at Millikin University"
Millikin University Director of Athletics Dr. Craig White is pleased to announce that current Big Blue assistant coach Kramer Soderberg has been named Millikin's new Head Men's Basketball Coach effective immediately.
Soderberg has been on the Millikin staff since 2015 serving as the program's top assistant coach.
"Kramer Soderberg is first and foremost a quality person who will create a culture that molds young men," said White. "He knows the game and can communicate that knowledge to our players. He comes from a basketball family and has basketball in his blood and is committed to providing our student-athletes with a positive experience on and off the court."
Soderberg added, "I am humbled and honored to become the next head coach at Millikin University. For the last six years Millikin University and Decatur (Ill.) has become our family's home—we are so grateful to continue to be a part of such wonderful communities. Becoming a head coach has been a lifelong dream of mine, and I cannot think of a better place to begin my career than as the leader of the Millikin University basketball program."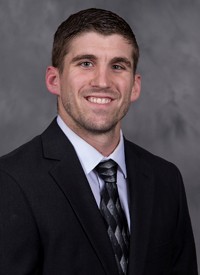 Prior to joining the Millikin staff, Soderberg spent three years as an assistant coach at NCAA Division II Lindenwood University in Saint Charles, Mo. During Soderberg's first two years as a graduate assistant, Lindenwood compiled a record of 30-26 in its first two years of NCAA D-II play. In 2012-13, Soderberg helped the Lions to a 19-7 record; one win away from winning a conference title in their first official season in the prestigious MIAA conference.
"I'd like to thank Dr. Craig White and President Reynolds for the opportunity," Soderberg said. "I would like to thank my family and specifically my wife, Andrea, for their unending support. And most especially I'd like to thank my Lord and Savior Jesus Christ whose love and faithfulness has always been an unmovable rock in my life."
Kramer Soderberg had the opportunity to coach and play at Lindenwood University under his father, longtime college coach Brad Soderberg, who is currently the top assistant at the University of Virginia. During his playing days, Soderberg was one of the best guards to play at Lindenwood. In his two seasons at Lindenwood he averaged 17 points a game and started in all 66 games he played in. He was named to first-team All-HAAC in 2010-11, the HAAC Newcomer of the Year, and was a member of the NAIA All-American Third-Team. After his senior season, he was named a Capital One Division II Academic All-American. In his two years at Lindenwood, Soderberg scored 1,148 points, ending his career seventh on the all-time leading scorers list. In 2017, Soderberg was inducted into the Lindenwood Athletic Hall of Fame.
Before transferring to Lindenwood, Soderberg attended NCAA Division I, University of Miami-Ohio. In his freshman season, he played in all but three games and received the Randy Gunlock Scholar-Athlete Award.
Soderberg attended St. Charles West High School and was a three-time all-state selection, earned conference player of the year honors three times and all-conference accolades four times. He was tabbed the 2007-08 Gatorade Player of the Year in Missouri and also was named the St. Louis Post Dispatch 2008 Player of the Year. While playing at St. Charles West, he guided the Warriors to four conference titles, district championships in 2004-05 and 2007-08, and a Missouri State Class 4 Final Four appearance in 2007-08.
Soderberg graduated from Lindenwood University in 2012 with his bachelor's degree in mass communication and earned his master's in mass communication in 2014.