Sierra Boggess '04 goes from Millikin to Broadway
Since her Broadway debut as Ariel in "The Little Mermaid," 2004 Millikin University graduate Sierra Boggess has become one of the most sought after young artists in the New York and London theatre markets.
Referred to by Tony Award-winning Producer and Director Harold Price as "one of the most talented and intelligent artists in the musical theatre today," Sierra dazzles audiences with her unique brand of charm, humor and virtuosity.
In a recent editorial from the Herald & Review, the Decatur-based newspaper listed Boggess as one of the many people who have made the central Illinois region special.
After graduating from Millikin, Boggess appeared in a number of regional productions, including spending a pair of summers performing at The Little Theatre-On the Square in Sullivan, Ill. Before appearing on Broadway, Boggess performed as one of two Christines in the Las Vegas Ventian's adaptation of "Phantom of the Opera."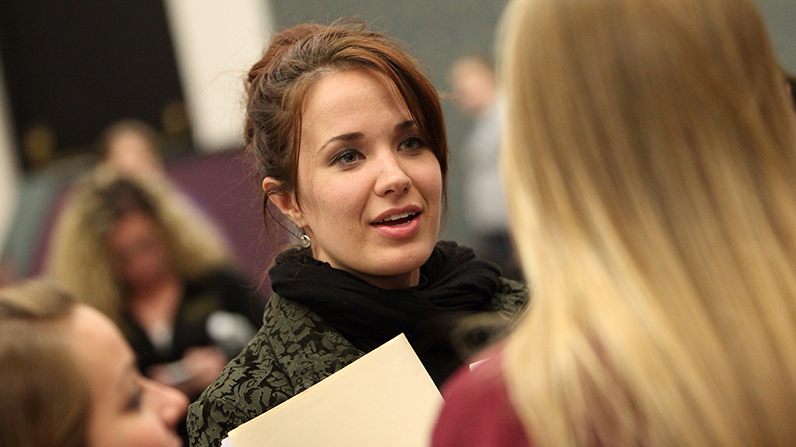 Boggess was then cast in her Broadway debut originating the role of Ariel in "The Little Mermaid" in 2008. From February 2010 to March 2011, Boggess starred as Christine Daaé in the sequel to "The Phantom of the Opera," titled "Love Never Dies" written by composer Andrew Lloyd Webber.
Boggess once again played the role of Christine Daaé in the 25th anniversary concert of "The Phantom of the Opera" at the Royal Albert Hall in London from Oct. 1-2, 2011.
Boggess returned to Millikin University directly from her engagement as Christine Daaé in Broadway's "The Phantom of the Opera" to present a one-night only benefit concert on Oct. 11, 2014. Her performance was based on her critically acclaimed cabaret appearance at New York's 54 Below, featuring an eclectic mix of theater and pop songs. Titled "Part of OUR World," Sierra's performance helped benefit the campaign to create a new facility for Millikin's nationally recognized Theatre and Dance program.
Recently, Boggess embarked on her first Australian concert tour in June 2017 making stops in Sydney, Melbourne and Brisbane.