How the College of Professional Studies modified classes during the pandemic
"They have shown their determination and adaptability during this unparalleled time in our history."
Those are the words used by Dr. Pamela Lindsey, dean of the College of Professional Studies at Millikin University, to describe the efforts of faculty and students from the Millikin School of Nursing, School of Education and the School of Exercise Science & Sport during these unprecedented times.
The College of Professional Studies faculty, along with their colleagues across campus, have had to adapt and modify their course delivery due to the COVID-19 pandemic. Given the autonomy to choose delivery modes, faculty are teaching in a variety of methods including face to face, online [synchronous or asynchronous] and/or hybrid.
Andrea Tirpak, nursing and clinical simulation lab coordinator for Millikin's School of Nursing, is among the faculty members working diligently to make sure that Millikin students are getting the most hands-on experience possible. This has been extremely vital to students in the School of Nursing, because their clinical and lab experiences were cut short during the spring 2020 semester.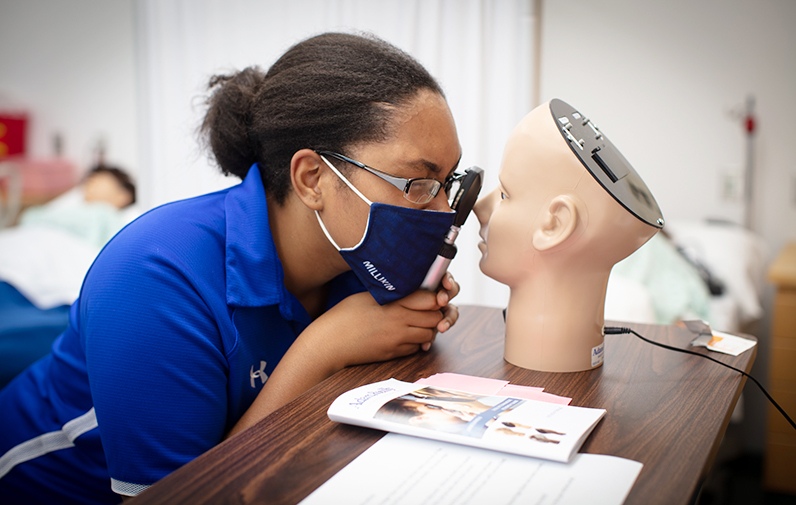 Tirpak teaches Health Assessment, a course that focuses on the necessary skills to perform a physical examination. Students practice these skills in a laboratory or clinical setting.
"Our goal was to front load our lab and clinicals at the beginning so our students could get as much clinical and lab experience in the first part of the semester in case we had to transition to a fully online delivery mode," Tirpak said.
Like all students, Millikin senior nursing major Montana Malmen, of Bettendorf, Iowa, knows the academic year has been far different than previous years, however, her professors and colleagues have been striving to make the environment as hands-on and positive as it can be.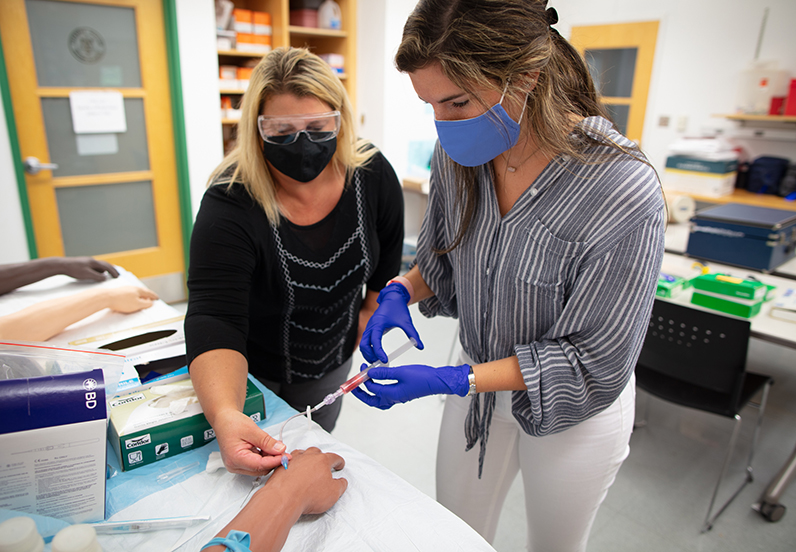 "COVID-19 has impacted our classroom setting by ensuing Zoom classroom sessions and exams. This change was an adjustment to get used to in August but having previous experience with Zoom and Proctorio in March [2020] allowed us to feel a little more comfortable," Malmen said [pictured above]. "It has challenged us to speak up more and seek help from our professors and classmates."
Millikin nursing faculty have had to get creative with their scheduling, especially with the availability of a clinical site. In the past, students would normally start their clinical experience during the third week of the semester, but this past fall, most clinical experiences started the first week, some even on the very first day of class.
"Because our students are caring for patients during their clinicals who may be in the high risk category for COVID-19, most of the clinical courses are having the students complete the theory portion of the course online, to minimize exposure," Tirpak said. "That way, those students are only in contact with their same clinical group and clinical/lab instructor each week."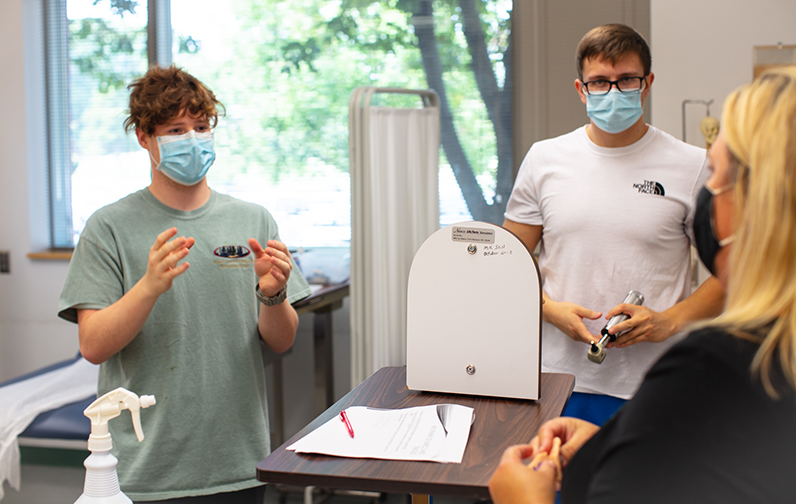 This past fall, the Millikin School of Nursing provided masks and face shields for faculty and students to use during clinicals or lab. Fortunately, the students were still able to gain hands-on clinical experiences at local hospitals.
"The School of Nursing provided no-touch thermometers to our clinical instructors, and the students are screened by the clinical site and faculty before they are allowed on the floor to care for patients," Tirpak said. "Because of the limited number of students allowed on the floor or in a room, pre- and post-conferences have been taking place outside or over Zoom."
The simulation experience has always been invaluable to the School of Nursing in preparing students to work in the "real world." With losing that lab time in spring 2020, students have been taking advantage of extra practice this academic year.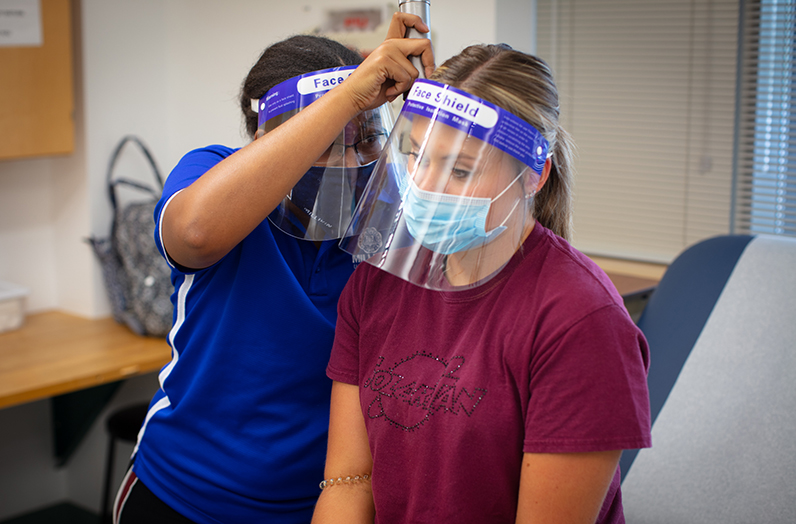 "Many students have been coming in to the lab to gain extra practice on skills that they may not have had the opportunity to complete or observe last semester, like IV insertion, working with IV pumps, injections, Foley insertion, suture/staple removal, nasogastric tube insertions and physical assessment practice," Tirpak said.
The commitment shown by Tirpak and her colleagues in supporting students in learning during this challenging time has certainly made an impact.
Montana Malmen says students have been challenged to promote safety to peers on campus, to obtain further learning opportunities and to pursue patience within themselves.
"We have learned to show more empathy and compassion to one another as we all go through this difficult time," Malmen said. "The transition from the hospital to the lab during a rise in COVID-19 patients is a great example of a positive adjustment to keep our learning and hands-on practice up to par."
Dr. Pamela Lindsey
Dean of the College of Professional Studies
Faculty very thoughtfully determined the mode of delivery best for their courses and for their students. It has required them to be flexible and nimble with the ever changing status and needs of students. I could not be more proud of their dedication and adaptability during this unparalleled time in our history. They have shown their determination in delivering on the promise of education as envisioned by James Millikin, despite the challenges they face on a day-to-day basis.