"My teaching style is a mixture of seriousness about the subject matter with an enthusiasm for it that makes it fun."
The following article comes from the Summer 2021 edition of Blue Review, Millikin University's Family Magazine
Students and community members across campus and the city of Decatur often turn their radios to 89.5 WJMU "The Quad" to enjoy a range of alternative music and a wide array of entertaining shows. The students who are the voices behind the radio station come from all different majors, interests and backgrounds but have one thing in common: Professor Sam Meister.
Professor Sam Meister, a current instructor of communication at Millikin University and the general manager and faculty advisor of WJMU "The Quad" teaches courses primarily focused on mass communication. Starting with students in courses such as Intro to Radio and following with them as they move to Advanced Production and Performance, Professor Meister supports students in making good radio content, no matter their majors on campus.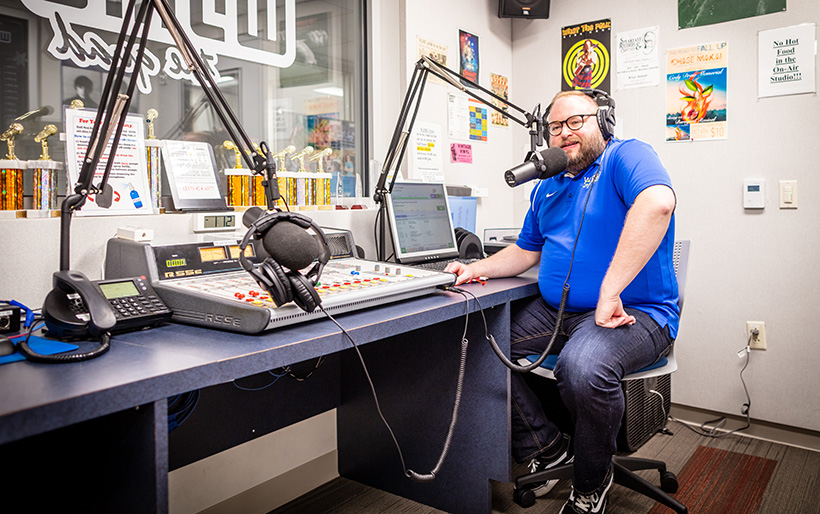 Sam Meister
"I have students who come in, and they're really interested in talking about whatever their major is, but they don't necessarily want the whole communication background," Meister said. "All you have to do is take the one class. You don't have to continue taking courses with me if you can just keep making good content."
Professor Meister's success with his students does not go unnoticed. At the 81st annual Intercollegiate Broadcasting System (IBS) Media Conference and Awards, WJMU received a Golden Microphone Award for Best Specialty Show and four nominations, including one for Best College Radio Station at an institution with an enrollment under 10,000 students.
"I've had students who come in, and they say, 'I'm super interested in, say, Broadway musicals,'" Meister said. "This year, he and his cohost won the best specialty programming in America at the IBS awards … so that one class obviously paid off really well."
Meister also teaches courses on media and radio history, something he is passionate about. "I really love the stuff that I get to teach … I try to give them a sense of context."
Describing his teaching style as "a mixture of seriousness about the subject matter with an enthusiasm for it that makes it fun," Professor Meister is known for the fun his classes provide.
"I think the thing that I enjoy hearing the most from alumni is when they say, 'you really made this fun, and I didn't realize how much I'd actually learned until I left,'" Meister noted.
Professor Meister ensures his students are ready for their careers when they graduate by teaching them a broad spectrum of curriculum.
"It's like when I teach students how to edit audio. I don't teach them on a program that's the best in the industry, but I get as close as I can get so that they know the principles. If somebody says, 'hey, do you know this program,' they might say, well, I don't know that program specifically, but I know the concepts."
By making sure students understand the basics of production and the principles of areas like editing and recording, Professor Meister is setting his students up to be ahead of their competition.
Blue Review
Millikin University's "Family Magazine," Blue Review provides fresh and interesting perspectives from campus. From faculty and student stories to new programs and majors to achievements in our athletics and alumni communities, Blue Review has Millikin pride emblazoned across its brilliant pages. Readers will enjoy original photography, design and artwork, collaborative content developed by staff, faculty and students, and a behind-the-scenes look at the fascination and innovation powering the Millikin Momentum.
Our most recent issue covers Millikin's 97 percent graduate success rate and every step that students take to get there. It looks at how students have risen to the challenge of the COVID-19 pandemic and how they have grown as a result of the educational Performance Learning opportunities Millikin has helped provide. While the world paused, Millikin students continued to persevere, showing their strengths to the campus, community and employers around them.