Millikin students take top awards at Regional Singing Competition
Millikin University vocal performance and musical theatre students took top awards at the 2018 National Association of Teachers of Singing (NATS) Central Region Competition held Oct. 27-28 in Edwardsville, Ill.
Millikin competed against schools from across Illinois, Iowa and Missouri, and made quite the splash by winning seven awards in terms of 1st, 2nd and 3rd place, as well as two honorable mentions and another four students finishing as semifinalists.
"What's great about this competition is that the students who did well and received top prizes are eligible to go to nationals and compete against the top tier singers from all the regions throughout the United States," said Dr. Justin John Moniz, coordinator of vocal studies at Millikin.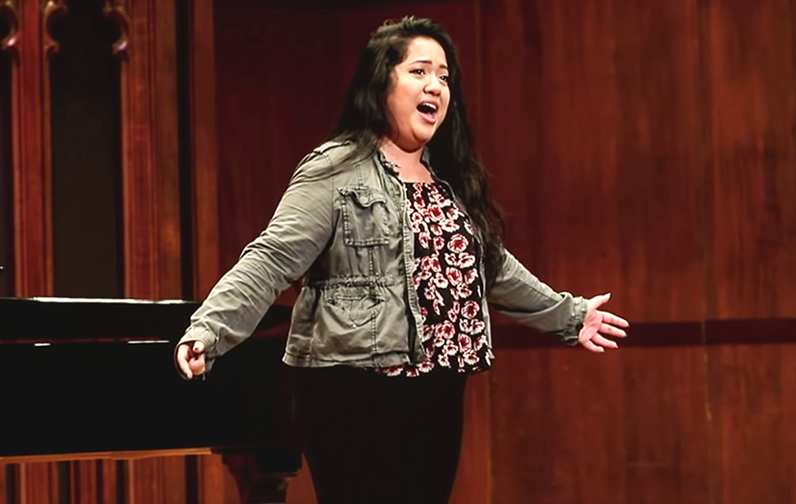 Among the winners was Rhealee Fernandez, a sophomore theatre and human services double major who received 1st Place in the Lower Musical Theatre Women category. Fernandez performed the song "Breathe" from the Tony Award-winning musical "In the Heights."
"My favorite thing about performing is that people tell me that I inspire them," said Fernandez. "I like to inspire people and help them, and I hope to perform professionally in Chicago and counsel."
First-year student Cecilia Antonelle, a vocal performance major, earned 2nd Place in the Lower Classical Women category for her performance of Ricky Ian Gordon's "The Red Dress."
"I feel that the Millikin community really cares for its students and who we are going to be after school," said Antonelle. "I've never taken voice lessons before coming to Millikin, and to actually get that training that I've always wanted is really incredible."
Jorie Clark, a sophomore vocal performance major, finished in 3rd Place in the Lower Classical Women category. Clark sees herself as an opera singer with a deep drive and passion for the musical genre.
"I started voice lessons at 11 and I was immediately put into classical music," said Clark. "I've always had this love for opera, the glamour of it, and seeing the reaction from the audience and giving them a show where they can relax and enjoy music."
Will Koski, a sophomore musical theatre major, performed "Out There" from "The Hunchback of Notre Dame" and earned 3rd Place in the Lower Musical Theatre Men category for his performance.
"It's a well known song but I really feel you can bring something to it each time you perform it," said Koski. "Millikin has given me confidence in my work. It's been nice to have people who support me and are actively encouraging me to follow my passion."
Dr. Moniz noted the mix of majors among the student award winners and how the institution prioritizes every student on an equal playing field.
"When you leave Millikin, when you leave your academic training, you're going to head out into the real world to audition and they want to see you deliver," said Moniz. "This accomplishment speaks volumes to the program and what we are able to provide to all majors."
Congratulations to the following Millikin student award winners:
• Rhealee Fernandez, 1st Place, Lower Musical Theatre Women
• Sarah Obert, 2nd Place, Lower Classical Women
• Cecilia Antonelle, 2nd Place, Lower Classical Women
• Jorie Clark, 3rd Place, Lower Classical Women
• Katie Block, 3rd Place, Lower Classical Women
• Will Koski, 3rd Place, Lower Musical Theatre Men
• Kiana Beverly, 3rd Place, Upper Musical Theatre Women
• Will Koski, Honorable Mention, Lower Classical Men
• Lauren Ingebrigsten, Honorable Mention, Upper Classical
• Aly Gabriel, Semifinalist, Lower Classical Women
• Aly Gabriel, Semifinalist, Lower Musical Theatre Women
• Patricia Bales, Semifinalist, Upper Musical Theatre Women
• Nicole Barth, Semifinalist, Upper Musical Theatre Women