Scholar presentations highlight Millikin's International Month celebration
Millikin University will host an assortment of events to observe International Month from Sept. 17 to Oct. 8, 2015.
Each year, Millikin's Center for International Education hosts International Month, a celebration of international students, travel and issues. The campus community has the opportunity to discover world cultures, hear from people of other nations and learn about Millikin's international travel options.
"International Month has been a tradition at Millikin University and every year we highlight countries by presenting activities and guest speakers," said Carmen Aravena, director of the Center for International Education at Millikin University. "It's important for the Millikin community to experience the cultural activities of International Month and it's a great opportunity for our international students to be a part of these events."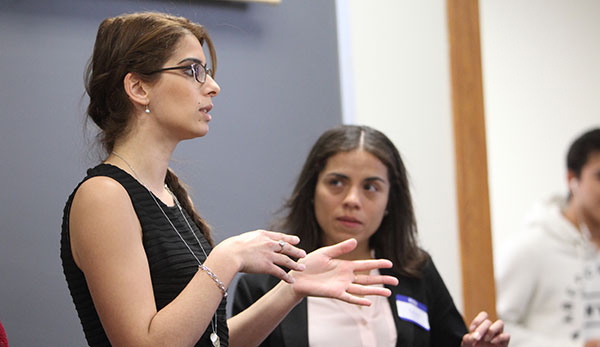 The following is a schedule of events for International Month at Millikin University.
International Cuisine
Sept. 16, 23, 30, and Oct. 7
12 noon – 1 p.m.
Wornick Dining Hall, Richards Treat University Center
2015 International Fellowship Scholar Presentations
Sept. 17, 6 p.m. – 7 p.m.
Pilling Chapel, Millikin University campus
Come and enjoy a traditional British tea time with scones, pastries and quiche, all while engaging in presentations by Millikin's top study abroad scholars from the International Fellowship Program. Relax, listen, sip tea and eat while the International Fellows share their fascinating experiences abroad.
Study Abroad Fair
Sept. 24, 11:30 a.m. – 3:30 p.m.
Shilling Hall 1st Floor, Millikin University campus
Interested in studying abroad in various parts of the world? Center for International Education Staff will be on-hand to answer any and all questions concerning education abroad. Professors offering immersion courses will be in attendance to answer any questions about their upcoming international immersion courses.
International Festival and Open House
Oct. 1, 6 p.m. – 7:30 p.m.
Shilling Hall 2nd Floor, Millikin University campus
Every year, Millikin invites international students on campus to share their culture and to represent their country on campus. This year, each country represented on campus will have a table that outlines various history, monuments, geography, music and more. Students will also be teaching common greetings from their home country.
Presentation by Vadim Larramendi
Oct. 8, 6 p.m. – 7:30 p.m.
Pilling Chapel, Millikin University campus
World-renowned Cuban dancer Vadim Larramendi will share details on the Cuban School of Ballet and Cuban Modern Dance Technique. Larramendi will provide a brief historical account of Cuban dance examining various idiosyncrasies (theoretical and practical) in a way that may be assimilated by American students. A reception will be held following Vadim Larramendi's presentation.
For more information on International Month, contact Millikin's Center for International Education at 217.424.3758, by e-mail at cie@millikin.edu, or visit millikin.edu/cie.