Celebratory event marks new home for Millikin's School of Theatre & Dance
A ribbon-cutting ceremony on Oct. 17, 2020, marked a celebration of Millikin University's newest building, the Center for Theatre & Dance. The celebratory event of the new home for Millikin's College of Fine Arts and School of Theatre & Dance was also an opportunity to thank the supporters of the project and the community of Decatur, Ill.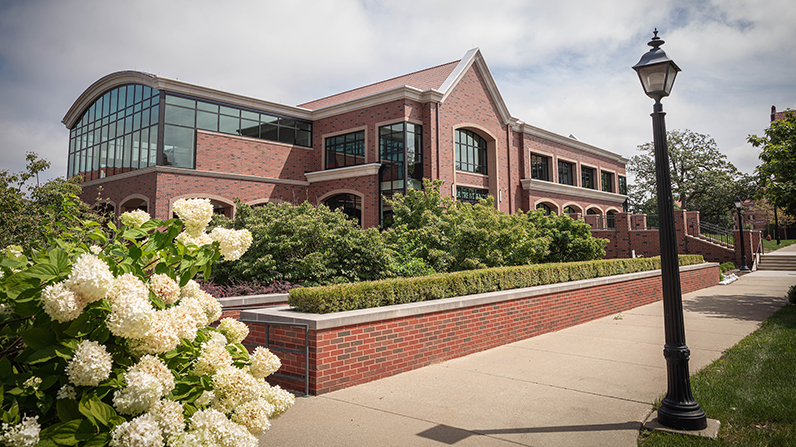 For several months, the Millikin University campus community witnessed a change in scenery with the construction of the new Center for Theatre & Dance, all starting with a groundbreaking back on May 18, 2018. This past August, the doors to the $29 million building were opened to students, faculty and staff.
"The Center for Theatre & Dance represents more than just a state-of-the-art building designed to provide Millikin students with high-quality Performance Learning experiences. It is a structural recognition of the importance of the visual and performing arts in our lives and in our community," said Millikin President Dr. Jim Reynolds. "By undertaking and completing this project through the generosity of our alumni and other friends, Millikin University has reaffirmed the value that theatre and dance holds in our daily lives. I'm very excited for our faculty, staff and students, both current and prospective, to fill the building with their exceptional talent and to make it a place of creativity and learning."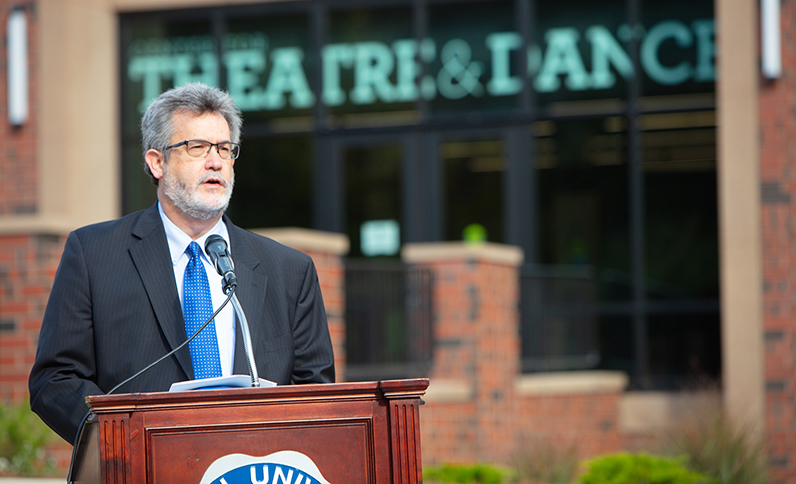 Millikin President Dr. Jim Reynolds
Located at the former site of the Richards Treat University Center, the Center for Theatre & Dance features a 260-seat flexible theatre, including an orchestra pit, balcony and tech gallery with a tension wire grid. The new building also features lighting and sound labs, a costume studio, a costume classroom, collaboration spaces, acting studios, design classrooms, practice rooms, modern theatre equipment and offices and support facilities for current staff, with room for growth. The innovative facility has become the new face of the School of Theatre & Dance.
"Students will be able to learn performance, directing, design, production and management in all new spaces equipped with the latest technology," said Mary Black, director of the School of Theatre & Dance. "The new Center will do more than facilitate the needs of our current students and programs. It will allow us to continue to grow and excel as we prepare students for their lives as theatre artists."
The Center for Theatre & Dance was one of three building projects under Millikin University's $85 million "Transform MU" capital campaign (TMU). Thanks to visionary and generous alumni and community leaders, as well as the investment of University resources by Millikin's Board of Trustees, the facility was realized with a groundbreaking two years ago.
"The TMU capital campaign was envisioned as an opportunity to make truly transformational changes at Millikin, and in so doing, make transformational changes in the lives of our students," said Dr. Steve Huss, trustee emeritus who served as co-chair of the "Transform MU" capital campaign steering committee. "One of the unique things about Millikin University is its emphasis on Performance Learning, and this facility will indeed provide opportunities for our students like never before. It has long been Millikin's mission to deliver on the promise of education. Now we can really deliver on that promise with this building's completion."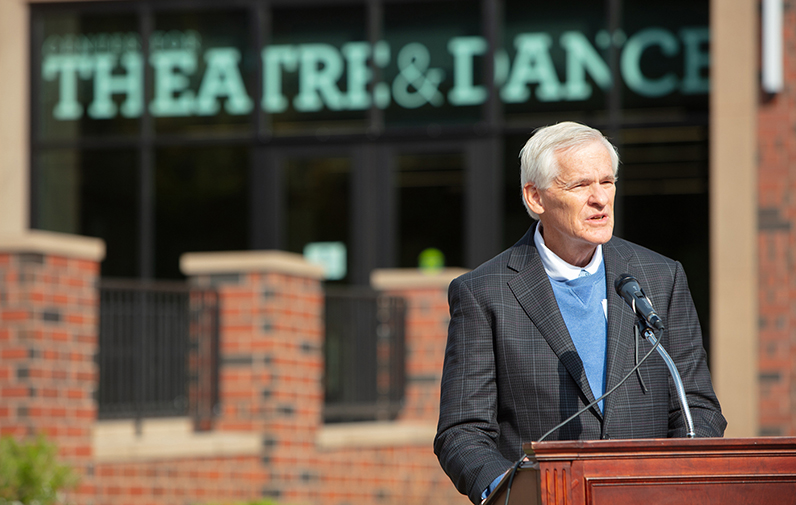 St. Steve Huss, trustee emeritus
The architectural partner for the project was Decatur-based design firm BLDD Architects, Inc., who worked with several Millikin students, faculty, administrators, alumni and donors during the developmental process.
"One of the founding design elements was to see and be seen. People on campus and in the community can actually see what's happening in and around the space as students work on planned and impromptu performances in places ranging from the lobby to the outdoor covered patio," said John Whitlock, principal with BLDD Architects. "Even though they had no dedicated facility to put them on the map, Millikin's School of Theatre & Dance continued to produce high-quality graduates and created a program that ranked in the top 10 nationally. With the resources provided by the new Center for Theatre & Dance, we believe Millikin can become the best theatre program in the nation."
Carson Durham, lead architect for the project, says every space in the building is a place for "connection, learning and teaching."
From left to right: Millikin student Ramsey Folkerts '24; Laura Ledford, dean of the College of Fine Arts; Mary Black, director of the School of Theatre & Dance; Millikin student Alex Saviano '22
"This building offers the ability to look backward toward the history of the campus' design and also look forward in terms of contemporary architecture and elements," Durham said. "It's a very comfortable space for students to gather, learn and collaborate. On private campuses, you sometimes get the feeling that new buildings are more for alumni than students. This building is intentionally designed so students feel like they can succeed. It still features high-end spaces, but it's not intimidating."
For Millikin students like Zachary Cary, a senior design and production major from St. Charles, Mo., the building offers exciting, hands-on learning opportunities.
"This new building presents a wide array of technical facilities and cutting-edge technologies that allows students to gain experiences on equipment that is quickly becoming the industry standard," Cary said. "The features of this building allow me and other students to further grow our skills in new ways as artists and technicians."
The completion of the building is a reflection of the tremendous impact of President Emeritus Dr. Patrick E. White, whose leadership played an integral role in the completion of the "Transform MU" capital campaign.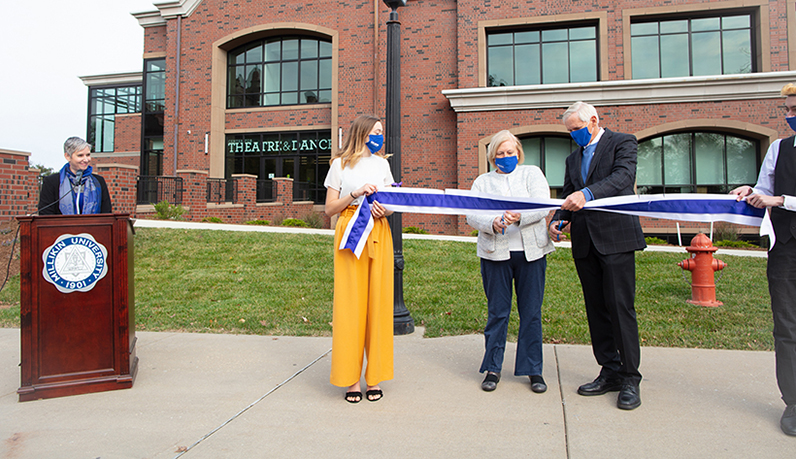 From left to right: Mary Black, Ramsey Folkerts, Carol Huss '70, Dr. Steve Huss and Alex Saviano
"This is an exciting moment in Millikin's history. When I arrived on campus, it was a dream that became a wish, to a full fruition as an idea and a concept, to a design and a creation that will transform Millikin University for generations to come," said White. "We want to thank everyone who had a role in this project, whether you were a donor of a few dollars or a million dollars, we appreciate your belief in the future of Millikin and the work we do in Performance Learning, particularly in the arts of theatre and dance."
White added, "From the Board of Trustees, to the faculty and staff who worked so hard to make this happen, to our partners in construction and design – everyone who made the Center for Theatre & Dance a wonderful building."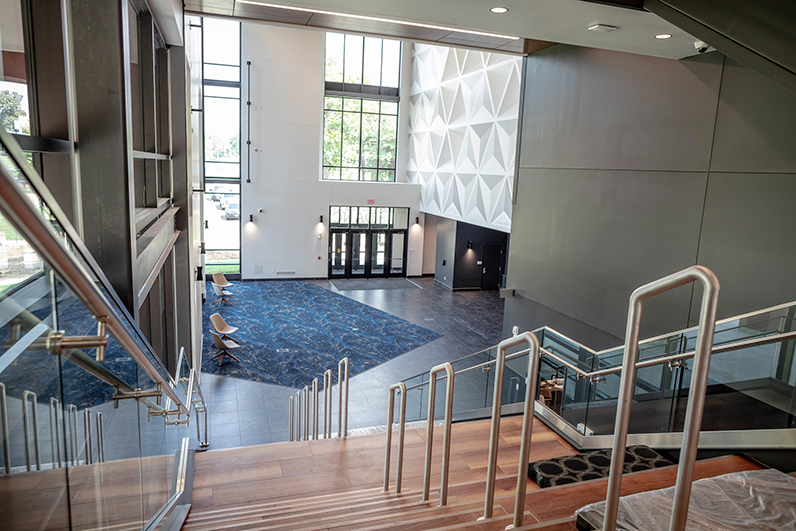 Fundraising efforts are ongoing to support the Center for Theatre & Dance. For more information about the new facility and the School of Theatre & Dance, visit millikin.edu/theatre.