Millikin Magazine All Access
Our newest issue of Millikin Magazine serves as a retrospective of all that President Patrick E. White and his wife, Chris, have done to strengthen our beloved University as we continue to move boldly into the future.
To see more from the spring 2020 issue of Millikin Magazine visit millikin.edu/magazine.
Millikin University has always been a great institution, but it has become an even greater institution because of President Dr. Patrick E. White. Students, faculty and staff have been grateful for his endless energy and passion for Millikin, and community leaders have praised him for not only leading the institution but being the heart of the Big Blue.
Below are thoughts and perspectives from members of the community on the impact that President White has made during his time at Millikin.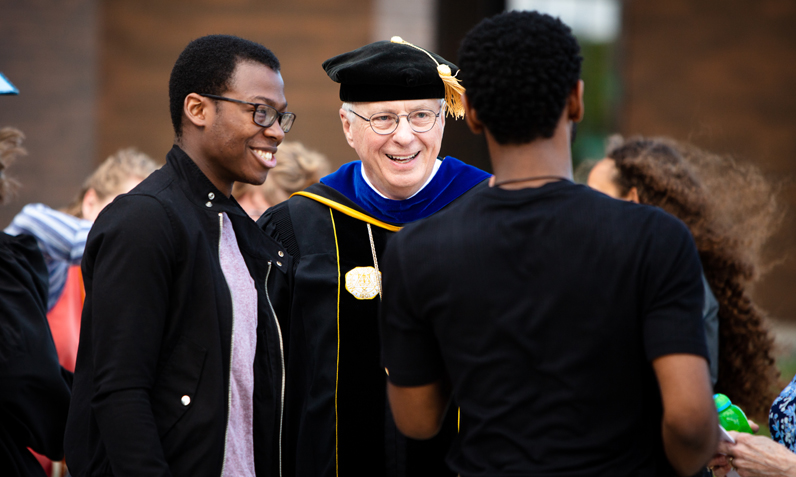 Kara Demirjian Huss
President DCC Marketing and VP & Global Marketing Director T/CCI MFG
"President Pat White is not just the head of Millikin University, he is the heart of the institution. I have been with Pat in many capacities from several community boards to Millikin Associates. You can never miss his charisma and bleeding blue passion when he enters the room. In my mind, he has been one of the most effective and influential President's we have seen. I hold great admiration for him both for the work he has done with connecting business partnerships as well as the strong ties he has made with the student body. His leadership style and community centric approach has had a major impact on fundraising and the University's Top Rankings. His leadership under the Transform MU campaign has been one of the most successful initiatives in the Universities history and is paving the way for facility and programmatic growth. Pat will be missed dearly, but his big blue legacy is sure to shine through for decades to come."
Dr. Jeanelle Norman
President, NAACP Decatur Branch
"There are many surprises in life. One of the most joyful times in my life was crossing paths with Dr. White. His outstanding presidential skills have benefited Millikin University and the community. He enhanced Millikin's 'sense of community.' His success in diversifying the student body while at the same time including more minority professors is commendable. The NAACP had the opportunity of having a Millikin student serve as an intern for the first time in our 105 years of existence in the Decatur community."
"Dr. White will be sorely missed, but his numerous accomplishments will continue to have a tremendous impact on Decatur. As Dr. and Mrs. Patrick E. White transition to a new chapter in life, my prayers and best wishes embrace them."
Mirinda Rothrock,
President of Decatur Chamber of Commerce
"Millikin University President, Dr. Patrick 'Pat' White has served on the Decatur Regional Chamber of Commerce board for over seven years. During that time President White has provided valuable input and served as a resource for our community. He exemplified leadership above and beyond and repeatedly said Millikin is Decatur's University."
"I will personally miss President White's quick wit and cheerful smile. I could always pick him out in a crowd, you could see him coming a mile away as he always sported his blue Millikin baseball hat. I tip my hat to President White for his dedication and commitment to Millikin University and our community."
Ryan McCrady,
President Economic Development Corp. of Decatur & Macon County
"Dr. White has a passion for building connections between Millikin and the entire Decatur community. As a member of the Economic Development Corporation Board of Directors, he was always willing to provide support to the local business community and sought ways for Millikin to be a strong contributor to the local economy. His selfless service to the community will be missed. However, his legacy will continue through the relationships that have been built under his watch. His strong but compassionate leadership style is one that I closely watched and admired."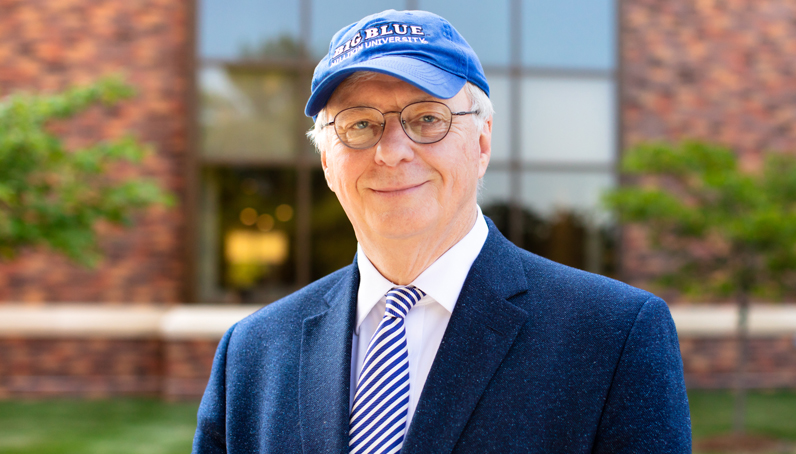 Shirley Stanley
"I remember so well meeting Dr. White for the first time ... I liked him a lot, immediately! What a great engaging smile and presence! I loved how he was always glad to see us and wanted to chat and immediately remembered our names and our connection with Millikin. He was Interim President, and I so hoped that he would be able to stay on as the University President - and, of course, that happened."
"Dr. White clearly embraced the fact that Millikin was part of the Decatur community, and the Decatur community was part of Millikin. Things I did for the University, I did as a 'community member,' not being an alum, nor student nor staff. He was always so appreciative and supportive of those efforts. He would be everywhere, and everyone knew him. It was so obvious that his interest in the University and its mission and its connection with the community was based on what was truly best for the University and the community - what a joy to work with 'a leader' who was so devoid of self-interest and ego, and who really acted for 'the greater good' - that seldom happens."
"I had the privilege of being the Millikin Associates' Chair with Dr. White as University President. It was always so pleasant and easy to be involved in an event with him. I also have the privilege of being on the committee for the School of Theatre and Dance new building with him. To see him work continuously on the fundraising and keeping us informed about the building's progress keeps the momentum going for that project, as it does for all of the projects with which he is involved."
"He will be so very missed, as will Chris. He wears the Millikin hat in so many ways!"
"He always greets me 'Hi Shourls' - I love it!"
Ty Hildum,
National Account Manager at Norfolk Southern Corp.
"What can I say about Dr. White that has not been said already? Pat and I served together on the board of directors for the Decatur Regional Chamber of Commerce since he first moved to Decatur. Having attended a thriving small private school myself, we hit it off immediately. Despite all his college obligations, he was one of the more involved board members, weighing in on items important to Millikin and the City of Decatur. He was also good about attending ribbon cuttings and after hours events when possible, and was one whom I relied on for conversation. Dr. White also shared my desire to have students attend the monthly Chamber Breakfast as a way for them to experience the career types available in a community. He too saw the value in students networking for summer jobs and future carrier opportunities within their field of interest. This also provided an opportunity for Millikin students to mentor the attending Decatur high school students in developing their college plans. His support was greatly appreciated by me as well as the high school students he met. Spend any time with Dr. White and you will quickly experience his quick wit and his ability to make anything sound interesting. You could always count on him showing Millikin pride through his comments, knowledge of upcoming events, or the blue ball cap that was a permanent part of his attire."
"Throughout Pat's tenure, I found myself attending more Millikin events and came to look forward to his literary introductions at speaker series and fundraising events as well as his orations on Jimmy M's contributions. Through Dr. White and his staff, I came to understand the benefits of experienced based learning, and how successful Millikin is in this type of education."
"The event that stands out most in my mind that summarized Pat's love for Millikin most was the University Commons grand opening celebration in 2017. The students from the various performing arts put on what I describe as a talent show to celebrate the opening. They all performed in the lobby of the University Commons to demonstrate the collaborating nature of the new space. Within this space and with little to no props, they performed as if scouts were in the audience. For more than an hour, those that attended the gathering were able to experience the true talent that Millikin attracts. And, Dr. White could not have looked prouder. Not only did it represent the completion of one if his first major building projects, but you could observe the love students had for Dr. White and the pride he had in his students. To this day, I still believe an annual talent show at Millikin would be a huge success. What better way to show central Illinois the talent Millikin is encouraging and enhancing."
"We now consider Pat and his wife, Chris, two of our Decatur friends and look forward to maintaining the relationship as they migrate from work to retirement and from Illinois to Indiana. My wife Kelly and I look forward to attending the Kentucky Derby with Pat and Chris sometime soon and look forward to keeping up with all their adventures, as they take this next step in their lives. Their presence at Millikin will be missed, but surely never forgotten."