"Building Millikin is an investment in ourselves"
Millikin University President Dr. Patrick E. White was the featured keynote speaker at the bi-annual Community Leaders Breakfast at the Decatur Conference Center and Hotel on Thursday, Oct. 3. Debbie Bogle, president of the United Way of Decatur and Mid-Illinois, was also among the speakers.
While addressing the crowded banquet room, President White began by saying he was nervous, but the audience could hardly tell as he spoke about the community's vision for and of itself in a speech titled "Who is our City?"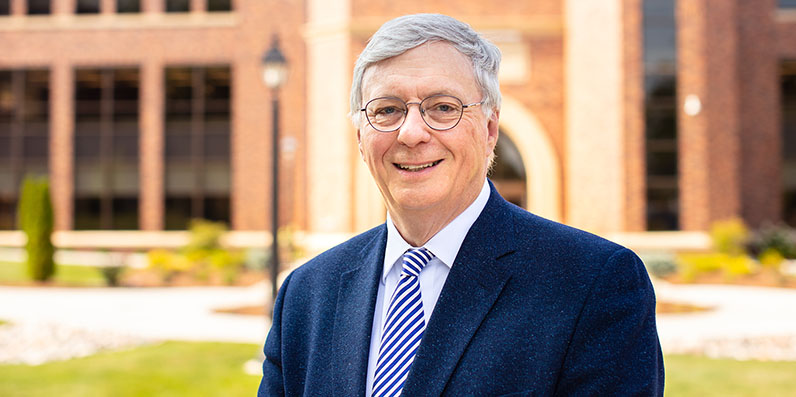 "For the last six-and-a-half years, I've necessarily become a student of Decatur (Ill.) serving on the Chamber of Commerce Board and the Economic Development Commission, and learning from all of my colleagues on many different connections in the city," said White. "I'm trying to guide Millikin into a future with even closer ties to Decatur than before I arrived."
As University President, White sees his role as always having to help a complex institution to see itself and to understand who it is and what it can become.
"It's what I call our best imagination of Millikin," he said.
Dr. White was elected the 15th president of Millikin University and plans to retire effective June 30, 2020. Through his leadership, Millikin University has been revitalized and reimagined, and he has built a solid foundation for further growth and success. Since he joined, Millikin has added the University Commons, the Workman Family Softball Field, Workman Family Baseball Field and the upcoming Center for Theatre and Dance – scheduled to open in the fall of 2020.
During his speech, White focused on the connection between Millikin and the growth of Decatur. "My hope today is to look at you and to see Decatur in new ways, enlarging our shared vision of who we are and what we can be," he said. "I'm asking us to explore our view of 'Who is our City?' in three different directions; expand our vision to include Millikin University, broaden our view to explore a regional perspective, and sharpen our focus to make sure that every single person in Decatur is a part of our city."
White made note that Millikin welcomed its largest first-year class since 2012 and that the "Millikin momentum" is an engine for growth and vitality in the city of Decatur and beyond. "We are an integral part of this great community. Millikin's growth in prosperity is Decatur's growth in prosperity. A great university must be anchored by its city and Millikin is getting better at doing that."
It was also during the early portion of his presentation that Dr. White emphasized how Millikin utilizes Performance Learning in its curriculum. "Students must perform their knowledge to witnesses and stakeholders, beyond their classrooms, beyond their teachers and classmates. Building Millikin is an investment in ourselves," he said.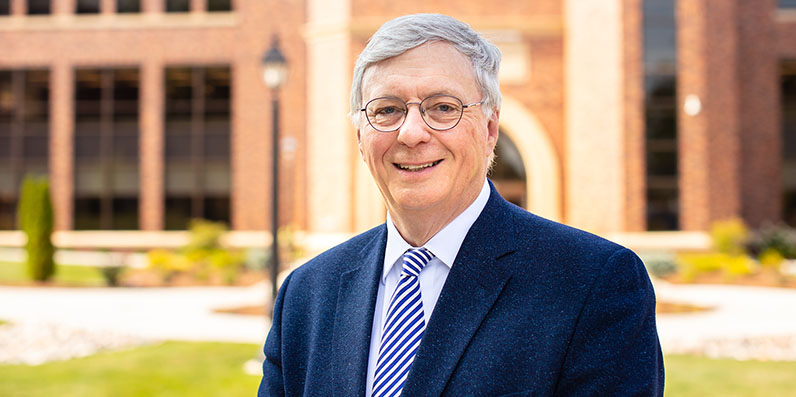 Among the projects ongoing at Millikin, President White is working with the Alumni and Development Office to complete the remaining fundraising for the Center for Theatre and Dance, and gathering contributions for Phase I of the Griswold Center renovation and expansion project – a $12 million project. Phase I will include building a facility to house six new locker rooms for varsity and junior varsity football, Men's and Women's soccer, and Men's and Women's track & field and cross country. Phase I also includes a fitness center for the entire campus community as well as classrooms and team meeting spaces.
President White closed his presentation by suggesting to the community to look toward the future and not the past.
"Decatur is a great place to live because many people in the community are not turning their back on the challenges we face," said White. "I'm asking us not to think about our issues as problems, but our issues as opportunities. Many cities and universities would want the kind of diversity we have in Decatur and around – now we have to work to make that diversity work for all of us. We have to be constantly awake to the need to be more inclusive and respond by study, thought and action – in other words, Performance Learning."