Millikin students present a modified version of the popular musical
The past year has proven a challenge to almost every aspect of "normal" life, but theatre performances are perhaps some of the most affected. Millikin University students have been pushing forward to adapt with performances outdoors and those filmed and released virtually. The final mainstage performance of the year for Pipe Dreams Studio Theatre, "The Last Five Years," has surpassed what anyone could have dreamed was possible during a global pandemic.
"The Last Five Years" by Jason Robert Brown follows a couple, Cathy Hyatt and Jamie Wellerstein, through five years of their relationship with one another. Played by a two-person cast, Jamie's version of the story is told in chronological order while Cathy's is reverse. According to Sophie Kibiger, senior theatre major and artistic director for the show, "You get to see where things went wrong in their perspective, but at different times."
What makes this particular performance of "The Last Five Years" unique, aside from its accessibility, is the three separate casts covering this show. Pipe Dreams Studio Theatre has decided to include the original version of this show with a female and male cast played by senior musical theatre majors Will Koski and Grace Newton, a female cast with Newton and junior musical theatre major Kelsey Crotz, and a male cast comprised of Koski and junior musical theatre major Joel Ochoa. Kibiger said, "The differences between the way the actors portray their characters based on who they're playing and what relationship they're playing into is really interesting, especially because two of our actors are in multiple casts and they had to change their performance depending on their role."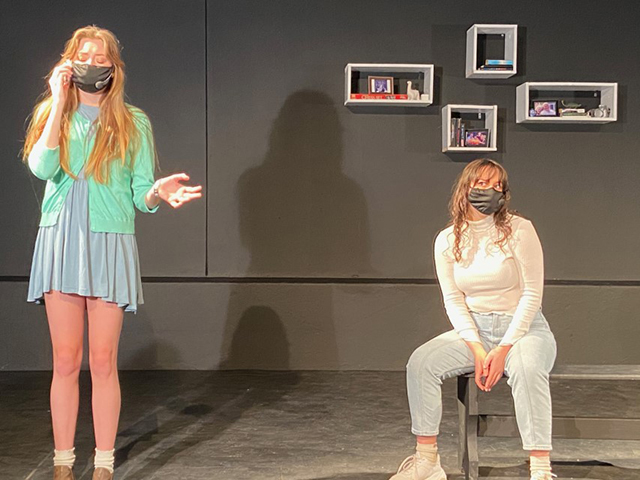 Comprised of the three casts, Pipe Dreams take on "The Last Five Years" is the first to explore the same relationship in three separate ways. Newton plays Cathy Hyatt in both the traditional cast for the show and the show's female cast. She said, "I think that there's definitely a different tone to their relationships based on who I get to perform it with… It's a different show with the same songs and lines and everything."
Will Koski, who plays Jamie Wellerstein in two separate casts, had a similar experience to Newton. "There's a duet halfway through the show where Cathy and Jamie get married, and playing that with Grace versus playing that with Joel was completely different because they're obviously different people and they have different interpretations of it. It was really fun to see how I changed with them," he said.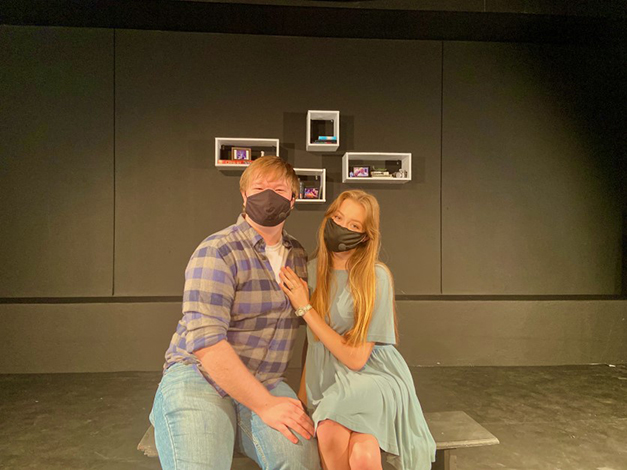 Having the ability to not only perform in a show like "The Last Five Years," but doing so in the capacity that Pipe Dreams Studio Theatre has done is an accomplishment these students will be able to use in their post-graduate lives. Acting for the camera, filming and editing this kind of performance is a unique opportunity for all performers and those who worked behind the scenes
Unlike the last Pipe Dreams Show, "Six Years Old," this student-run venture has partnered with another for filming and editing purposes. 1901 Productions, led by instructors Johnny Power and Eric Hector, allows students to explore the process of running a production studio. Kibiger said, "It was so cool to do that kind of partnership with this filming process. 1901 Productions did a really great job of catching multiple shots where we really get to see the emotions on people's faces."
"The Last Five Years" is a show for anyone who is a part of a relationship, whether romantic, platonic or professional. Crotz, who plays the traditionally male role of Jamie in the female cast, said "This show is very relevant to literally anyone, because you can find an aspect of yourself in neither character. There's going to be a situation you relate to…Getting a sense of self-awareness and reflecting on areas that you maybe need to grow in or areas that you're good at in relationships is super helpful."
The Pipe Dreams Studio Theatre production of "The Last Five Years" premiered on April 16 and is available through May 2. Student tickets are $7 per device and $10 for the general public, and the video is available for 48 hours after purchase.
For more information on Pipe Dreams and to purchase tickets, visit pdtheatre.org along with the Pipe Dreams Studio Theatre Instagram and Facebook pages.