Hollis Prize Competition features performances from Top Music Performing Students
Millikin University's Hollis Prize is the highest award that may be received by a student instrumentalist or vocalist within the School of Music. Following a one-year hiatus due to the COVID-19 pandemic, the Hollis Prize competition returned in a virtual format with a livestream broadcast on April 10.
This year's virtual competition featured performances from Millikin University's top three music performing students. The finalists were Max DiPasquale (saxophone), a junior music education-instrumental major from Belleville, Ill.; Bradley Perry (trombone), a senior vocal performance major from Peoria, Ill.; and Austin Shaw (piano), a senior piano performance major from Washington, Ill. Each finalist was given 25 minutes for their performance.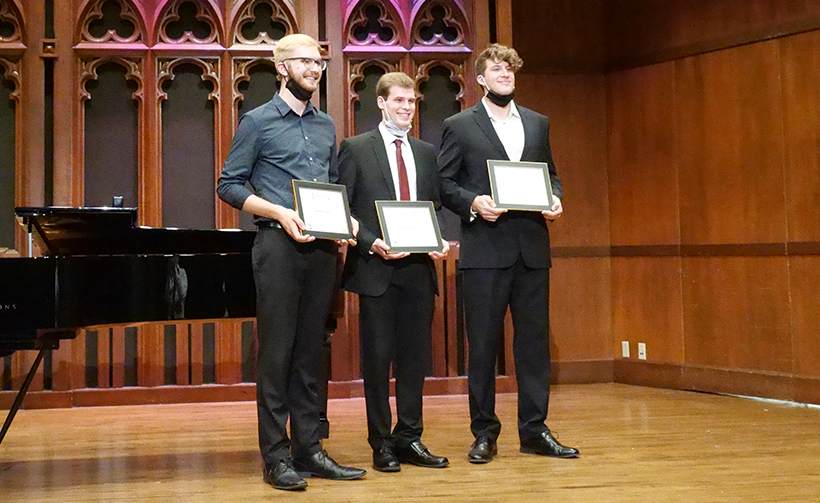 From left to right: Bradley Perry, Max DiPasquale and Austin Shaw
Austin Shaw was named the winner of the 2021 Hollis Prize competition which Max DiPasquale finishing 1st runner-up and Bradley Perry finishing 2nd runner-up, respectively. In recognition of his achievement, Shaw will perform a virtual Winner's Recital on Sunday, April 18, at 2 p.m., which can be seen on the Millikin University School of Music YouTube page.
As the winner of the Hollis Prize, Shaw receives a monetary award of $2,000 as each runner-up receives a $500 monetary award.
"I am incredibly grateful to receive this award. I feel as though I have worked harder this year than I ever have before in my life and it's so great to see that hard work pay off," Shaw said. "It's also an immense honor to share the stage with Brad (Perry) and Max (DiPasquale), two musicians whom I admire greatly and love playing with in Jazz Band."
Shaw's performance was structured as such so that there would be a musical selection from four very distinct style periods: Baroque, Classical, Romantic, and Modern. "I believe the repertoire I chose has a great balance between showing off technical prowess and illustrating musicality," he said. "The hardest of all the pieces on my program is definitely the Beethoven—it's quite long and requires a tremendous amount of focus to make it to the end without any slips."
Shaw is a versatile musician with diverse interests, including arranging, composition, and music production. He is currently studying under Dr. Silvan Negruțiu, associate professor of piano and chair of keyboard and instrumental studies.
"Dr. Silvan Negruțiu had everything to do with my success. Without his guidance, I would never be able to play at the level I can now," Shaw said. "Leading up to the competition, we were having lessons up to four times per week, so I am immensely grateful for his time and devotion to helping me succeed. Being an accompanist on campus means you are in high demand and as such, I often feel like I am being pulled in a thousand different directions at once. He understands this and helps me stay on track, which has made all the difference, not just pianistically, but academically as well."
Millikin University is one of only a few schools in the country to offer such a prestigious prize through a music competition. Students must audition for Millikin music faculty for this opportunity, and after a rigorous selection process, three finalists are chosen to perform in a live final competition recital adjudicated by credentialed professionals outside the university. Previous winners have gone on to excel in graduate school and/or their chosen professional careers.
"The Hollis Prize is one of our most cherished events of the year because it encourages our best students to rise to the height of their potential as musicians," said Brian Justison, director of the Millikin School of Music. "Congratulations to Austin Shaw for his winning performance within this highly competitive field of contestants."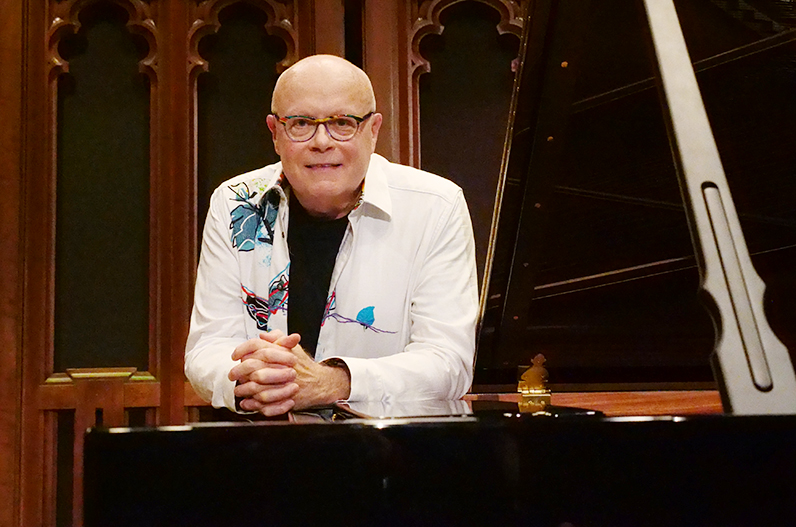 Dr. C. Kimm Hollis
The annual competition is made possible by Dr. C. Kimm Hollis, a 1972 Millikin graduate who is retired department chair and professor emeritus of music at Hanover College in Hanover, Ind. Dr. Hollis was in attendance at this year's competition.
"It's a wonderful experience to come back and hear such accomplishment, it's just exceptional," said Dr. Hollis. "The competition has been going on for 19 years and I look forward to it every year—it's a highlight for me. Brian Justison and Laura Ledford make everything so special; they tie the past, the present, and the future. There's so much good going on in the School of Music."
Hollis Prize Performers
Max DiPasquale
Max DiPasquale is a junior music education major studying the saxophone with Dr. Perry Rask, professor of saxophone and coordinator of woodwinds at Millikin. DiPasquale is the son of two Millikin alumni and is from Belleville, Ill. He is actively involved with many instrumental ensembles at Millikin, including lead positions in Saxophone Quartet I, Jazz Band I, the Latin Jazz Ensemble and he is the saxophone section leader of the Millikin Symphonic Wind Ensemble. He was recognized as an Outstanding Sophomore in 2020 by Phi Kappa Lambda and has also earned an Outstanding Soloist award at the Elmhurst Jazz Festival. He is also in the honors program at Millikin and through his studies has maintained an overall GPA of 3.9. He is a member of the Phi Kappa Phi honors society and was recently nominated for the Scovill Award. As a member of the Golden Apple Program, he plans to teach at a school of need after his graduation, but also intends to pursue graduate school.
Bradley Perry
Bradley Perry is a senior studying trombone performance under the guidance of Dr. Gary Shaw, professor of music emeritus. He is an active composer and arranger, having just recorded his first piece for winds with the Millikin Symphonic Wind Ensemble. He has won the UMSL Student Composition Contest in the choral division for his piece, "Sweet Dreams, my Angel." Perry is also an active performer on the jazz and funk side of music. He plays in the Peoria-based band, Funk Sauce Brass Band, and sits in with various community big bands throughout central Illinois. Perry's goal is to eventually become a film score composer.
Austin Shaw
Austin Shaw is a senior piano performance major studying under the guidance of Dr. Silvan Negruțiu, associate professor of piano and chair of keyboard and instrumental studies. Shaw is a versatile musician with diverse interests, including arranging, composition, and music production. A native of Washington, Ill., Shaw received his associate degree from Illinois Central College before transferring to Millikin University. He enjoys rich artistic activities on campus, preparing solo and collaborative projects with singers, instrumentalists, and theatre productions. In 2020, Shaw was recognized by Millikin University with the Alice Herren Ayars Award for Outstanding Piano Students. His recent accolades also include winning the Second Prize in the 2020 ISMTA Collegiate Piano Competition and his solo debut with the Millikin-Decatur Symphony Orchestra (MDSO), as a winner of the 2019 MDSO Concerto Competition. Shaw aspires to become a Broadway music director in New York City.
The mission of the Millikin School of Music is to develop the whole musician – artistically, intellectually, technically – through the integration of theory and practice in an environment where students become active learners through their relationships with faculty, who themselves continue to grow as artists, scholars, and teachers.
Millikin's nationally recognized School of Music brings relevant, performance-based opportunities to all facets of undergraduate music education. With five distinctive music degree programs and additional certificate options, students find their path to professional success through a blending of creative, performative, scholarly, and entrepreneurial experiences designed to train the next generation of music professionals.