Concert to celebrate a century of futuristic, mechanical music for percussion
Kirkland Fine Arts Center and the Millikin University School of Music will present the Percussion Ensembles' Synergy concert on Sunday, Feb. 18, at 4 p.m. The concert is free and open to the public.
New directors Dr. Jeremy Brunk, assistant professor of music, and Professor Aaron Villarreal, adjunct music faculty, will lead the Chamber Percussion Ensembles in a program centering on music and machines, collaborating with the Millikin Symphonic Wind Ensemble and piano faculty.
Millikin Percussion students will blare sirens, crank ratchets, ring alarm bells and tune radios at Synergy to celebrate a century of futuristic, mechanical music for percussion. Classic works like Edgard Varèse's "Hyperprism" and John Cage's "Radio Music" reflect these composers' hopeful experimentation with new sounds, where Leo Orenstein's "Suicide in an Airplane" and Ivan Trevino's "Space Junk" use evocative imagery to highlight more fearful attitudes toward technological innovation.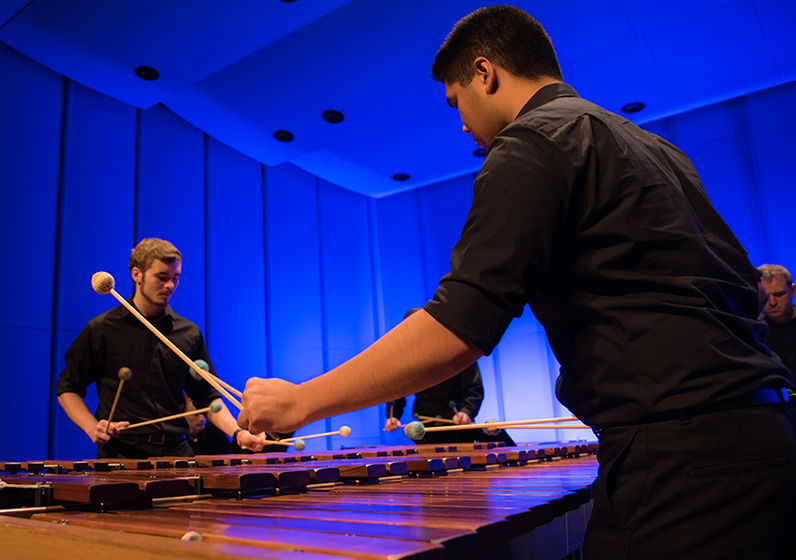 The featured work on the program, "Ballet Mécanique" by American maverick composer George Antheil, receives its first known performance at Millikin University. Originally written in 1923-24 to accompany a Dadaist film by French painter Fernand Léger, "Ballet Mécanique" was impossible to coordinate for live performance. Antheil's original version features 16 player pianos, along with percussive sound effects including electric bells and airplane propellers.
At this year's Synergy concert, the Percussion Ensemble will perform Antheil's revised 1953 version of "Ballet Mécanique," and will be joined by Millikin pianists Dr. Chung-Ha Kim, Dr. Sam Gingher, Dr. Pei-I Wang and Mr. Andrew Rauff.
The Millikin Chamber Percussion Ensembles have been widely acclaimed for their performances of concert repertoire for percussion instruments. They are a recent winner of the Percussive Arts Society International Percussion Ensemble Competition and were selected to perform at the 2008 PASIC Focus Day session.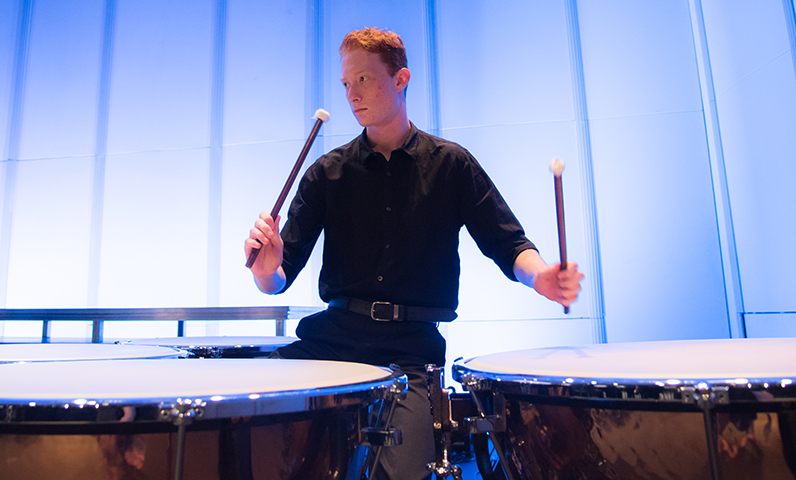 In 2013, the group was awarded a Downbeat Student Music Award for Best Classical Group. Performances at numerous regional music festivals are also part of their activities. Additionally, their debut CD, "Best Kept Secret," received laudable reviews from both Gramophone Magazine and Percussive Notes. The group has premiered more than 20 new works, including four such premieres at PASIC showcase concerts. They released their second CD in the fall of 2012 comprised solely of works premiered by the ensemble.
The mission of the Millikin School of Music is to develop the whole musician – artistically, intellectually, technically – through the integration of theory and practice in an environment where students become active learners through their relationships with faculty, who themselves continue to grow as artists, scholars, and teachers.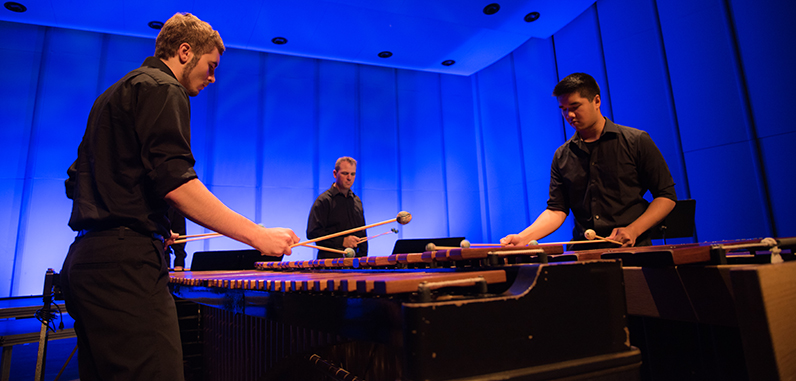 Events at Kirkland Fine Arts Center are partially supported by a grant from the Illinois Arts Council, a state agency, and the Midwest Arts Council.