President Jim Reynolds talks impact of COVID-19 and Millikin facility changes
Millikin University was once again the featured topic on WEIU-TV's (PBS) "City Spotlight" series with a focus on the University's new Center for Theatre & Dance.
The episode, which includes interviews with Millikin President Dr. Jim Reynolds and Mary Black, director of the School of Theatre & Dance, aired on Wednesday, Oct. 21, Thursday, Oct. 22 and Sunday, Oct. 25, and will air again on Tuesday, Nov. 17 at 7 p.m. and Wednesday, Nov. 18 at 12:30 p.m.
As part of the episode, President Reynolds discussed the early goings of his tenure at Millikin, the impact of the COVID-19 pandemic on the academic year and the latest facility changes on campus.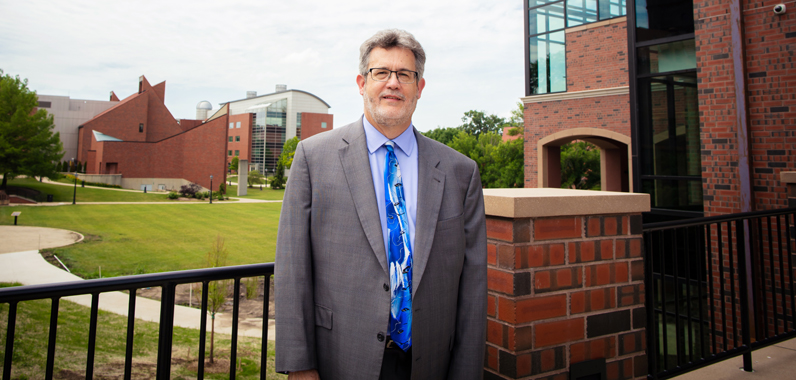 "I've always had an admiration for Millikin University and this role is almost a dream come true for me," said Reynolds. "In terms of the pandemic, I give a lot of credit to the faculty and staff that were here prior to my arrival for their planning and preparation. I think we've developed a very good 'return to campus' plan for faculty, staff and students. It's a day-to-day thing for us, trying to see as far into the future as we can and make good plans as we go forward, taking good care of students and making certain that we can provide them with the educational experience that they deserve."
In light of the ongoing COVID-19 pandemic, Millikin University implemented a campus safety plan for students prior to the start of classes on Aug. 24. Classes are being delivered using a variety of methods including in-person, online-only and hybrid formats. The last day of in-person instruction will be Friday, Nov. 20, with remote learning resuming on Nov. 30 to complete the fall term ending on Dec. 18.
"We wanted to have a mixture of classes – in-person, online and hybrid, and we have about 70 percent of the classes taught in face-to-face or hybrid formats and 30 percent completely online," said Reynolds. "Millikin is a place that desires to be in community with its students and being on campus for faculty, staff and students was really a wonderful opportunity. We're being very cautious, and I think students have done a remarkable job of paying attention to the public health guidelines."
Reynolds added, "I think the feedback has been very positive … people have been excited to be back on campus and I think students deserve the opportunity to have this type of educational experience where they can practice Performance Learning with a good mentor that provides them with good instruction and good guidance."
For several months, the Millikin University campus community witnessed a change in scenery with the construction of the new Center for Theatre & Dance, all starting with a groundbreaking back on May 18, 2018. This past August, the doors to the $29 million building were opened to students, faculty and staff.
Located at the former site of the Richards Treat University Center, the Center for Theatre & Dance features a 260-seat flexible theatre, including an orchestra pit, balcony and tech gallery with a tension wire grid. The new building also features lighting and sound labs, a costume studio, a costume classroom, collaboration spaces, acting studios, design classrooms, practice rooms, modern theatre equipment and offices and support facilities for current staff, with room for growth. The innovative facility has become the new face of the School of Theatre & Dance.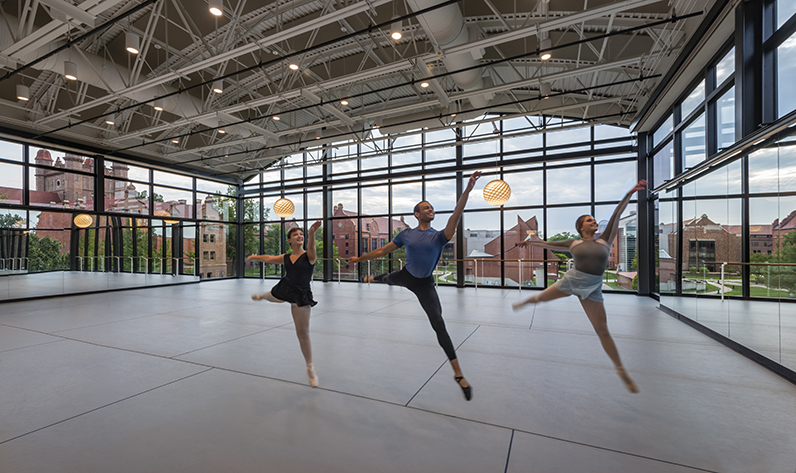 "The facility houses all kinds of new spaces for our students, faculty and staff to produce new theatre, new dance, new art and to learn. Our new performance space gives us an opportunity to adapt to whatever the needs of the production are," said Black. "From a technical side, we are thrilled to have new technology in all of our spaces. I'm very lucky to work with colleagues who are committed to the education of our students as our top priority, and to work with students who are passionate about what they do and are excited to learn."
Black says Millikin's Performance Learning curriculum has always been a part of what the University does in theatre and dance.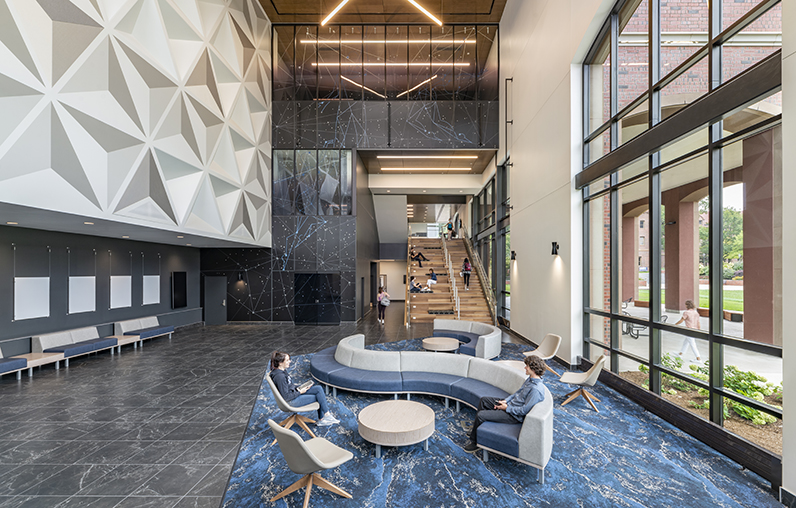 "It's exciting that the university was built on the idea in terms of putting our work out there and performing the work we're doing in a public way for audiences," said Black. "We've been lucky to do that in exciting ways in the School of Theatre & Dance in producing different types of work … theatre productions, musicals, dance concerts and theatre for young audiences … there are lots of different opportunities for our students to perform but also to design, direct and be involved in the production of theatre."
Black added, "I think a lot of students have chosen this program because we have a reputation in the fields – both in theatre and television/film. We have a reputation for helping to create and build actors up who have a sense of self and professionalism, and are skilled and ready for the professional world, including technicians, directors and stage managers who are prepared from Performance Learning to face whatever challenges they come across in the industry."