Organizational Leadership graduates honor classmates for excellence and improvement in leadership
Millikin University's Organizational Leadership degree program is a newer area of study that meets the needs of employers in all types of organizations.
In addition to undergraduate students, the major is also offered through Millikin's Flexible Learning program; a program for individuals who are looking for a variety of paths to earn their degree by taking classes online, during weekends and evenings.
Throughout the curriculum, students become stronger professionals and more effective organizational members by learning communication, team-building, critical thinking, oral presentation and creative problem solving skills. Each year as a culmination to the program, the Organizational Leadership students are tasked with a capstone project that requires planning and leadership.
This year, the students used their capstone project to help coordinate the 2018 Illinois State Academy of Science (ISAS) 110th Annual Meeting held April 13-14 on Millikin's campus. The event featured 184 students from 22 different institutions who presented their research during the two-day conference. The mission of the ISAS is to promote scientific research, diffuse scientific knowledge and unify scientific interests in Illinois.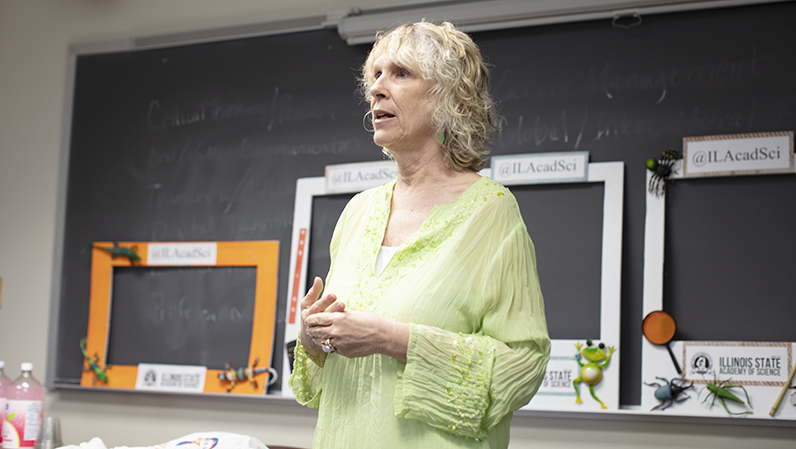 Dr. Elizabeth Lahey, chair of the Sociology, Criminal Justice and Organizational Leadership Department at Millikin, was the cohort's academic advisor.
"Their final capstone project was the place they broke through and achieved their goals, and attained an extraordinary level of success on the project," Dr. Lahey said. "The conference evaluations gave the students outstanding marks for everything from friendliness and helpfulness to coordinating the best poster and presentation event."
The students completed the program on May 10 by presenting on their learning experiences from the project. That same evening, the cohort honored fellow students Charlie Gillaspie and Tyrone Hill with Organizational Leadership Year-End Awards. Gillaspie received the award for Excellence in Organizational Leadership while Hill was voted Most Improved Student Leader.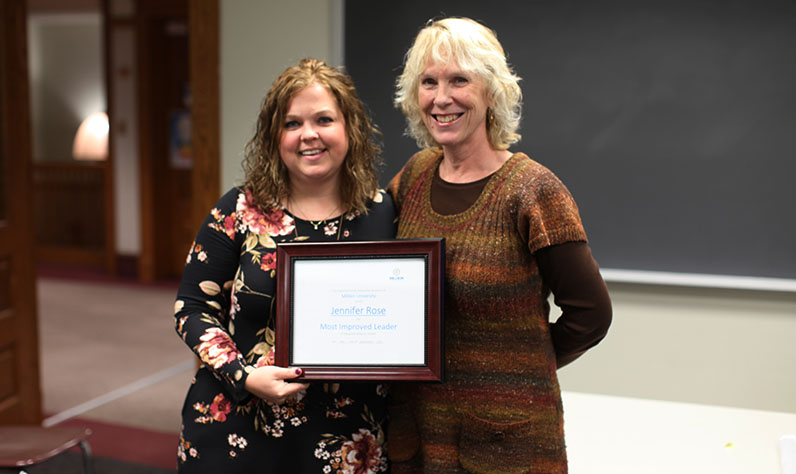 Gillaspie was the project manager for the capstone project and currently runs the retired senior volunteer program through Dove Inc., a national service program that has approximately 430 volunteers and 100 partner stations.
"Our job for the ISAS Annual Meeting was to essentially make sure they had the right accommodations for the two-day event," said Gillaspie. "I did have some leadership skills when entering this program and I was honored to have received the award from my classmates."
Gillaspie wanted to become a better leader and she felt Millikin's Organizational Leadership program would provide her the skills to move above where she was.
"I was really pushing to come back and finish school, and Millikin does make it easy as long as you are committed to doing the work outside the class time," said Gillaspie, of Assumption, Ill. "I worried about coming back to school, but I couldn't fail because of all the different things Millikin has to offer to support their students. If you want to succeed, Millikin makes it easy."
Tyrone Hill was voted Most Improved Leader for his growth from the inception of the cohort four semesters ago. His classmates felt he became a better speaker, writer and student. Hill has spent over 20 years in factory work and construction.
"It was a great experience to be a part of the program," said Hill, of Decatur, Ill. "This is one of my life's dreams – to achieve a goal in higher learning. This experience has provided me skills in critical thinking. I've started a few times before, but this time around, something about this program gave me the path to achieving success and there were many that helped us reach our goal."