Our Millikin. Our Mirror: Now, Tomorrow, and all the Tomorrows to come
Our newest issue of Millikin Magazine serves as a retrospective of all that President Patrick E. White and his wife, Chris, have done to strengthen our beloved University as we continue to move boldly into the future.
To see more from the spring 2020 issue of Millikin Magazine visit millikin.edu/magazine.
I am writing this in the middle of the night in the second week of April, the week before Easter, which Christian tradition names Holy Week. This assignment is overdue. I was supposed to have this done by the end of February. However, other things got in the way and as many of you — whether alumni or friends or current students at Millikin — have done before me, I asked for an extension, and then another, and finally had to get it done.
I am glad I procrastinated, because had I written this when it was first due, it would have been a different piece. I would have written it before we realized the full extent of the pandemic of COVID-19 and its threat to our nation, our University and so many good and noble people.
Now the hour seems dark indeed. Now we are at war. The enemy is not just the virus; the enemy comes dressed as a challenge to our faith in ourselves, in Millikin and in our vitality as a great University.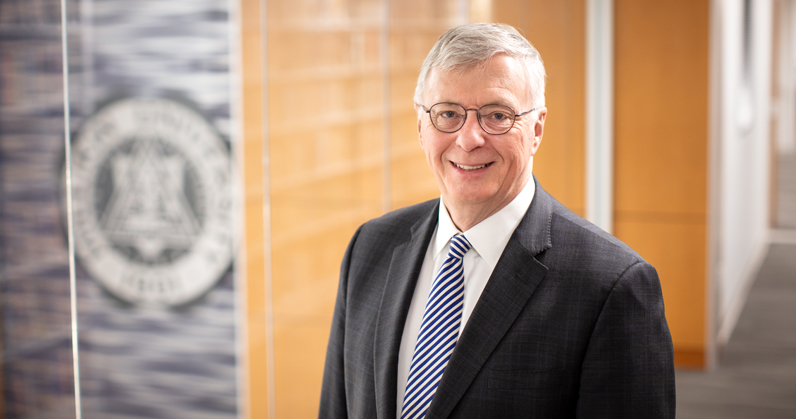 In this time, I realize again the promise that I offer to prospective students at every Visit Day: "Millikin won't be easy. If you wanted easy, you would go to any of hundreds of schools who would not challenge you to be your best imagination of yourself, who would not immerse you in a community of learners and thinkers who are striving to discover the best in you and bring it to light."
At these times, I also say, "If all you wanted to do is earn a bachelor's degree, you could do that in your parents' basement." Millikin students, I realize you are finishing your semester with courses online. You may be doing so from your parents' basement or from a dining room table surrounded by siblings and parents who may be working from home or out of work because of the health crisis which threatens our world, our University and, even more, our sense of who we are and what we can become.
In times of war and challenge, we discover not only what frightens us but also what we value, what we believe and what most matters, what binds us together as a community. In this time when we can feel isolated and separated, we remind ourselves that at Millikin we never walk alone. We may be keeping six feet away and practicing social distancing, but someone is there to support and encourage us. Millikin is a universe of different people, a great constellation with many stars, brought together by our commitment to one another and to our best imagination of the University we love.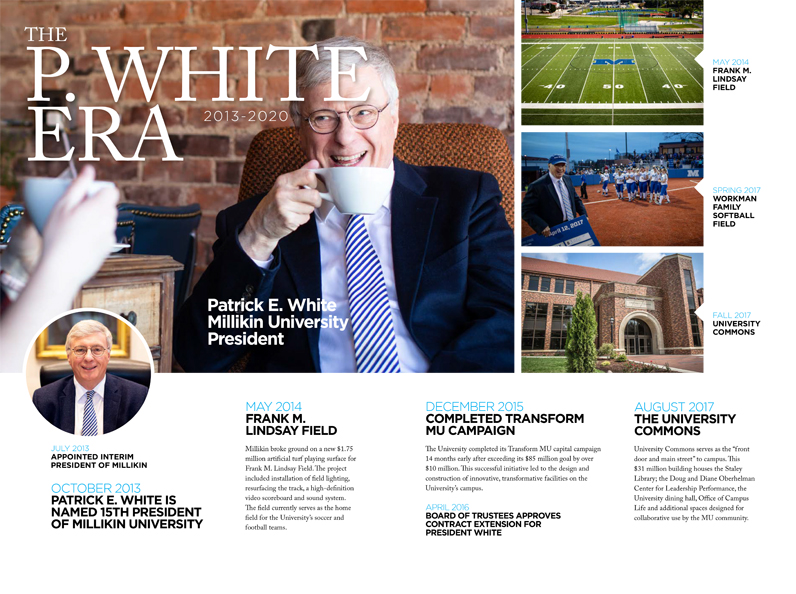 Seven years ago, I came to Millikin and, ever since, I have tried to be a good president by being a good student, an attentive learner. Millikin has been my textbook, my laboratory, my classroom; and I have been learning and studying what it is about this place, this community, this heritage that makes us Millikin.
We see the Millikin spirit all around us. It resides in a can-do attitude: let's put on a show, have a game, start a business, get the job done, or, recently, find a way to deliver on the promise of education even when we are scattered and have to move to remote learning while making the experience distinctively Millikin.
The Millikin spirit resides in the very fiber of so many of you. In the strength of the late Peggy Madden, donor and beloved Trustee who, nearing 90 years old, traveled to Chicago to interview finalists for the next Millikin president, just weeks before she passed away. It is in trustees Tom Harrington, Gary Workman, Mark and Bob Staley, Doug Oberhelman, Sue Pilling, their families and so many more who have transformed this campus with their generosity. It is in Professors Barbara Mangrum, Marianne Robertson, Jim Rauff, Michael Hartsock and scores of other faculty and staff who, confronted with the challenge of bringing a Millikin education online, found a way not just to "teach online" but to take the Millikin experience of discovery and learning to all our students. It is in staff who advise and support student learning, coaches and admissions counselors recruiting the class of 2024 and development and alumni people who keep us all connected and giving back to MU. It is in young alumni like Justin DeBo and Krista Scott who have already endowed scholarships to the University, and young alumni like Tyler and Elizabeth Ross, Valina Hoang, Malcolm Branch, Tim Gorski and hundreds of others who have pledged support to MU. It is in Randy Blackburn, chair of the Board of Trustees, guiding us through the fog of war with a steady resolve.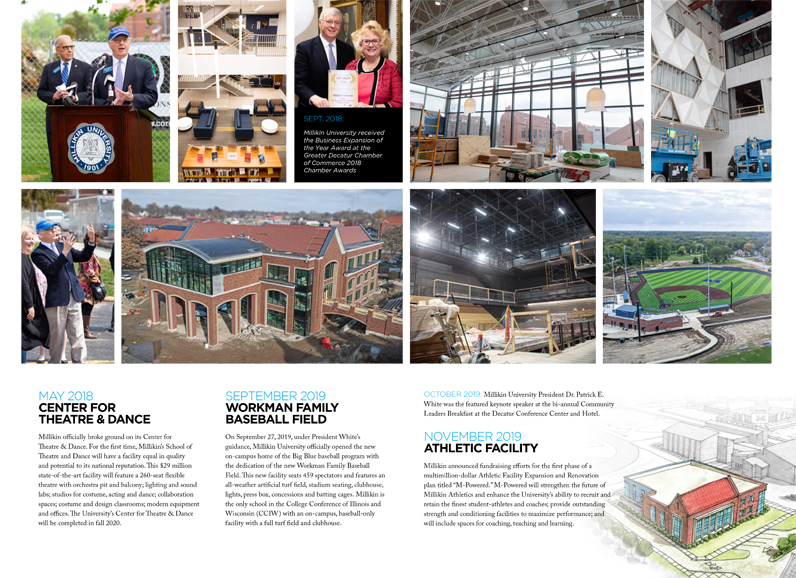 This edition of the Millikin Magazine surveys some of the good work that we did together over the last seven years. Each of you reading these words has contributed to the rising hopes, the Millikin momentum, the sense of promise and possibility that I hope you see in Millikin even in these cloudy, embattled days. If anyone should ask, "What did P. White do while he was president?" I hope some might answer, "He held a mirror up to Millikin to help us see that we as Millikin University were better than we thought, bigger than we could have imagined, braver than we feared, because he saw something in us that was always there from the moment James Millikin founded this University."
This is our time of challenge. It is up to each of us to own this moment and see the future that shines bright beyond this darkness. I know we can do this hard work; I know it will not be easy. Let us take the extra steps, reach out to one another and work together so future generations of Millikin will hold the mirror up to our time and say those words of highest praise,
"Ah, there you are Millikin."