Donations help provide research-quality instruments
On May 6th, three Decatur-based (Ill.) oncologists visited Millikin University's Chemistry Department to see first-hand how their personal donations made an immense impact in providing research-quality instruments that will allow Millikin students to grow as scientists, researchers, and maybe even, doctors.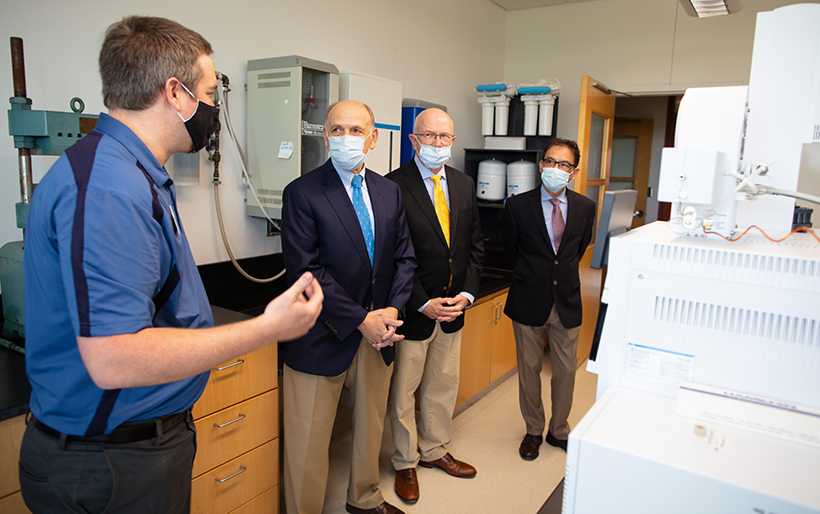 Millikin University's Chemistry Department is accredited by the American Chemical Society (ACS), a mark of excellence for undergraduate chemistry programs across the nation. A key component of this endorsement is the instruments the department owns and maintains in order to adequately train students for graduate school and industry professions. When Millikin's mass spectrometer (an analytic instrument that sorts gaseous ions in electric and magnetic fields) recently became non-operational, it was imperative to replace the instrument.
"Having an appropriate collection of modern, high-quality, functioning instrumentation is a requirement for maintaining our ACS accreditation. More importantly, it is necessary for our students to grow as scientists, to develop the hands-on skills that are necessary for their post-graduate careers, and to perform novel research projects," said Dr. Timothy Guasco, associate professor and chair of the Millikin Chemistry Department.
Recognizing the importance and impact of quality scientific instrumentation, three local doctors quickly offered their support. After a brief initial conversation, Dr. Edward C. Elliott, retired radiation oncologist, instantly knew he wanted to help purchase the new equipment. And soon, Dr. Elliott's business partners, Dr. James L. Wade and Dr. Benjamin T. Esparaz were making gifts as well.
With personal contributions from the trio, in addition to generous gifts from ADM Cares, The James Millikin Estate, and Norman and Heather Hoback, Millikin University was able to purchase not only a new Gas Chromatography Mass Spectrometer (GCMS), but two additional instruments that were showing signs of age in the Chemistry Department: an infrared spectrometer and an atomic absorption spectrometer. These upgrades not only assure that MU will maintain its ACS accreditation, but it means that Millikin students will have the opportunity to utilize research-quality instruments for years to come.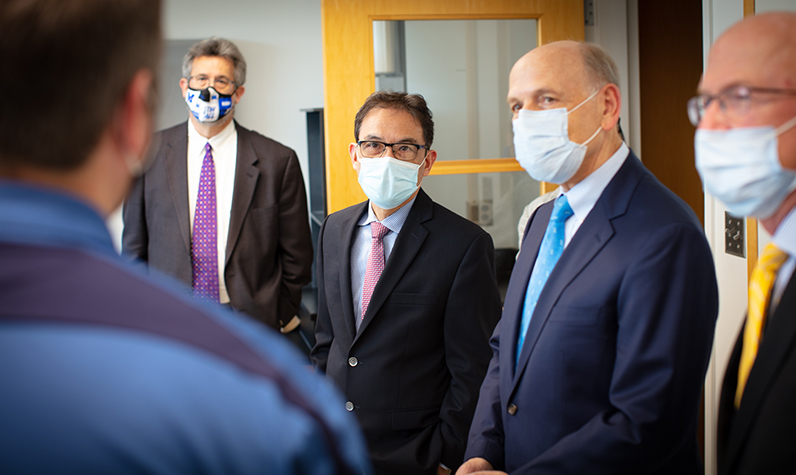 Commitment to advancing the Decatur community has always come naturally to Wade, Esparaz and Elliott. Co-founders of Cancer Care Specialists of Illinois, Dr. Wade and Dr. Esparaz created the largest interdisciplinary oncology/hematology practice in Illinois outside of Chicago. Joined by Dr. Edward Elliott, former director of Radiation Oncology, the three have made an incalculable impact on the lives of thousands in central Illinois and beyond.
It isn't just about the exceptional science education Millikin University is providing students that prompted the doctors to act – it's personal. Dr. Wade's wife, Susan, is a Millikin alumna, Class of 1993. Dr. Elliott was a Millikin parent, with three of his children taking science classes at Millikin during various points in their respective educations. Now, all three are actively practicing in the medical field.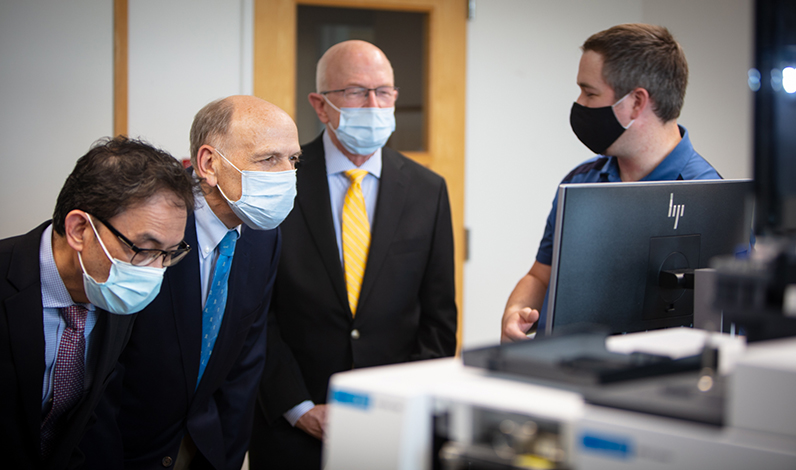 Approximately 250 students who major in Natural Sciences at Millikin will have access to the Chemistry Department instrumentation. These chemistry students will be able to gain valuable experience and excel in their careers due to the education they earned from Millikin University.
"The importance of replacing instrumentation cannot be overstated – this will continue to give our students an advantage when compared to many of their peers and allow the Chemistry Department to maintain and improve its excellent reputation within the scientific community," said Dr. Guasco.