Millikin Music Business program designed to prep students for a career in today's music industry
The following article comes from the Summer 2021 edition of Blue Review, Millikin University's Family Magazine
The music industry is constantly evolving — so much so that those who aspire to enter the industry almost have to become a one-person army, especially from the business side of the spectrum. To help prepare the next generation of creative music practitioners, the Millikin University School of Music launched new undergraduate degree offerings for a Bachelor of Science and a Bachelor of Arts in Music Business for the fall of 2021.
Millikin's Music Business degree program encompasses training in music fundamentals, alongside music business and traditional business coursework, designed to provide students with the tools for a career in today's music industry.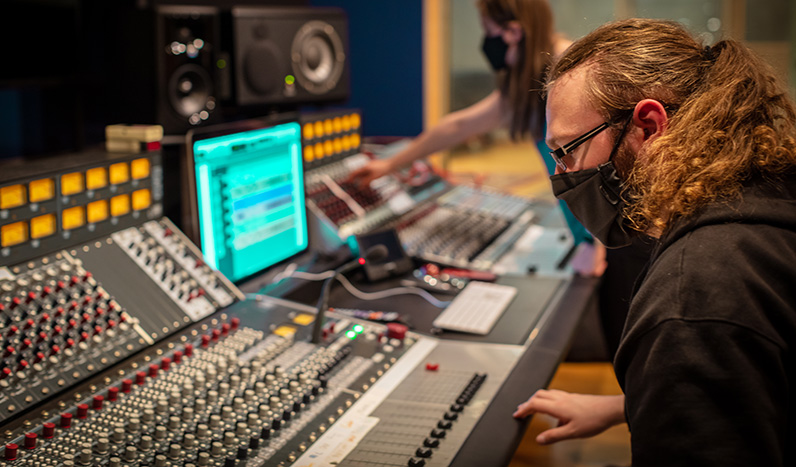 "Millikin has a philosophy of 'Performance Learning' that I translate as 'hands-on' and 'real world.' In many ways, some of the leaps of faith we make in the music business in trying to inspire people can be considered a performance," said Martin Atkins, coordinator of music business at Millikin. "When you are involved in a project that some people cannot even see how to start much less accomplish — that's a kind of poetry. When you brush aside doubts and push your point of view or your artist or a song — that's performance too."
Millikin senior Michael Foreman plans to add music business as a double major along with his studies in arts technology — audio engineering. Foreman came to Millikin wanting to be a music student, but after taking Atkins' Tour Smart Bus Experience — a 24/7 internship immersion into the world of a real rock tour, things changed.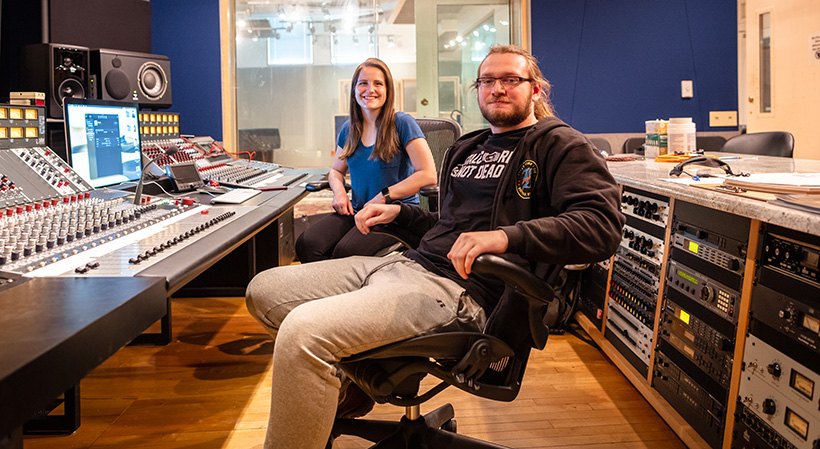 Abbie Cottrell and Michael Foreman
"It was a really interesting experience, and even though I am a musician, I wanted to learn more about the actual business, like labels, revenue streams, musician's rights, legal issues, and of course, touring," Foreman said. "I still plan to do music, but I see myself involved with the business sector of music, maybe management."
Abbie Cottrell, a recent commercial music graduate from Millikin, said faculty members like Atkins are very beneficial because of their connections in the industry. "Being his intern, I've met people who serve as lawyers, people who focus on revenue streams, people who own and run recording studios," she said.
Foreman added, "The music industry is a small world and it's fascinating seeing the connections that people have."
Millikin's new Music Business curriculum requires three separate internships to be completed during the program, or what Atkins' calls "pillars of the program." They include running Millikin's student-run label First Step Records, organizing Millikin's Midwest Music Expo (MMX) with an educational/panel component, involvement with a music festival in Chicago during Thanksgiving, and Tour Smart Bus Edition. These experiences will not only provide business tools for the 21st-century musician but will help students find themselves and their passions while building the mindset to make their futures happen.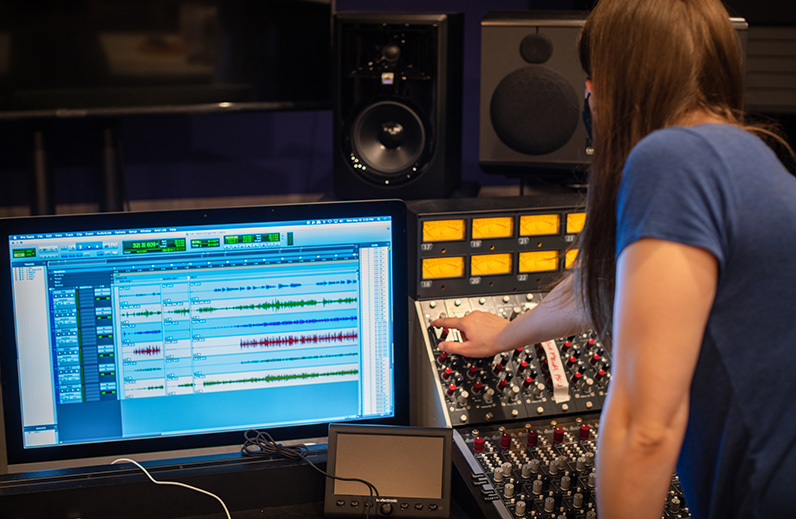 "For every job on stage performing, there are 50-plus other situations that are needed as part of the infrastructure. If someone wants to be a performer, sometimes a step sideways for a while can be 'the way' that the dream is eventually realized," Atkins said. "Opportunities include manager, label assistant, catalog manager for a label, agent, social media marketer, product manager, email marketing and sales funnel management, music writers, and anything else you can do to get your foot in the door."
Abbie Cottrell says one of the most important things to know for people going into the industry now and in the future is the ability to market themselves online. "It's a very DIY industry, especially for newer artists. I think the more knowledge someone has going into the industry the more marketable they will be as an artist and as a person of the industry. What we have learned at Millikin will help us not get caught in particular traps, like a bad contract," she said.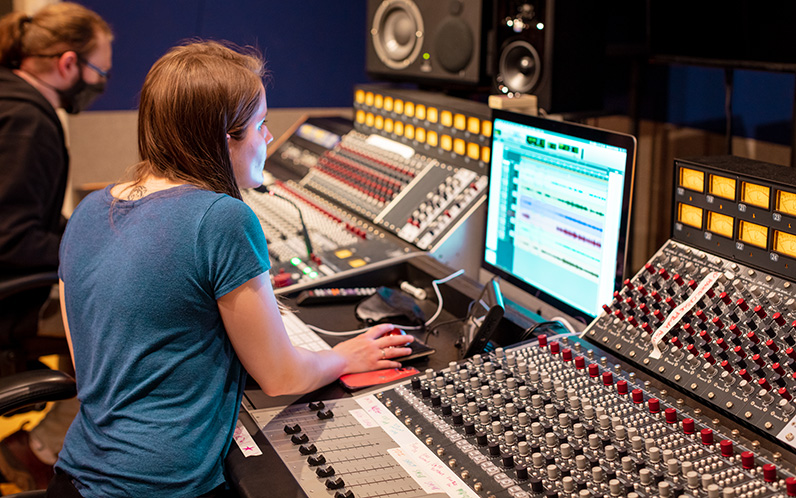 With a state-of-the-art recording studio in Millitrax, a student-run record label, and countless learning opportunities, the Millikin School of Music is offering an environment where students can grow as artists and scholars.
"It's really important to have those skill sets … to have experience in the studio and have experience on a tour bus," Foreman said. "You get a very well-rounded view of the music industry at Millikin."
Blue Review
Millikin University's "Family Magazine," Blue Review provides fresh and interesting perspectives from campus. From faculty and student stories to new programs and majors to achievements in our athletics and alumni communities, Blue Review has Millikin pride emblazoned across its brilliant pages. Readers will enjoy original photography, design and artwork, collaborative content developed by staff, faculty and students, and a behind-the-scenes look at the fascination and innovation powering the Millikin Momentum.
Our most recent issue covers Millikin's 97 percent graduate success rate and every step that students take to get there. It looks at how students have risen to the challenge of the COVID-19 pandemic and how they have grown as a result of the educational Performance Learning opportunities Millikin has helped provide. While the world paused, Millikin students continued to persevere, showing their strengths to the campus, community and employers around them.