Blue Connection residency supports art therapy student's new work
Brooke Brasile considers herself an explorer and someone who tries to use art as a way to communicate with the general public.
The senior art therapy major from Granby, Colo., recently spent her summer as the 2018 Robert Harrison Crowder Artist-in-Residence at Blue Connection, Millikin's student-run retail art gallery.
Currently studying painting and drawing, Brasile used the residency as an opportunity to develop new art concepts and techniques.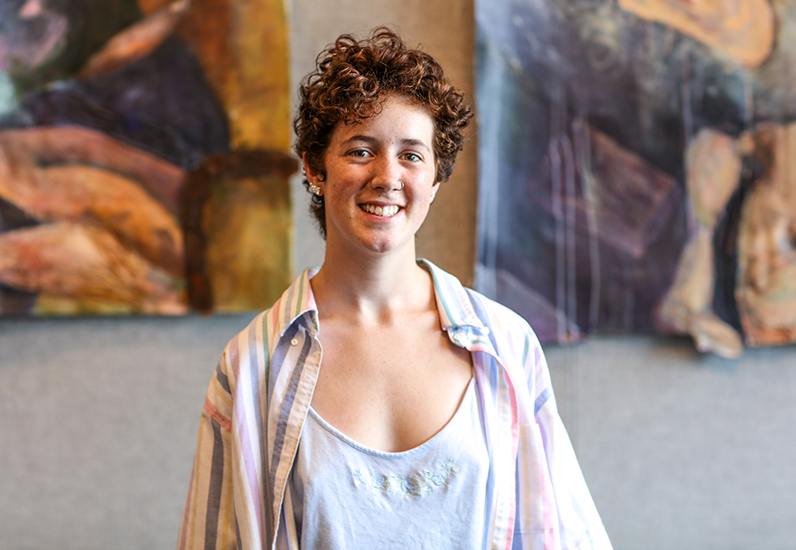 "I am someone who wants to explore the human body and the human perception, and try to translate it into a physical medium," said Brasile.
Brasile says having a gallery such as Blue Connection gives students opportunities to hear from featured artists on how they go through many different forms of art to discover who they are and what they create.
"It's great to be able to interact with other artists, to have shows, and to see reactions from the art," said Brasile. "We've had a lot of opportunities at Millikin to interact with the community and have people see what we are doing at school every day. Having a gallery like Blue Connection is cool because I consider it my base."
Brasile says her artwork is on a constant journey of discovering what life means, bringing everyone's awareness into the collective consciousness.
"I am currently introducing a new concept of storytelling through my paintings to further engage the viewer," said Brasile. "To accomplish this, I've practiced observing human interactions, both verbal and physical communications. I translate these observations into a painting by abstracting the figures and using layers of various mediums to voice the history of the subject and the layers behind the mind and body."
This summer, Brasile showcased her artwork with After 5 Live showings at Blue Connection on July 6 and Aug. 10. For her final gallery opening on Sept. 7, she plans to create an interactive installation piece that will bring viewers together.
"I've realized that there's a lot more to art than just the creating part, it's the technique and theory that goes behind it and why I'm putting art on free canvases," said Brasile. "It's all about asking yourself constantly why you're creating art."
Brasile aspires to have her own gallery one day and to take what she's learned from art therapy, and what she's learned as an artist, to help the general public through art.
"I believe that if you desire something so deeply, you can make a career of it," said Brasile. "If it's something you're willing to work hard enough on then you should pursue it, and if it's art, then you have to be willing to put in a lot time for exploring mediums, techniques, historical artists, present artists and asking yourself why am I creating what I am creating."