Millikin students share a passion for creating
Whether it's music, dance or visual art, a career in the creative arts can consist of many avenues, but sometimes there is that uncertainty when it comes to trying to land that particular role or position.
Musical theatre students at Millikin University understand this concept, and that's why a passion for performance is the starting point to a successful career in theatre.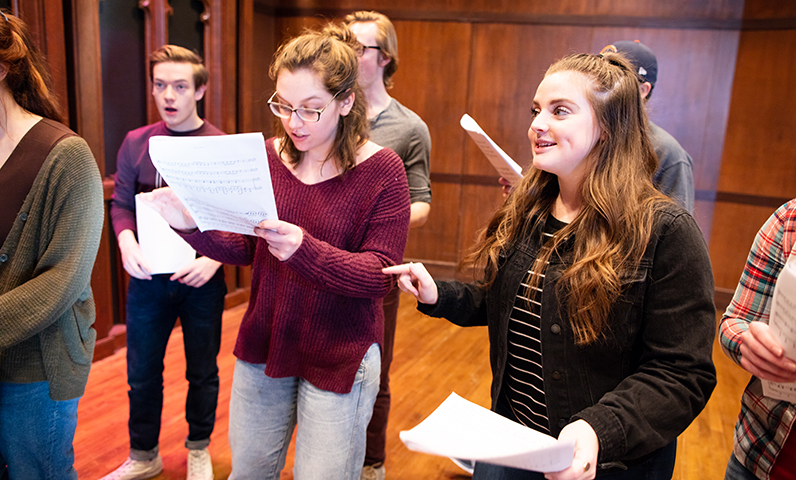 Shelby Barros, a senior musical theatre major from Raleigh, N.C., will be graduating in May and plans to move to Chicago to audition for shows. "Musical theatre has been a part of my life forever," she said in a recent interview with the Herald & Review.
"It's something that makes me incredibly happy, and I couldn't see myself doing anything else. It's still that way to this day."
Barros plans to earn her Actors Equity Card which provides a wide range of benefits that enhance both the professional and personal life of an Equity member. The first major benefit to having an Equity card, as an actor, is that many professional auditions are Equity-only calls. Additionally, if actors are cast in productions at Equity theaters, they earn points for each show they do toward membership. To earn her card, Barros will have to register as a candidate and work a minimum number of weeks in shows that meet Actors Equity criteria.
This past January, Barros along with 19 other Millikin musical theatre students got a glimpse of the professional theatre scene as part of Millikin's New Musicals Workshop immersion course.
The course is a collaborative learning experience were students and faculty team up with professional writing teams to develop new musicals intended for commercial production. This year, the students worked with the musical theatre writing team of Michael Kooman and Chris Dimond. However, instead of developing a musical, students had a chance to learn how to perform voiceover animation work.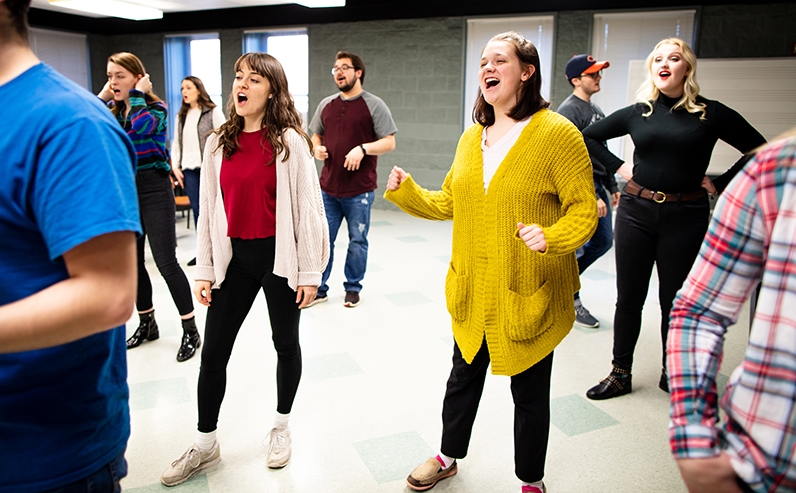 "The songs were about a minute long, and they were all solo songs, so the students didn't have to worry about harmonies, and the team coached them in the studio," said Kevin Long, professor of musical theatre, theatre history and repertory at Millikin. "They did multiple takes and then they did something they called 'comping,' where they took the best part of each take and melded them all together into a final track."
Kooman and Dimond have become well-known for their work as songwriters for "Vampirina," an animated musical TV series for which they have written more than 100 songs. The show airs on the Disney Channel and Disney Junior, reaching over 49 million viewers in 115 countries.
The students also traveled to Disney as part of the class to learn about musical theatre employment and the many opportunities Disney has for performers in its parks.
Delaney Schmidt, a junior musical theatre major from Frankfort, Ill., is also considering moving to Chicago after she graduates or possibly getting her start at Disney. "I'm interested in theme park work. I'm planning on going home and basing myself in Chicago, but I'm also very interested in the work that's in Orlando at Disney There's also Universal Studios and regional theater," she said.
Schmidt has been a singer most of her life, but she found her niche in musical theatre after high school. "I enjoy telling a story to the audience and sharing in the experience."