"A compelling story with no words."
Disney Pixar's "Up' is an animated film that follows retired balloon salesman Carl Fredriksen and eight-year-old Russell as they fly toward adventure to seek the famed Paradise Falls. The movie, especially the music, inspired Millikin University first-year student Ramsey Folkerts to create a choreographed dance that tells "a compelling story with no words."
Folkerts had an idea in mind on how to create the dance but she did not have the time to do it, then the COVID-19 pandemic happened. Social distancing was put in place and classes were moved online. It was then that Folkerts decided to take her idea and make it into a dance film — the result was "The Balloon."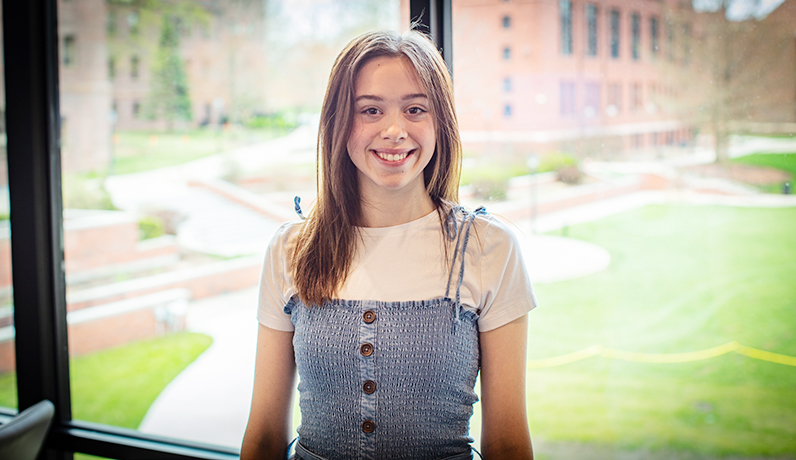 "I found the remix of this song from 'Up' when I was a sophomore in high school and fell in love with the idea of creating a hip-hop emotional dance," Folkerts said. "People don't always see hip-hop as an emotional storytelling dance form and I believe it can be with pieces like this."
With the help of her sister, McKennan, who is a furniture design major at the Minnesota College of Art and Design, Ramsey went to a nearby park, wiped down a bench, and told her sister to prop her phone up in different positions — Ramsey then started freestyling. The film depicts the journey of curious souls as they take on another day of adventure, only to find themselves unexpectedly in the presence of a traveling balloon. Demanding companionship with the balloon, they learn the best way to love something is to set it free.
"It was choreographed and filmed all in the same day," Folkerts said. "We sat down for two days and edited the video together."
The film recently gained recognition as Folkerts was selected to present "The Balloon" at the National Gala for the American College Dance Association (ACDA) Screendance Festival. There were 152 submissions from 85 colleges and universities nationwide and only 30 dance films were chosen for the National Gala. This was the first time a Millikin student was selected for the ACDA National Gala.
"It was so unexpected and I was in complete shock. I never thought my dance could turn into the opportunities it did," Folkerts said. "I didn't create this piece for a class or a showcase like this, I created it out of pure enjoyment because I love to dance and create. Though, to have this opportunity makes me feel even more blessed as an artist."
Folkerts presented her film during the virtual Gala for ACDA members on April 10. "When I got into the Gala, it reaffirmed to me that I am doing the right things in my life. It inspired me to keep working hard and pushing forward with my goals," she said.
Even though she created the dance the summer before coming to Millikin, Folkerts says it would not have turned into what it is now without the help of Anna Corvera, instructor of dance, and Angie Miller, associate professor at Millikin.
"I have only been at Millikin for a year now and they have already changed my life in such a positive light," Folkerts said. "Angie (Miller) cast me in the mainstage dance production of 'Songs for a New World' and after the filming asked to meet with me to discuss my dance progress further. Anna (Corvera) has given me so many opportunities throughout the year as well. She was the first person to see my potential and put my balloon dance into the pile of screen dances to choose from. She is my dance instructor at the moment, an advisor for the hip-hop team I now choreograph for, and has countless meetings with me on how to push myself and pursue new opportunities as they come to me."
Corvera, Miller, and Sean Morrissey, artist in residence, decided to send two student dance films to the ACDA Screendance Festival this year. "When I saw Ramsey's 'The Balloon' in Pipe Dreams Studio Theatre's 'Night of New Works,' I was amazed. I immediately knew I wanted to send it to ACDA to represent Millikin and I thought it would do well there," Corvera said. "Ramsey made this complete work of art not for an assignment, not for a production, but wanted to have an outlet for her creativity. I thought if she can do this on her own, I can't wait to see what she can accomplish after more training."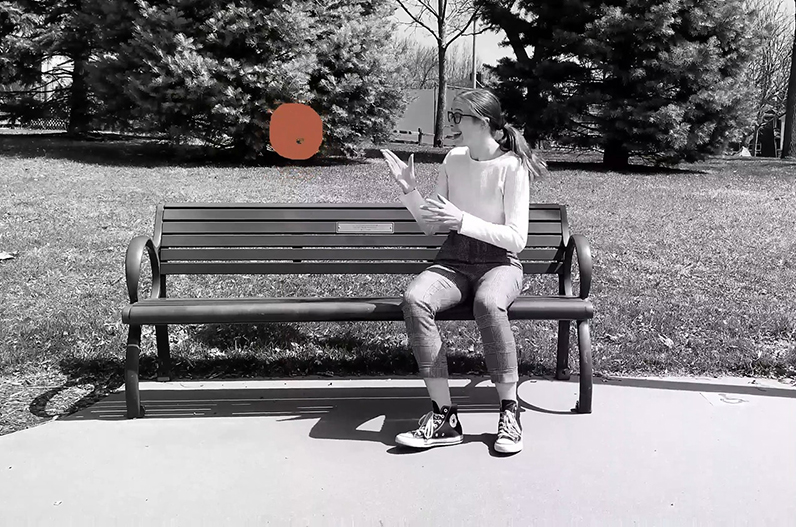 Angie Miller added, "What is most astounding to me is the fact that Ramsey created this piece for fun. It was not connected to a course in any way. She is truly self-motivated and has the technical skill to back it up. After a blind peer-reviewed process, her piece was showcased alongside faculty, guest artist, graduate student, and undergraduate student pieces from dance major programs around the country. She has a clear choreographic voice and is in impressive company."
A native of Sioux Falls, S.D., Folkerts is studying musical theatre and chose to attend Millikin because the University "wants you to truly be you."
"The faculty listen to what you want to do with your career, help you achieve those goals, and encourage you to embrace your originality," she added. "The first day of class I had one of my teachers say to me, 'We are here to appreciate art and be the best people we can be,' and that's how I knew I chose the right program."
Folkerts hopes to one day teach, continue performing, and eventually open her own theatre company for children to teach them skills in singing, acting, and dancing. "Wherever my life takes me, whether be performing or choreographing, I want to be a storyteller my whole life."