Millikin student Ashten Smith makes masks for fellow flute players
When Ashten Smith, a senior music major, prepared to return to campus for school this fall, she and her flutist colleagues were faced with a problem regarding their rehearsals and performances: How were they going to play their flutes while wearing masks?
Unlike other musical instruments, flutes are played from the side, and the sound comes from the mouthpiece area.
Smith explained, "The flute's kind of unique, because it comes from the side. It's the only instrument like that. The other sections really aren't struggling as much with disposable masks that they cut a little slit in. They can still get away with the hole in the masks and just putting their instrument in."
It was much harder for flute players to simply cut a hole into a disposable mask in order to play their instruments effectively while still limiting the spread of germs.
The idea for these flute masks came after Amanda Pond, adjunct faculty of flute at Millikin University, started looking for masks designed for flute players. While they do exist, they are hard to come by and would not arrive in time for the start of the semester. That is where Smith's skills came in to play.
"I had offered up the option of, 'Hey, I sew,'" Smith told Pond.
Smith made two – prototype – masks for Pond to consider. After Pond decided which was going to be the one her section used. Smith went to work sewing masks for every flute player in the ensemble.
With the coronavirus guidelines, practices and performances for groups like Millikin's Symphonic Wind Ensemble look a little different.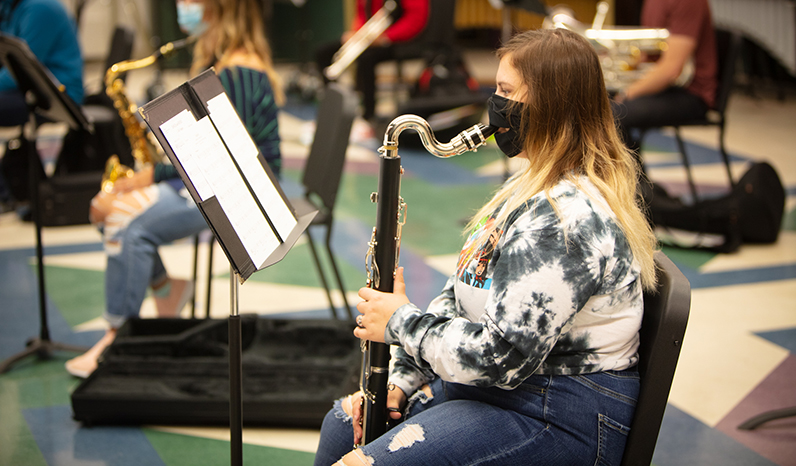 Smith explained, "Instead of us being crammed into K136 [a classroom in Kirkland Fine Arts Center] as a big group, we're kind of separated into six to 10 groups of seven. He [Dr. Corey Seapy, assistant professor and director of bands at Millikin] has picked out small chamber pieces for us to play like that with our masks and socially distanced."
Smith came to Millikin with the encouragement of her family and band directors, who are Millikin alumni. She knew Millikin was known for its great music programs, and she had a passion for playing the flute. Learning at the University and playing in the ensembles on campus have helped Smith grow as a musician.
"We have grown a lot more, seeing myself from my sophomore year to now," Smith said about her growth from Dr. Corey Seapy, the ensemble's director.
Being back on campus might be different than anyone had hoped for this semester, but Smith and her fellow students in the School of Music are taking all of the changes with stride. Smith said, "We kind of came in knowing and expecting [what would occur]. Our professors did a really good job of preparing us as to what we were going to expect."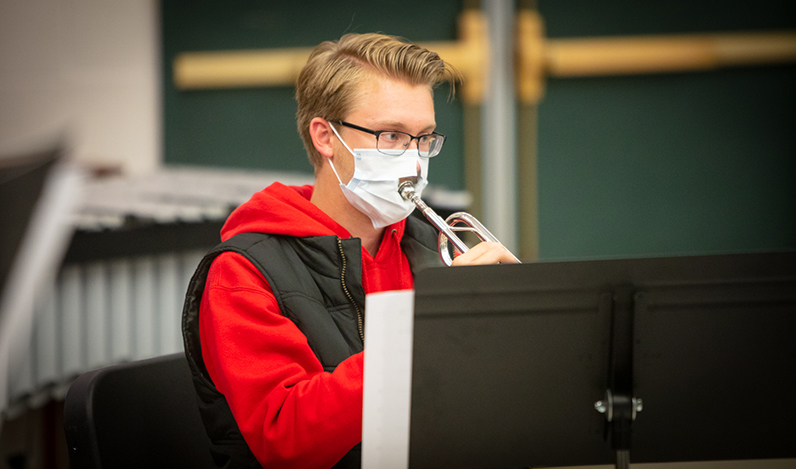 While everything might not be "back to normal," the students are still doing what they love and making the most out of their Millikin experience during these unprecedented times.