How one moment changed everything for a Millikin student
The world has been turned upside down due to the COVID-19 pandemic. In response, faculty and staff at Millikin University have brought classes to online and distant learning modes, students have adapted and continued learning in new ways, all working to keep Millikin's Performance Learning mission going.
With Millikin's 2020 traditional commencement ceremonies canceled, we wanted to honor a few of our seniors with a series that looks at their extraordinary Big Blue experiences. Take a moment to read their stories and their academic achievements at Millikin.
As a first-year student, Lane Caspar got slightly turned around on her first day of classes at Millikin University. The communication major from Sherman, Ill., was getting a bit flustered trying to find where her class was held.
"Millikin is one of the smallest campuses, and yet I was lost, frustrated and completed overwhelmed," Caspar said.
Luckily, she had her older sister, Dana, a 2016 Millikin graduate, help her find her way.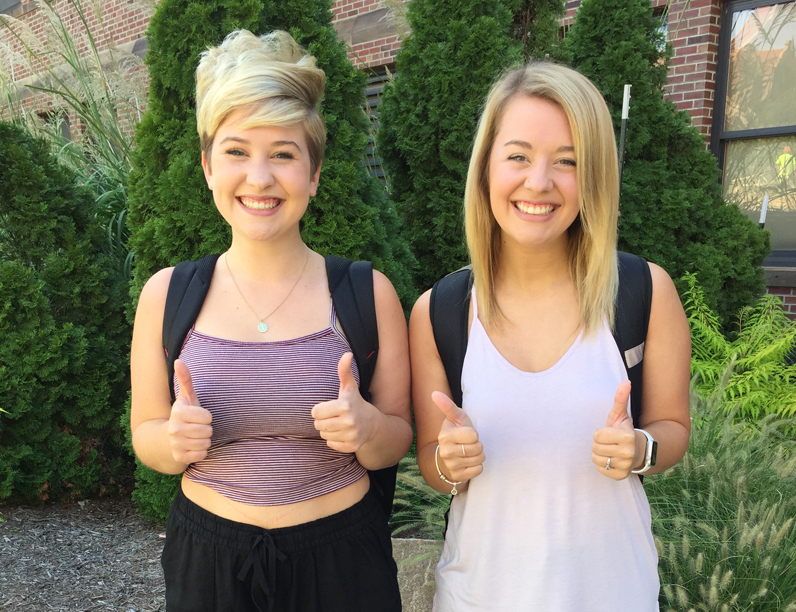 "She met me outside of Shilling (Hall) and showed me where ADM-Scovill Hall was (literally 300 yards away)," Caspar said. "We took a picture outside of Scovill and it's one of my favorite memories because it was when it truly hit me that I was able to attend the same school as my best friend, Dana. From then on, I went from being overwhelmed to loving every moment of college," said Caspar.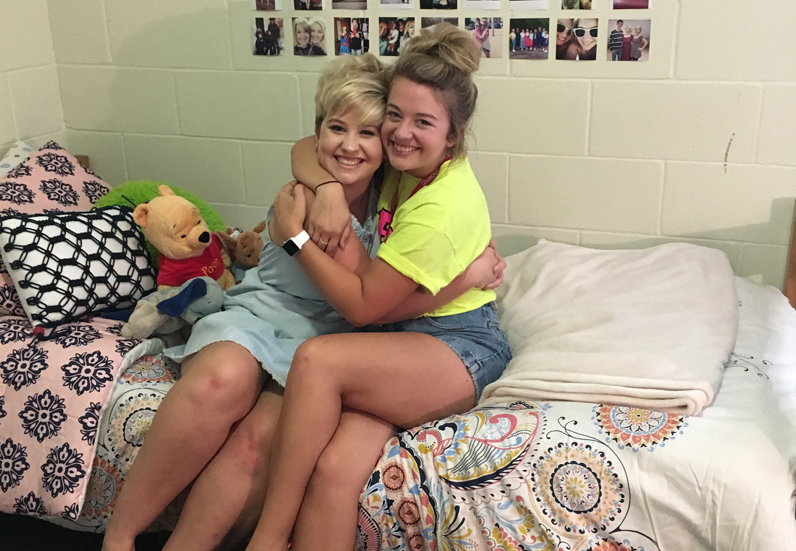 Now a senior who will be graduating in May 2020, Caspar used that moment as a springboard to become actively involved on campus, more specifically with her sorority Pi Beta Phi, and Millikin's student-run radio station, 89.5 WJMU The Quad.
Caspar served as the program director at WJMU working as a DJ, script writer and voice actor, and oversaw many of the station's day-to-day operations. She also handled WJMU news copywriting. This past year, WJMU was nominated for a station record eight national awards by the Intercollegiate Broadcasting System.
In July 2019, Caspar teamed up with Dr. Amy Delaney, assistant professor of communication at Millikin, to conduct a research project that looked into the benefits of the social network that Greek organizations provide, more specifically sororities.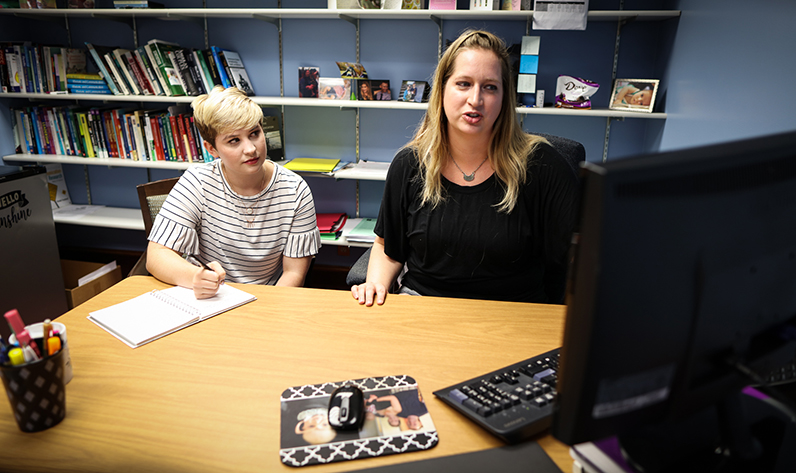 Caspar and Delaney researched how being a member of a sorority affects feelings of support within a larger community as well as individuals' health. They collected data using the theory of resilience and relational load (TRRL), a new theory that was created to better understand families and relationships as communicative, dynamic systems of stress and resilience. The theory focuses on relationship maintenance as the primary means through which couples and families manage stress.
"With Greek organizations, you're a communal organization – we're all in this together," Caspar said. "It's a team unit and the TRRL theory says if you're in a team element, and you're going at a stressor together, then you can cope with it more positively versus thinking that you're on your own and facing a stressor without any support."
Caspar added, "I'm very passionate about Greek Life and I believe we received relevant data that we can add to the literature that already exists about what a sorority provides in terms of support."
Others took notice of Caspar's research as she recently presented her work during Millikin's Celebrations of Scholarship Virtual Poster Symposium. She was recognized with an Honorable Mention Award for her presentation.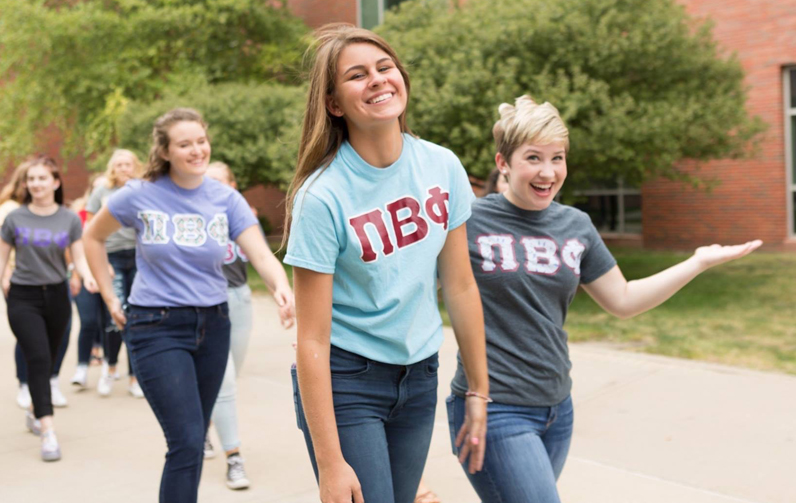 "I have truly enjoyed working on Dr. Delaney's research team for the past year and collaborating on a research project with her," said Caspar. "Not everyone has the opportunity to be a part of a research study as an undergraduate, so to see it all come to fruition was an amazing learning opportunity. I would not have been able to make the poster presentation without the guidance of Dr. Delaney, and I would not have been able to work on the study without the undergraduate funding I was given by Millikin."
Like for many college students across the country, things changed during the spring semester due to the COVID-19 pandemic.
"I was initially shocked and upset that classes were canceled," Caspar said. "In hindsight, it makes sense that we needed to go online, but it was upsetting to hear that the remainder of my last semester would be online."
Caspar has had many moments of reflection, remembering all the times she walked up and down the halls and stairs of Shilling Hall since most of her classes took place in the historical building throughout her four years.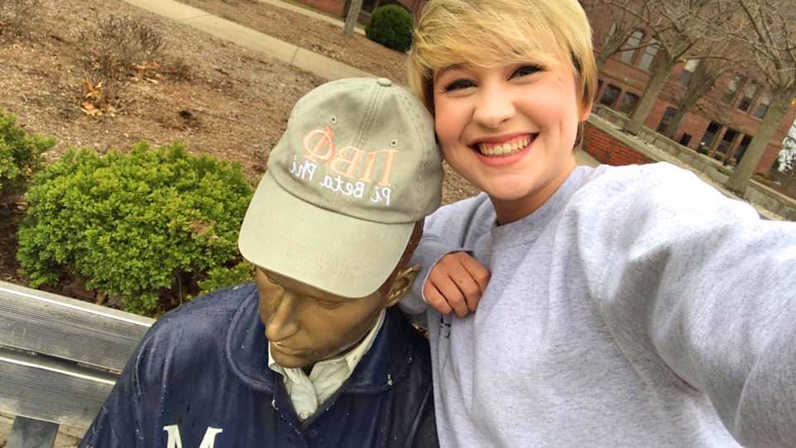 "One of my first thoughts was of Shilling Hall and how I won't be able to ever have another class in Shilling again," Caspar said.
The switch to online classes was quite the change for Caspar. She had grown accustomed to a Millikin education that thrives on face-to-face interactions and Performance Learning.
"I have always really enjoyed school and physically being in class, so moving online was a completely new experience for me," said Caspar. "It took a couple of days to stay on top of things; but it became easier. I created a workspace at home and did my best to maintain a routine."