Visiting professorship brings fresh finance perspectives to Tabor School of Business
Millikin University's Tabor School of Business is seeking ways to grow in new directions. One of the new directions is the possibility of adding a new finance major.
Playing a pivotal part in that development is Millikin's new Visiting Professor of Finance Dr. Taufique Samdani. Dr. Samdani previously spent two years teaching at EDHEC Business School in Paris, France, before coming to Millikin for the 2017-18 academic year.
Prior to accepting his position at Millikin University, Dr. Samdani met with Dr. Najiba Benabess, dean of the Tabor School of Business, and Dr. Larry Stapleton, associate professor of operations management, to discuss expectations for the finance program.
"One of the things they were interested in was a faculty-developed finance program and I thought that was quite exciting," Dr. Samdani said. "They want the Tabor School of Business to grow and finance is one of the important parts."
Dr. Samdani graduated from Arizona State University in 1995, earning both a bachelor's and a master's degree in computer science. He started his career working at IBM Research for five years in Tucson, Ariz., and worked for IBM Research in New York for three more years.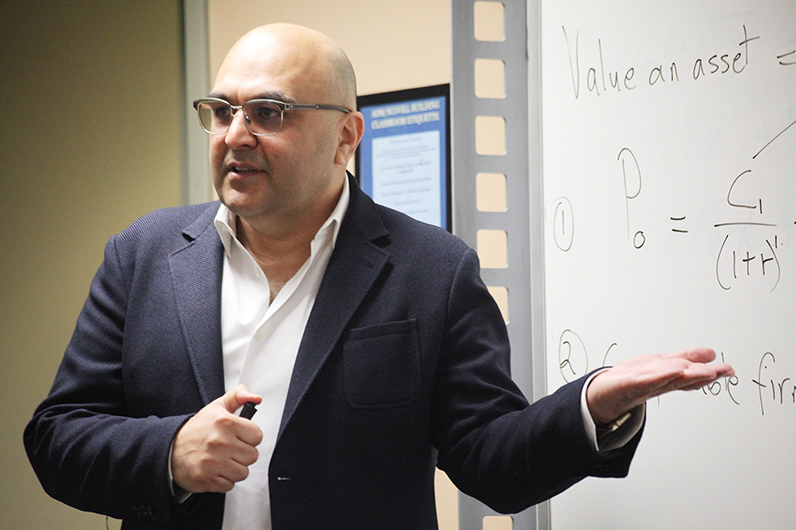 Following IBM, Dr. Samdani made a switch in his career and moved to the banking industry, working for Citigroup in New York for two years. His interest in finance led him back to school to pursue his Master of Business Administration (MBA) at the Rotterdam School of Management in the Netherlands.
After earning his MBA, and before heading back to the U.S., Dr. Samdani chose to earn his Ph.D. from the Paris School of Economics at the University of Paris 1 (Pantheon-Sorbonne). From there, his teaching career began, starting with five years as a finance professor at IESEG School of Management in Paris.
Dr. Samdani says the transition from working in the industry to academia was the right decision because of job fulfillment.
"At IBM, I used to teach about products to outside consultants and I gained teaching experience during my Ph.D. program," Dr. Samdani said. "Teaching seems to be a very fulfilling career. You feel like you've made a contribution every day."
Dr. Samdani is teaching four courses this fall semester, including a finance course in Millikin's Executive MBA program, two sections of financial management at the undergraduate level, and a course on corporate finance.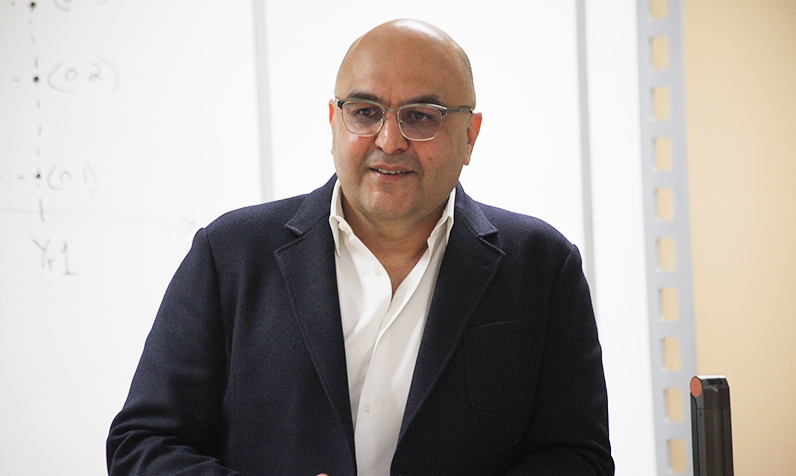 As a teacher, Dr. Samdani says his philosophy is that education is more about why you do things and less about how you do things.
"Thinking is especially important in finance because we need to understand how managers and investors actually make decisions," Dr. Samdani said. "If you want to suggest improvements to the financial world, we need to understand how those businesses make those decisions. Finance is about valuation – the value of an asset, and we need to know how the market values assets. Understanding theory is crucial for understanding finance."
Dr. Samdani is very active and passionate about research. He presented his research on new securities issues at several international conferences and most recently, he chaired a session at the Financial Management Association annual meeting in Boston, Mass. He published several papers in reputable finance and economics journals, including the Journal of Corporate Finance and the Journal of Financial Stability.
Dr. Samdani is one of two visiting professors in the Tabor School of Business. Dr. Omaima Hatem, visiting professor of entrepreneurship, started at Millikin during the 2016-17 academic year coming from the University of Edinburgh where she received her Ph.D. in International Business and Strategic Entrepreneurship.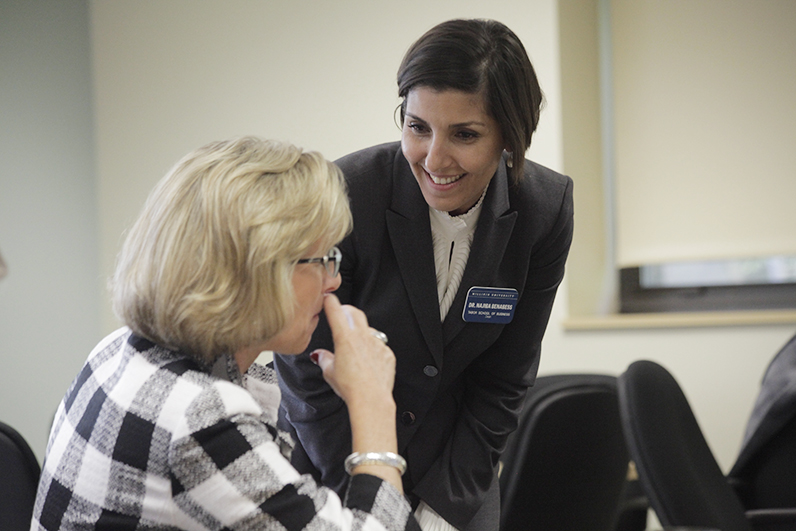 "With the influx of two new visiting professors - Dr. Hatem from Scotland and Dr. Samdani from France - with national and international ties, the Tabor School of Business is increasing its faculty diversity to provide students with global experiences," said Dr. Najiba Benabess. "They both bring a wealth of experience to their new role as visiting professors, and each has a unique professional background that enhances our curriculum and student experiences."
Dr. Benabess added, "I see the hire of new faculty as a dynamic opportunity to try new things and to grow in new directions, and Dr. Samdani is very much up to that task."