Millikin clarinet professor teaches the evolving field of music
In order to grow as a musician David Cook believes experiences are important as well as reflecting on what you learn.
Cook is the new assistant professor of clarinet at Millikin University's School of Music where he teaches courses on applied clarinet, clarinet methods, chamber music, music theory and aural skills.
"I want to bring a lot of high energy, very innovative and exciting things to the School of Music while still respecting the traditions that music has held for the past centuries," said Cook.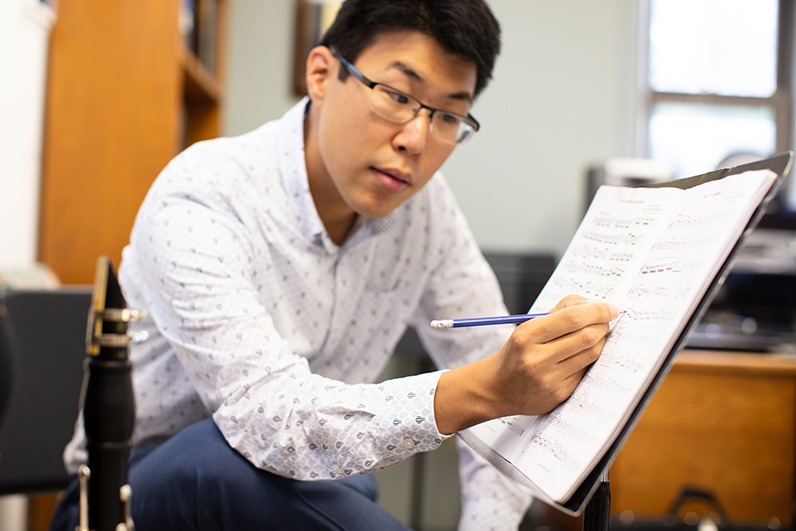 Cook believes we are in a rapidly changing time where many changes are happening in the field of music. "One of the things I like about Millikin is that the School of Music really understands what those changes are and that it is an evolving field. We are trying to be on the cutting edge of that all the time," he said.
Cook is currently the principal clarinet of the Millikin-Decatur Symphony Orchestra (MDSO) and clarinetist for the Appian Duo, the Greyline Duo and the wind quintet Fiati Five. Previously a member of the Wichita Symphony Orchestra, the Lawton Philharmonic Orchestra and the Lieurance Woodwind Quintet, Cook has also performed with the Oklahoma City Philharmonic, the Norman Philharmonic and the Texas Music Festival Orchestra.
In terms of teaching, Cook wants his students to walk away with a better understanding of who they are as musicians and people, and to think critically and solve their own problems.
"I think a lot of teaching is helping students understand why something is happening and why it is not going as well, and then helping them identify a process to work through that," said Cook. "Instead of me telling them what to do, I can help them better understand how to make their own decisions."
Cook says he enjoys the clarinet because of its wide range and the way composers use the instrument. "It can go from being used in a symphony for the solo line and then back to a bigger picture. It's also one of the more flexible and versatile instruments – it appears in classical music, chamber music and orchestras, but it also has a strong history in jazz and a lot of contemporary music. Composers are not afraid to write for the clarinet in different scenarios."
Cook was a winner of the 2015 Oklahoma Community Orchestra Young Artist Competition, the 2010 Betty J. Hixon Saxophone/Clarinet Award and the 2010 Dora Dawson Music Award. He also received honors in the University of Oklahoma Concerto Competition, the Cynthia Woods Mitchell Young Artist Competition and the White Lake Chamber Music Festival Solo Competition.
As a faculty member of the Millikin School of Music, Cook believes the institution is not trying to teach students how to get a job but trying to teach them about the future of music.
"We're trying to show students where the music field is headed and setting them up for success in this ever-changing environment," said Cook. "One of the important things I do is that there's this inherent idea of play in this profession – the idea of playing – there's this fun that comes along with it and I try to bring that mindset to what I do as a teacher."
Cook holds a Bachelor of Music in Clarinet Performance and a Bachelor of Music Education from Central Michigan University; a Master of Music in Clarinet Performance and a Master of Music in Chamber Music from the University of Michigan; a Master of Music in Music Theory and a Doctor of Musical Arts in Clarinet Performance from the University of Oklahoma.