Millikin Actuarial Science program becomes sixth program in Illinois to receive UCAP-AC recognition
The Millikin University Actuarial Science program in the Department of Mathematics and Computational Sciences has been recognized by the Society of Actuaries (SOA) as an Advanced Curriculum Program earning the level of UCAP-AC. Millikin's Actuarial Science program becomes the sixth program in Illinois to receive UCAP-AC recognition.
As a result of this new program recognition, Millikin's actuarial program will receive financial assistance for three individual student preliminary exam registrations each academic year as well as reimbursement for the purchase of study materials for SOA preliminary exams. Millikin's program will also receive financial assistance from the SOA for travel costs to actuarial conferences and to host on-campus events.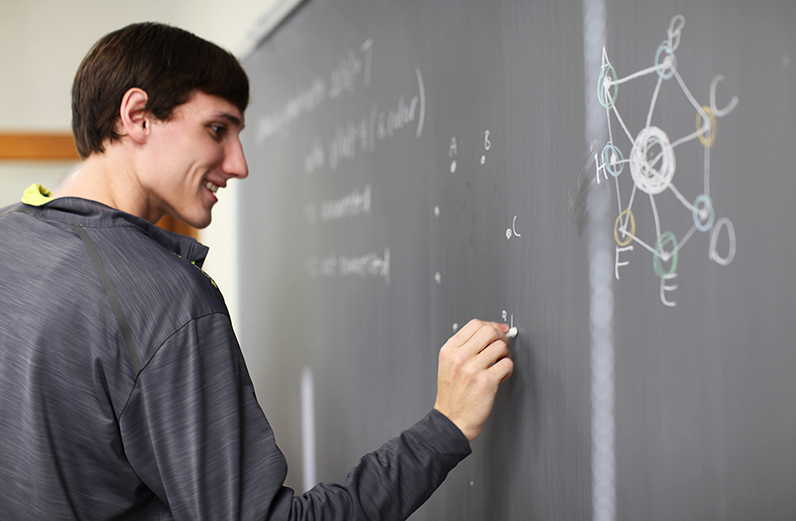 To be recognized as a UCAP-AC ("advanced curriculum") program, the school must offer courses that prepare students for at least four actuarial exams and that satisfy the three Validation by Educational Experience (VEE) requirements. Millikin's program provides courses that prepare for Exam P (Probability), Exam FM (Financial Mathematics), Exam IFM (Investments and Financial Markets) and Exam LTAM (Long-Term Actuarial Mathematics). The VEE requirements satisfied by Millikin's coursework are Economics, Accounting and Corporate Finance, and Mathematical Statistics.
"Millikin's Actuarial Science program was created through Performance Learning. Guided by Associate Professor Emeritus Dr. Randal Beck, alumna Meghan Sims Goldfarb '08 used her James Millikin Scholar honors project to design our original program, the goal of which was to prepare students for a single exam before graduation," said Dr. Joe Stickles, chair of the Department of Mathematics and Computational Sciences at Millikin and professor of mathematics. "Since then, student interest has propelled the program forward, demanding more from themselves and the program, to the point where we are now. This high-level program is powered by exceptional students, and this program designation rewards their hard work in making our program better."
Dr. Stickles says the financial assistance for the SOA preliminary exams and study materials is very important to the students as costs for both items can add up quickly.
"We also will receive funding for bringing in people working in the actuarial profession to network with our students, and money to reimburse student travel to actuarial conferences. I am thrilled about the additional opportunities that our students are going to get as a result of this designation," he said.
Currently, there are more than 80 universities worldwide designated at the UCAP-AC level according to the SOA. Through education and research, the SOA advances actuaries as leaders in measuring and managing risk to improve financial outcomes for individuals, organizations and the public.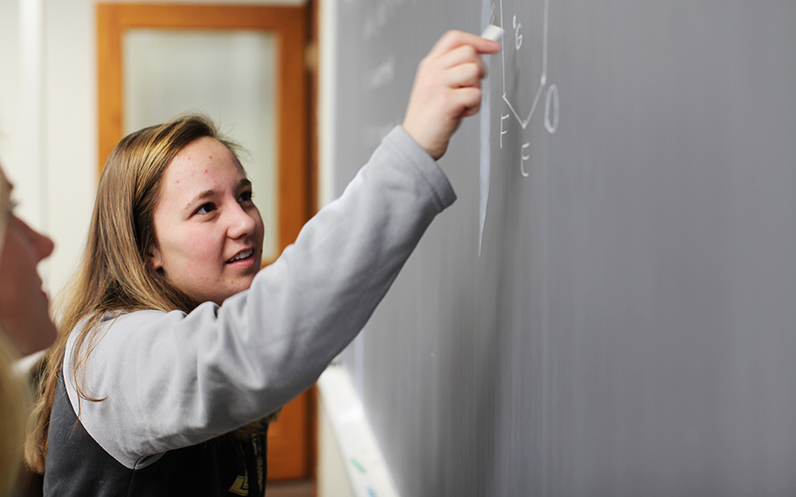 "The Actuarial Science major at Millikin is an excellent program that prepares students very well for this important and highly specialized career path. We know that on the basis of student outcomes and success after graduation," said Millikin Provost Dr. Jeff Aper. "Recently, however, the program was recognized by the Society of Actuaries as an 'Advanced Curriculum Program.' That is a rare and highly prized designation that makes Millikin one of only a handful of such programs so recognized in Illinois. This puts Millikin in the same ranks with the University of Illinois, Illinois State, Northern Illinois, DePaul and Roosevelt Universities as one of the premier Actuarial Science programs, not only in Illinois, but also nationally."
Dr. Aper noted, "It's a wonderful testament to the knowledge, skill and vision of faculty, alums and students who have worked together to build yet another truly stellar program at Millikin University. We have very good reason to be extremely proud of the continued outstanding achievement of our faculty and students."
As part of the Performance Learning experience, Millikin actuarial science majors complete senior research projects as part of their capstone experience and participate in case studies offered through various organizations. However, much of their Performance Learning goes into preparing for exams.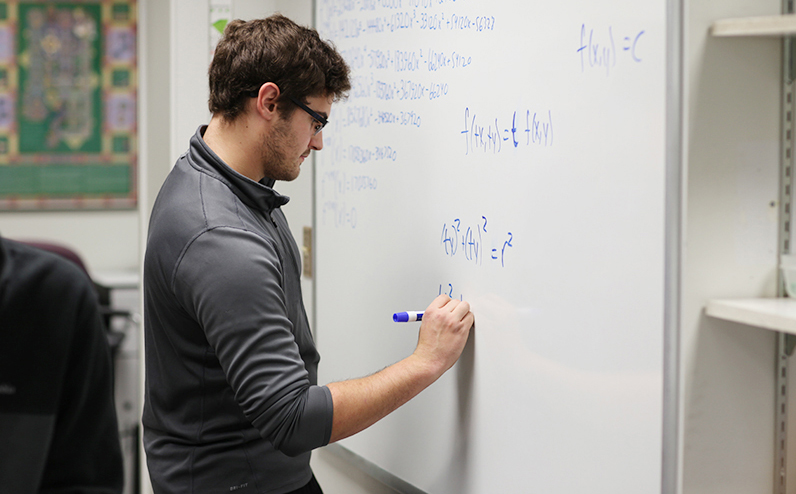 "A general rule is that students need to study for around 450 hours to prepare for an exam, and being in a class to prepare for that exam counts for about 150 hours of that total," said Stickles. "Therefore, students need to learn what works best for them in terms of exam preparation. Many of them do this while earning credit by signing up for an independent study course with one of our faculty."
In recent years, Millikin students have passed multiple exams before graduation. "We have two current students who are preparing to take their third exam this summer," said Stickles. "When they pass, they will be the first Millikin students who will have passed a third exam while still students at Millikin."
Insurance and financial companies are the primary employers of actuaries. In recent years, Millikin students have received jobs from companies like State Farm and Country Financial. "One of our current students has a summer internship lined up with CNO Financial, while one of our graduates this year has a job offer from Genworth Financial in Richmond (Va.)," said Stickles.