Millikin Professor appointed to Illinois Juvenile Justice Commission
Professor Keyria Rodgers, director of Millikin University's Criminal Justice Department and director of the Macon County Teen Justice Program, is always looking for ways to engage people and to help them grow. She plans on using that same enthusiasm as a member of the Illinois Juvenile Justice Commission. Appointed by Illinois Governor J.B. Pritzker, Rodgers is one of 25 members on the Commission and will serve a three-year term.
"What excites me most about this appointment is that I will be able to experience how research and evaluation drive policy and practice for juvenile justice all over the state of Illinois," Rodgers send in an interview with the Herald & Review.
The Illinois Juvenile Justice Commission develops, reviews and approves the state's juvenile justice plan for federal funds, determines spending priorities for statewide policies and initiatives, and ensures compliance with federal laws and regulations. The Commission also advises the Department of Human Services on juvenile justice and delinquency prevention programs and services.
As one of the Commissioners, Rodgers will assist with advising the Governor's administration, the Illinois General Assembly and all of the state government on a wide range of issues that affect public welfare and increase the public good.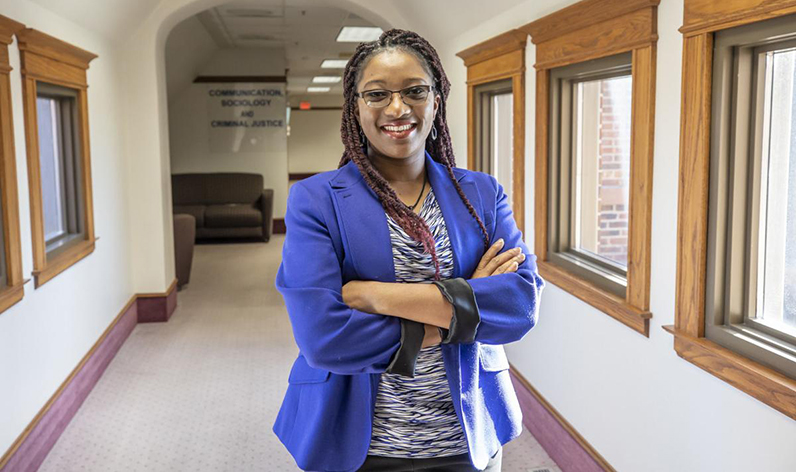 Photo courtesy of the Herald & Review (Clay Jackson)
"Being appointed by Illinois' Governor J.B. Pritzker to serve on the Illinois Juvenile Justice Commission means everything to me as a 'pracademic' [practitioner and academic]," Rodgers said.
As a faculty member at Millikin, Rodgers' focus has been on the criminal justice program, which has grown quickly, from less than 10 majors to approximately 100 in three years. "We want to market the college's programs to the world and make people understand what criminal justice is all about," Rodgers said.
Rodgers' professional experience extends across 13 years in government and eight years in higher education/academia. In addition to her director roles at Millikin, she is also a professor of criminal justice, grant administrator for Macon County's Adult Redeploy Illinois program, board member for the Juvenile Justice Initiative, founder of the Global Restorative Justice Partnership and an independent consultant for grant writing and restorative justice training.
Rodgers was the grant writer for the Macon County Teen Justice Program, allowing her to have a relationship with the Illinois Juvenile Justice Commission. "I have been able to learn from working with the Commission over the past 10 years," she said. "It means everything to now be one of them."
Millikin Provost Dr. Jeff Aper understands why Rodgers was appointed to the Commission. "Keyria is a remarkable perpetual motion machine," he said. "She is bright, capable, energetic and highly motivated to do work that makes a difference in the world."
Dr. Jorge A. Chávez-Rojas, chairman of the Sociology and Criminal Justice Department at Millikin, says Rodgers has made connections with her students and colleagues. "Keyria brings enthusiasm and knowledge to the Criminal Justice program at Millikin University," he said. "She is always searching for new opportunities to improve the Criminal Justice program by developing projects to further connect students with the community."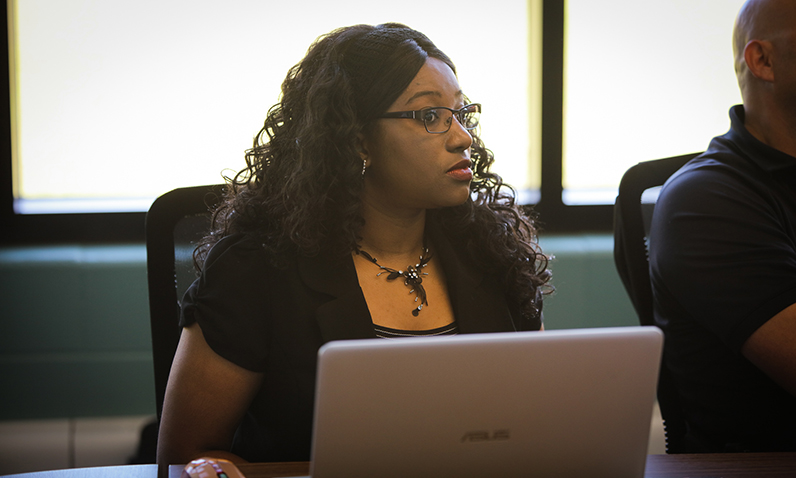 Rodgers' connections, such as the partnership with the Macon County Teen Justice Program, will advance her work and the work of the university, giving students who are interested in studying Criminal Justice opportunities to advance their careers. "Especially with a focus on juvenile justice, restorative justice and other diversion or developmental strategies for younger offenders," said Dr. Aper.
Chávez-Rojas added, "In addition, students will know about their professor's current roles in government, academia and public administration."
Rodgers received her B.A. in Criminal Justice [2008] and her M.A. in Legal Studies [2010] from the University of Illinois—Springfield, and is currently completing her Doctor of Public Administration at the University of Illinois—Springfield.