Millikin alumnae come together to offer career insight
As part of Millikin University's celebration of Women's History Month, the Women in Business organization held their 3rd annual 2021 Women in Business Virtual Conference, Celebrating Women of the Last Century on March 9. Featuring four Millikin alumnae speakers and a Tabor School of Business alumnae panel of six recent graduates, the conference was presented virtually and offered live question and answer sessions for attendees.
The morning's keynote speaker was Tiffany Hill, Class of 1999, who spoke about "Tips to Prepare Yourself for the Real World." Hill is a Decatur-native (Ill.) and graduated with a Bachelor of Science in Accounting from Millikin. Currently residing in London with her husband and two daughters, Hill has recently changed the direction of her career, launching a coaching business for professional women.
"Most often, I coach women on confidence and in their struggles to find other women role models succeeding in the way they would want," Hill said, referring to families, hobbies and life outside of the workplace.
Tiffany Hill, Class of 1999
During her presentation, Hill shared four stories about meaningful lessons she's learned through her career, from the importance of setting goals to the skill of changing direction when necessary. Her stories touched on perfection, circumstances, setbacks and following your heart.
"If I've learned anything in my 22 years in the real world, it is if I don't ask for something, I won't get it. The worst response I can get is a no, and I can then move forward with no regrets," said Hill.
Next up was Gretchen Henseler Murphy, Millikin Class of 1986, who discussed "The Journey of Opening a Small Business." Following her graduation from the Tabor School of Business, Murphy worked for more than 30 years in banking before taking on the challenge of opening her own small business, Murphy & Co. Kitchen and Home Decor.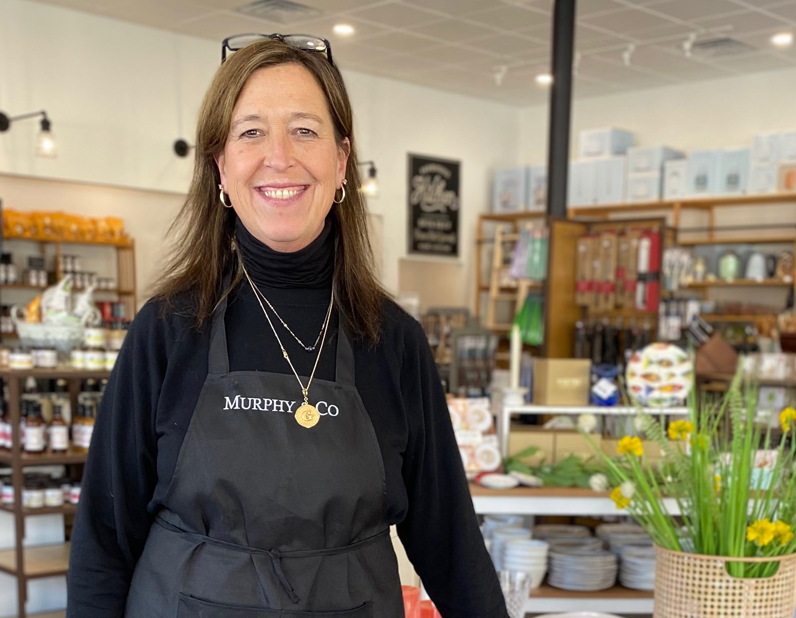 Gretchen Henseler Murphy, Class of 1986
While she had experience working with small businesses, owning her own small business was new territory. For Murphy, the details and logistics of opening a small business were unfamiliar compared to her responsibilities while serving in capacities as a marketing director, internal auditor, CFO, commercial lender and head of retail.
She credited much of her success to the people she kept around her while she worked toward her goal. Their positive attitudes, knowledge and advice proved invaluable to Murphy. She also emphasized the value of receiving guidance from other small-business owners in her journey.
"Finding a mentor in a type of business that you want to start is critical," said Murphy. "And make sure they're successful!"
Murphy's career jump was preceded by her husband's passing in 2019. Not wanting to continue on the same course in banking, she set out to open her own small business. When deciding on what type of business she wanted to start, Murphy said that it was important for her to do something she liked. "The one key thing about whatever you do is you have to have a passion for it."
Murphy & Co. opened in December 2019 and focuses on three pillars of Cooking Made Simple, Entertaining Made Simple and Decorating Made Simple, though Murphy said their offerings and services are always developing and changing.
The third speaker in the conference was Jamie Rockhold Gray, who graduated from Millikin in 2014 with a Bachelor of Science in Accounting and Information Systems. Gray's discussion focused on Climbing the Corporate Ladder and how to set and achieve career advancement goals. She spoke about important tenets she's learned throughout her career advancement at State Farm since graduation.
Jamie Rockhold Gray, Class of 2014
Currently a finance supervisor in the Financial Shared Services department at State Farm, Gray began her career with the company as an intern while she was an undergraduate at Millikin. Gray said that being up front about her goals helped lead to her internship at State Farm the summer before her junior year. "Be honest and forthcoming with your interests," said Gray. "Share where you see yourself or would like to be in both short and long terms."
Since graduation, Gray has accomplished a great deal, earning her Certified Public Accountant (CPA), Chartered Property Casualty Underwriter (CPCU), Chartered Financial Consultant (ChFC) and Fellow Life Management Institute (FMLI) designations.
Gray said that while the idea of climbing the corporate ladder requires planning for the future, the present should be given just as much attention. "It is crucial to do well in your current role and be patient. This helps build your brand of quality work and dedication." She advised recent and future graduates that the time to focus on learning and developing their skills is the present.
The next Millikin alumna to speak was Amber Kaylor, Class of 2006 and MBA Class of 2016. Kaylor spoke with the audience about "Overcoming Adversity in the Workplace." In her career path toward becoming CEO of Ronald McDonald House Charities, Amber has overcome obstacles, both personal and in the workplace, and adversity during her career. She said that learning to manage and reframe these situations was key to her success.
"I learned to reframe adversity and challenges as opportunities," said Kaylor. "I asked myself how I could grow from this. How could I grow my skill set, my network and push past the boundaries I created for myself?"
Kaylor said that the largest challenge she faced in her career as a whole is imposter syndrome. Stating that imposter syndrome is especially common in highly driven people, she recalled the self-doubt she felt when she managed to achieve her goals.
Amber Kaylor, Class of 2006 and MBA Class of 2016
"In that span of time between goal achievement and setting of the next goal, there's some self-doubt that can occur." But while the imposter syndrome can be intimidating, Kaylor said that confronting the fears helped improve confidence and communication in her career.
For most of her career, Kaylor has worked in the nonprofit sector. She previously served as president and CEO of Children's Museum of Illinois and development director for United Way of Decatur & Mid-Illinois.
Kaylor has dedicated herself to the community around her and helping empower others to lead. She sits on the Tabor School of Business Dean's Business Council and boards of other community organizations.
The final session of the virtual conference featured a panel of Tabor School of Business alumnae and where they are now. Alumnae featured were Serena Black, Class of 2020; Olivia Brewer, Class of 2019; Haley Hogenkamp, Class of 2017; Mikayla Krieger, Class of 2020; Anna Logan, Class of 2020; and Hannah Haaksmith, Class of 2018.
The panel answered questions submitted by the audience about how their lives have changed in the journey from the classroom to the workplace. Alumnae gave their perspectives on a variety of topics ranging from the importance of work-life balance while working from home, the unique challenges of job hunting during the pandemic and unusual interview questions.
Panelists also offered advice on how to enter the workplace successfully as recent college graduates, a guide to networking and best practices for teamwork in the workplace.
A recording of the conference is available here.
To learn more about Millikin University's celebration of Women's History Month, visit millikin.edu/news/millikin-celebrate-womens-history-month-events-and-notable-speakers.