Spring 2018 Speaker Series starts January 30 with Lynn Clarkson
The Millikin University Institute for Science Entrepreneurship (ISE) Spring 2018 Speaker Series will start on Tuesday, Jan. 30, with keynote speaker Lynn Clarkson, chairman of Clarkson Grain Company Inc. The presentation will be held at 7:30 p.m. in Banquet Room B on the third floor of the University Commons on Millikin University's campus. The presentation is free and open to the public.
Lynn Clarkson's presentation is entitled "Emerging Markets Offer Farm Incentives: A Walk through Kroger's, the Power of Choice and the Growing Organic Niche." The presentation will focus on how new markets emerging every day are defined by cultural distinctions rather than graded physical standards. As an experienced niche market supplier, Clarkson will describe these changes, especially those surrounding organic foods, a now solid and still rapidly growing category.
Lynn Clarkson serves as chairman and CEO of Clarkson Grain. Clarkson Grain supplies grains and oilseeds to clients in North and South America, Asia, the EU and the Middle East wanting identity preserved supplies with preferred characteristics. It offers products cleaned, sized, raw or processed, and traceable back to the producing farms for organic, non-GMO and conventional markets. It contracts with farmers throughout the U.S. Midwest to obtain specific varieties raised in specific ways. Products made from organic raw materials provided by Clarkson Grain appear in almost every grocery store in the U.S.
Clarkson has served on the board of the Organic Trade Association, on the USDA's AC21 committee, on several university committees and currently serves on the USDA's Ag Trade Advisory Committee for grains and oilseeds, and on the board of the American Farmland Trust. Clarkson Grain is based in Cerro Gordo, Ill.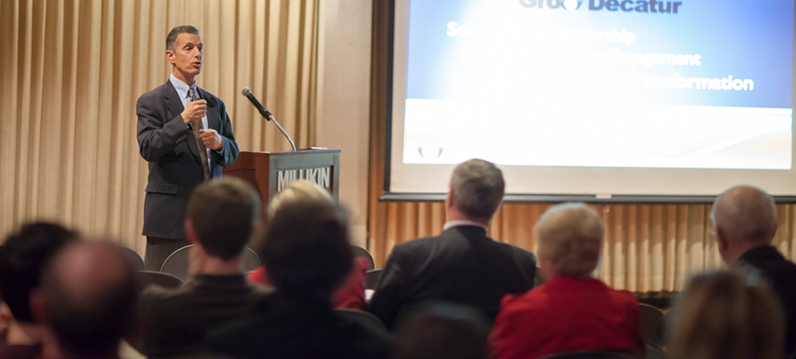 Formed by Dr. David Horn, professor of biology, Dr. George Bennett, professor of chemistry, and Dr. Casey Watson, associate professor of physics and astronomy at Millikin, the Millikin University Institute for Science Entrepreneurship teaches courses in science entrepreneurship, oversees the Clinical Nuclear Science Program, conducts applied research with companies in the natural and health sciences, and hosts a speaker series on science entrepreneurship.
The ISE mission is to connect Millikin University, its students, and the greater community to opportunities for personal, professional and organizational advancement through science entrepreneurship.
The 2017-2018 Institute for Science Entrepreneurship Speaker Series focuses on how entrepreneurship can spark job creation and societal well-being.
For more information about the speaker series or the Millikin University Institute for Science Entrepreneurship, contact Dr. David Horn at 217.424.6392 or by e-mail at dhorn@millikin.edu .
The Institute for Science Entrepreneurship was originally funded by a Millikin University Performance Learning Enhancement Grant in December 2012. Since that time, the institute has been pledged or received funding and support from the Andreas Foundation through the Community Foundation of Macon County, Archer Daniels Midland Company, Brechnitz Group of Raymond James, Busey, Caterpillar Decatur, Coleman Foundation, Decatur Memorial Foundation, Decatur Memorial Hospital, John Ullrich Foundation, Millikin University, National Foodworks Services, Parke Warehouses, St. Mary's Hospital, Tate & Lyle, Wild Bird Feeding Industry, Zevacor Molecular, a private foundation and several anonymous donors.