Lidy to raise funds for a world without blood cancers between March 28 and June 8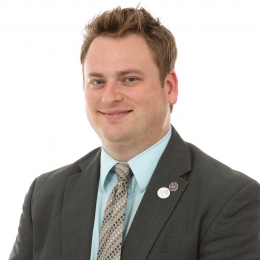 The Greater Illinois Chapter of The Leukemia & Lymphoma Society (LLS) has announced that Paul Lidy '04 of Decatur, Ill., and director of residence life at Millikin University, has been nominated as a candidate for LLS's 2019 Man & Woman of the Year.
Candidates across the county will form powerful fundraising teams and compete in honor of two local children, Brock Iverson and Ella Joy Won, who are blood cancer survivors, to raise the most funds for blood cancer research. Paul Lidy is one of an elite group of community and business leaders who will compete for the titles of LLS's Man & Woman of the Year. Competing for these titles is an honor surrounded with a great deal of fanfare, including a full-page ad in USA Today.
Lidy got involved with LLS after learning about the organization firsthand. "Have you ever seen someone you love in pain or badly hurt? I have seen my wife battle Hodgkin's Lymphoma three times in her life throughout the past 18 years, which is simply three times too many," said Lidy.
"I am running for Man & Woman of the Year because my wife, Sarah, means the world to me and has benefitted from the work of The Leukemia & Lymphoma Society."
As a candidate, Lidy will raise funds for a world without blood cancers between March 28 and June 8, 2019. The man and woman candidate who raises the most funds during the 10-week campaign will be awarded the titles Illinois Man & Woman of the Year at a Grand Finale on June 8 at The Geraghty in Chicago, Ill. The local winners are then entered into the competition for National Man & Woman of the Year titles.
LLS is the world's leading non-profit voluntary health organization dedicated to finding cures for blood cancers and ensuring that patients have access to lifesaving treatments. Every nine minutes someone in the U.S. dies of a blood cancer. Through programs like Man & Woman of the Year, LLS has invested more than $1 billion in research to advance breakthrough therapies. The funds raised through LLS's Man & Woman of the Year are used for the following:
• Research to advance targeted therapies and immunotherapies that are saving thousands of lives.
• Blood cancer information, education and support for patients.
• Policies that ensure patients have access to blood cancer treatments.
"Blood cancers may be a tough opponent, but we are tougher. In the Illinois Chapter alone, we raise more than $8 million annually in order to help support blood cancer patients, advocate for them, and of course fund research for breakthrough therapies. Approximately $1 million of those funds come from our Man & Woman of the Year campaign, and candidates like Mr. Lidy," said Pam Swenk, executive director, Illinois Chapter, LLS. "Our Man & Woman of the Year candidates embody the idea that any individual can make a difference with hard work and dedication. Finding cures takes us all, and we are thrilled Paul is on our side of this fight."
This past year marked a new era in the treatment of blood cancer. In all, the U.S. Food and Drug Administration (FDA) approved 18 therapies to treat patients with blood cancer. But there is still so much more work to be done.
There are many ways you can support Paul in his quest for a world without blood cancers. Become a member of his campaign team, sponsor the Grand Finale on June 8, or simply pledge to make a donation during his campaign. Personal fundraising pages will be live to accept donations on March 28.
About The Leukemia & Lymphoma Society
The Leukemia & Lymphoma Society is the world's largest voluntary health agency dedicated to blood cancer. The LLS mission: Cure leukemia, lymphoma, Hodgkin's disease and myeloma, and improve the quality of life of patients and their families. LLS funds lifesaving blood cancer research around the world, provides free information and support services, and is the voice for all blood cancer patients seeking access to quality, affordable, coordinated care.
Founded in 1949 and headquartered in Rye Brook, N.Y., LLS has chapters throughout the United States and Canada. The Greater Illinois Chapter is located at 954 W. Washington Blvd., Suite 305, in Chicago.